US Open: Kyrgios Rolls Into Third Round

Nick Kyrgios, the #28 seed from Australia has the chance to reach the second week at the US Open for the first time in his controversial career. The 24-year-old, known for his monstrous serve, tweeners and cantankerous on-court demeanor, won in straights while walking the straight and narrow. There was barely a word spoken or icy glare directed at the chair as he let his racquet do the talking.
Despite his most recent antics, now under review by the ATP, Kyrgios received what amounted to a hero's welcome as he took the court on the Grandstand.
In just under two hours, the shot-maker from Canberra with the precision of a surgeon, struck twenty-four aces and forty winners barely breaking a sweat. His talented opponent, Antoine Hoang from France, just a year younger, provided scant resistance as he toiled to find his serve and consistency off the ground.
Hoang, currently ranked #104, struggled to weather the barrage of aces and unreturnable serves zooming past him. He won just 29% of the points when receiving serve.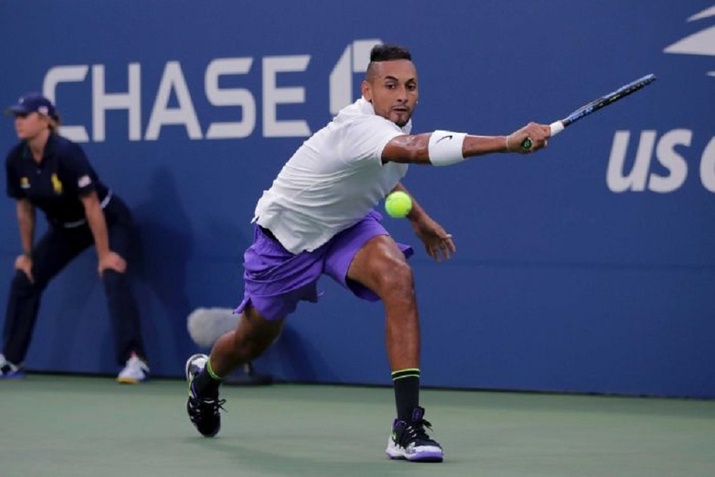 Although he donated 9 double faults, his groundstrokes and volleys were impressive. When he ventured forward, he won an astounding 75% of the points. This tactic demonstrated his keen court-sense and willingness to adjust as he acknowledged his limited ability to win from the baseline as his opponent repeatedly found the corners and lines.
Hoang served first and was immediately broken. Kyrgios held at love striking three aces and an unreturnable at 132mph. The Frenchman fared better in the following game, unloading on a backhand down the line to hold to 15.
Kyrgios, serving up a break at 2-1, struggled a bit to find his serve as he was taken to deuce but closed out the game with a huge serve and an unforced error from his opponent.
Hoang went 2/5 on first serves in the following game but saved the best for last: a 120mph serve and forehand winner to hold for 2-3. In the following game, Kyrgios played five points-four of them aces and held for 4-2.
Both continued to hold easily including a love hold for Hoang in the 9th game but Kyrgios secured the set 6-4 as he served two more aces, one a kicker out wide on set point.
The second set mirrored the first as Hoang threw in two double faults and dropped serve. Kyrgios pressed replay as he served his 10th ace of the match and held at love. Despite throwing in another double fault, Hoang used his skills at the net to draw the error and held to 30. Kyrgios served two more aces and held to 15 to lead 3-1.
Hoang shanked a few balls and faced double break point, dropping serve when his forehand found the net. Kyrgios, now up a double break, tightened the noose by striking four consecutive aces to hold for 4-1.
Hoang, battered but resilient, uncoiled on the backhand, hitting winners down the line and crosscourt to hold at love.
Serving for the set at 5-2, Kyrgios encountered some resistance as his opponent took advantage of a poor drop shot and passed him down the line. Although he threw in four more aces-one on second serve- it wasn't exactly an easy hold. He converted his second set point with an exquisite crosscourt backhand that his opponent could not retrieve.
The Frenchman, as in the previous two sets, served first and was broken. Unlike the first two sets, Kyrgios donated his first and only double fault of the match and faced multiple break points as his volleys and drop shots continued to miss the mark. Hoang took full advantage and converted to level the match at 1-1.
The crowd, already fully invested in the spectacular, powerful shot-making on display, sensed a slight shift in momentum and went all-in. Hoang, unfortunately, was unable to consolidate the break as the errors off the ground continued to mount.
Kyrgios consolidated the break and held to love for 3-1. Hoang's serve, clearly a liability, continued to betray him as he gifted his opponent 2 more double faults. After 3 deuce and break points, he dropped serve watching another brilliant backhand down the line whizz by.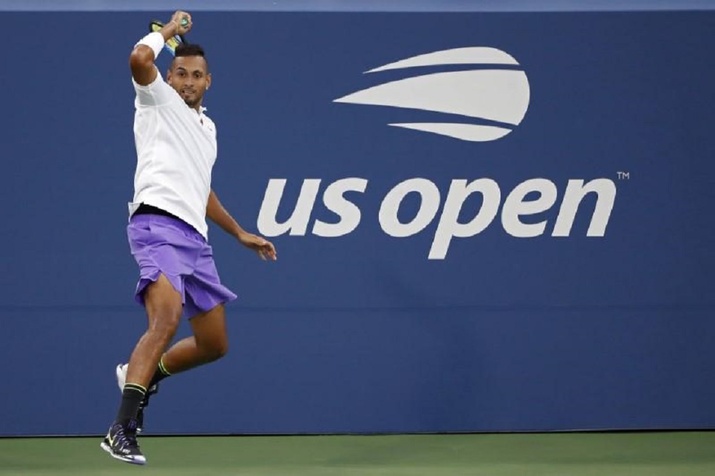 Kyrgios, perhaps a bit complacent given the ease with which he secured the first two sets, took his foot off the gas and his eyes off the ball as his opponent bounced back and broke for 2-4.
Hoang acquitted himself nicely, hitting 2 aces and an outstanding serve out-wide to hold to 15. Kyrgios, having kept his emotions and volatility in check for almost two hours, called for the supervisor after he thought he had won the 8th game, holding to 15. According to Kyrgios, the chair umpire had announced "game" but allowed Hoang to challenge the serve. His return sailed long but believed the serve was out.
Kyrgios asserts that a player cannot challenge a call after the game has been called. The supervisor did not concede the point and upon review, the serve indeed was long. Kyrgios served again, and the return sailed long. He held for 5-3, just four points from the 3rd round.
Hoang had Kyrgios running from corner to corner with his formidable groundstrokes but faced double match point following another double fault and a dazzling forehand down the line from his opponent.
Despite facing 3 deuce and 2 match points, Hoang struck a fantastic forehand crosscourt and an incredible backhand stab volley to hold for 4-5, forcing Kyrgios to serve for the match.
Kyrgios hit 2 more aces-one on second serve and converted his 3rd match point when his opponent's return went long.
It was an incredibly mature and composed performance from a young man as talented as he is tormented. He finished the match with 24 aces, 40 winners and 22 unforced errors. He won 70% of first serve points and an outstanding 75% of second serve points.
The million-dollar question remains: can he maintain this level of play and mental clarity over the course of two weeks? No one knows but without a doubt, it will be fascinating to watch.