US Open: Konta Outlasts Pliskova To Advance

On a blustery, somewhat chilly afternoon in Armstrong stadium, Johanna Konta and Karolina Pliskova went the distance for a spot in the US Open quarterfinals. Konta, the British #1 and former world #4, has made significant inroads this past season following a subpar 2018 which saw her ranking plummet to a low of #50.
Pliskova, US Open finalist in 2016, reached a career high ranking of #1 and is currently ranked #3. The twenty-seven-year-old from the Czech Republic leads their head to head 4-1, her last victory this past spring on clay in the finals of the Rome Masters. They have, however, split their two previous meetings on hardcourts, both in three sets and each including a tiebreaker.
This highly anticipated 4th round match was no different as they battled close to 2 ½ hours before Konta prevailed 6-7, 6-3, 7-5.
Pliskova, one of the best servers on the WTA Tour, served first and was broken at love following 2 consecutive winners from Konta and a double fault. Konta, playing close to the baseline, went 4/8 on first serves but managed to hold for 2-0 following a fantastic, acutely angled crosscourt forehand.
Pliskova continued to struggle on serve, facing double break point as her opponent continued to play aggressively from the baseline. She held for 1-2, striking three huge serves including 2 aces.
Konta held to 30 to maintain a break lead. Pliskova, once again faced multiple break points as she donated 3 more double faults but managed to hold with three aces, the last on game point.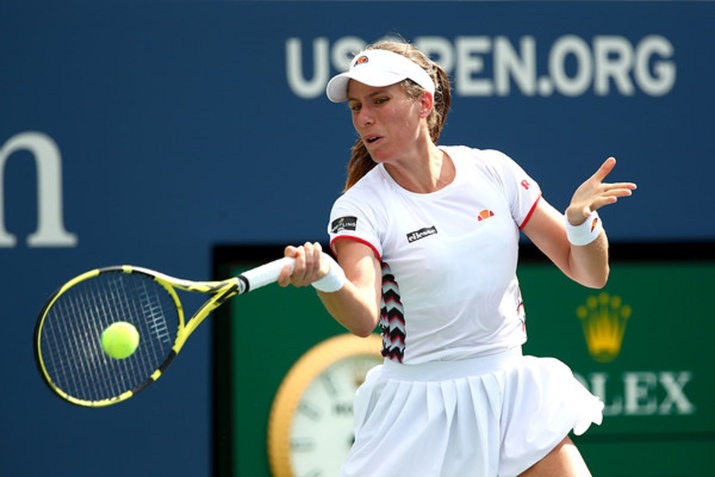 Konta, striking the ball beautifully and with conviction, held for 4-2, closing out the game with a crisp forehand down the line winner. She quickly went up 0-30 on her opponent's serve following two more winners off the ground. Pliskova, incessantly under pressure, faced double break point but survived, striking three winners on consecutive points to hold for 3-4.
Konta, staying low to the ground, striking multiple winners from the baseline, held easily to 15 for 5-3. Pliskova seemed relieved to finally hold serve without facing a break point. Hitting the ball with more authority as she moved forward to cut off angles, she held to 30 with an ace out wide.
Konta served for the set at 5-4 but seemed to buckle under the pressure as she quickly went down triple break point. Unable to find her first serve and accuracy off the ground, she dropped serve to level the set at 5-5.
Pliskova took full advantage of her opponent's timely dip in play, opening with two aces and a forehand down the line to hold at love for 6-5. Konta, held to 15 for 6-6 as Pliskova donated multiple errors off the ground.
Pliskova opened the tiebreaker with an ace and quickly amassed a 4-1 lead. Konta, unable to manage her opponent's slice, failed to win another point as Pliskova closed out the breaker and set 7-6 with an incredible crosscourt backhand winner.
Pliskova appeared to be on cruise control as she continued to find the range on her groundstrokes, reaching double break point in the opening game of the second set. Konta would drop serve when she over cooked the forehand.
Despite opening with an ace, Pliskova failed to consolidate the break, dropping serve as she gifted Konta with 2 more double faults. Level at 1-1, the players traded scintillating slices off the backhand to open the third game.
Though she lost the first point, Konta followed up with a backhand drop volley winner and an ace out wide. Unable to maintain the momentum, missing wide on the backhand and forehand, Konta dropped serve when Pliskova uncorked an outstanding forehand down the line winner.
Pliskova consolidated the break with an ace down the middle for 3-1 and Konta kept it close, holding to love for 2-3.
Pliskova, facing triple break point, gave back the break when her forehand sailed long. Now back on serve at 3-3, Konta continued to employ the slice, extracting errors from her opponent and held to 15 with 2 consecutive aces and a forehand down the line winner.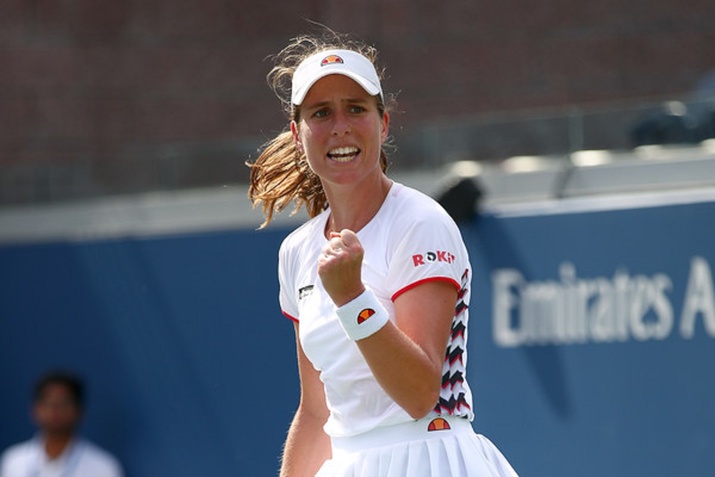 Konta, eager to earn the break and serve for the set, did just that with a remarkable forehand down the line return winner and backhand down the line pass.
Closing out the set would not be as easy as she faced double break point following multiple unforced errors including a netted forehand swing volley. Konta, energized yet composed, continued to move forward taking balls out of the air and took the set 6-3 as her opponent's forehand went long.
Pliskova served first in the third and held at love striking 3 aces. Neither player earned a break point as they remained on serve thru ten games, both varying the serve to great effect.
Konta, drew first blood as her opponent donated yet another double fault and dropped serve when her forward found the net.
Konta served for the match and a spot in the quarterfinals. It appeared momentarily they were headed for a deciding set tiebreaker as Pliskova earned a break point off a backhand error. Konta, righted the ship and stepping well inside the baseline, ripped a crosscourt forehand winner to secure the set and match.
The 28-year-old Brit finished with 5 aces and 0 double faults. She went 5/15 on break points and was 9/14 at the net. She struck 45 winners to 36 unforced errors and won 68% on first serve and 50% on second serve points.
She will need to compete at this level or higher against her next opponent, world #5, Elina Svitolina, who took out a red-hot Madison Keys last evening on Ashe. They have played four times, all on hardcourts and Konta is 0-4, their last meeting one year ago at the Canadian Masters.