US Open: Fernandez Upsets Kerber To Reach Quarterfinals

Fernandez finishes Kerber in three 4-6, 7-6, 6-2 for maiden grand slam quarterfinal
Angelique Kerber, former world #1 and 2016 US Open champion, knew the road to the quarters would be challenging despite not having to play world #3 and defending champion, Naomi Osaka. She would instead have to battle the teenager and fellow lefty who dismantled Osaka in three. Kerber, keenly aware that the crowd would embrace the young upstart, steeled herself for an epic battle.
Leylah Fernandez may have achieved a career-high ranking of #66 this past June but that pales in comparison to her come-from-behind victory over Osaka in the previous round. This fourth-round appearance was her best to date at the majors, having reached the third round at Roland Garros in 2020. The soon-to-be 19-year-old from Canada with one career title and two top ten wins (Bencic & Osaka) was looking to ride the wave of victory into week two.
Fernandez served first and following four consecutive unforced errors, dumped serve. Kerber opened the second game with a huge forehand down the line but following three consecutive forehand errors gave back the break.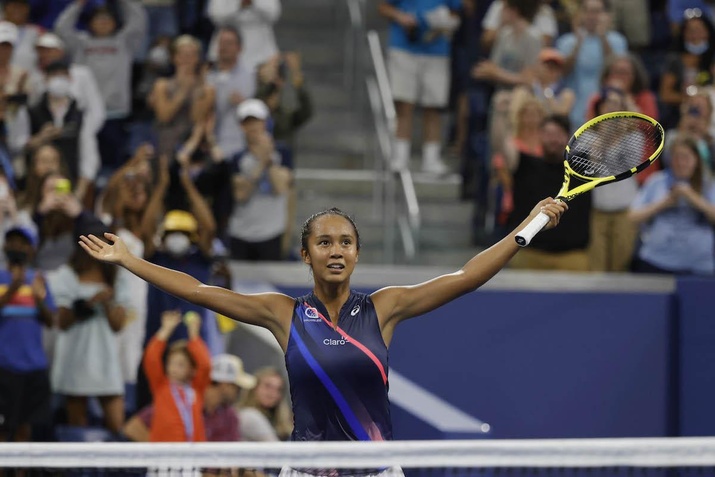 Fernandez, known for her backhand dropshot, mishit one to lose the opening point but with an awesome inside-out forehand and an error from her opponent, held for 2-1. Kerber dropped the first two points but with an outstanding forehand down the line and two errors from Fernandez, held to 30 for 2-2.
Fernandez, playing aggressive but measured tennis, held at love for 3-2 with a slice dropshot, backhand volley winner and a big serve out wide. Kerber, playing from behind, committed four unforced errors-three off the backhand-and dropped serve for the second time.
Fernandez seemed to crumble under the weight of expectation as she donated three double faults and four unforced errors to give back the break. Kerber held to 30 to consolidate the break for 4-4 while Fernandez opened the 9th with a double fault and dropped serve following two extraordinary winners from Kerber on consecutive points. The thirty-three-year-old, three-time grand slam champion closed out the set at love with a brilliant backhand down the line.
Fernandez regrouped admirably as she opened the second with a love hold. Kerber missed 3/6 first serves but held to 30 for 1-1. Fernandez quickly faced a triple break point following three consecutive errors and dumped serve when she butchered a makeable forehand.
Kerber struck four remarkable forehand winners to consolidate the break for 3-1. Fernandez maintained her composure and continued to swing freely, hitting three consecutive winners to hold for 2-3. Kerber maintained the lead, holding easily to 15 for 4-2. It appeared that this would be a straight-sets victory for the German, but the young Canadian had other plans as she struck her second ace en route to an easy hold.
Kerber, just two games from the quarters, faced triple break point following three phenomenal winners from Fernandez and dropped serve when her opponent smacked a backhand swing volley.
The crowd erupted as Fernandez prepared to serve. A day shy of her 19th birthday, she gifted two additional double faults yet managed to hold for 5-4 with an astonishing crosscourt forehand hit behind her opponent.
Kerber, serving to stay in the set, opened with a forehand error but held to 15 with a 99mph serve out wide. Fernandez held at love for the second time in the set following four consecutive errors from Kerber.
Kerber, serving to stay in the set at 5-6 and force the tiebreak, faced set point but after two deuce points and an incredible 19-shot rally, held with a spectacular backhand volley.
Fernandez served first in the breaker and dropped the opening point when she whiffed a forehand. Kerber lost the next five and faced a double set point at 4-6. She saved one with an awesome inside-in forehand but lost the next when she overcooked a crosscourt forehand.
The crowd got exactly what they paid for – a comeback and a deciding set. Kerber served first in the third and held at love. Fernandez continued to pummel her groundstrokes and held to 30 for 1-1. Kerber, serving with new balls, missed 5/8 first serves and faced break point yet held when Fernandez missed a forehand down the line.
Fernandez opened with a well-struck serve and a crosscourt forehand but faced break point when she netted a backhand. The world #73 held for 2-2 following three formidable forehands on the last three points.
Kerber committed four errors off the ground, the last to dump serve. The crowd sensing the tide finally had turned in the underdog's favor, rose to their feet to urge her on. Fernandez delivered, hitting her second ace as she consolidated the break at love for 4-2.
Kerber, a bit dazed and unnerved, dropped serve for the second time following two backhand errors on the last two points. Fernandez served for the match and though she faced two break points, regained the advantage, and scored the biggest win of her burgeoning career.
After 2 ¼ hours, the teenager secured a place in the quarterfinals with forty-five winners to thirty-four unforced errors and converted 16/21 net points and 5/9 break points. Although she donated 6 double faults, she hit 3 aces and won 66% on first and 51% on second serve points.
It was a remarkably poised performance from such a young professional. She is a big-stage player that clearly thrives on pressure. She will need to dig even deeper when she takes on world #5, Elina Svitolina for a spot in the semifinals. This will be their second tour-level meeting having battled last year on hardcourt which Svitolina took in straights.