US Open: Djokovic Strides To Semifinals

Djokovic beats Berrettini 5-7, 6-2, 6-2, 6-3 to reach US Open semifinals
For Novak Djokovic, it was deja vu times two; he dropped the opening set to Jenson Brooksby in the previous round just as he did to Matteo Berrettini this past July in the Wimbledon final. The 25-year-old Italian was hoping that the third time was the charm, having lost the previous two matches to the world #1 at the previous two slams.
Djokovic won the toss and elected to serve. Although he opened with an ace, he donated six unforced errors including two double faults, and faced a break point yet held for 1-0. The capacity crowd in Arthur Ashe stadium soon suspected it might be a very long night. Berrettini opened with a double fault but struck two aces out wide and held to 30 for 1-1 with a huge crosscourt forehand.
Djokovic missed ¾ first serves but held to love for 2-1. Berrettini opened the 4th with a 124mph serve up the tee and his third ace to hold for 2-2 despite facing three deuce points. The twenty-time grand slam champion struck his third ace and faced two deuce points before holding with a well-placed serve and an inside-out forehand winner.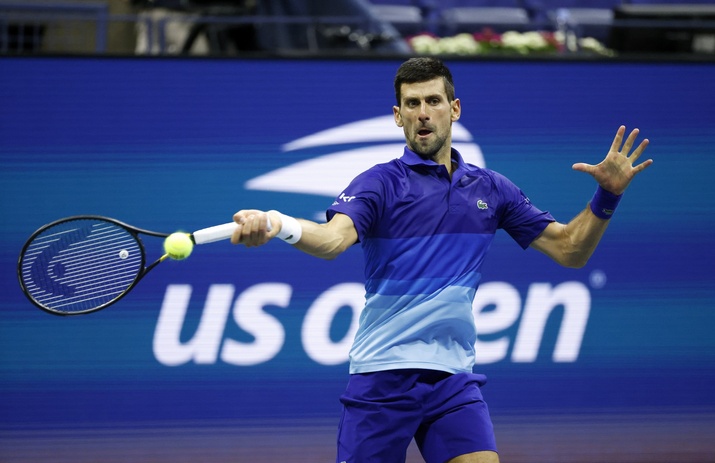 (EPA Photo)
Berrettini gifted his opponent seven unforced errors and faced seven deuce and two beak points yet held for 3-3 with a 126mph serve up the tee. Djokovic committed three unforced errors and face two deuce and two break points but held for 4-3 with a spectacular backhand down the line.
Berrettini hit another ace and held easily to 15 for 4-4 while Djokovic hit an ace and his third double fault and held to 30 for 5-4. Berrettini, serving to stay in the set, missed 5/6 first serves but struck another ace to level at 5-5.
Djokovic gifted three unforced and dropped serve when his opponent ripped a crosscourt forehand pass. After what seemed like an eternity, Berrettini secured the set 7-5 but it was anything but easy, having squandered a 40-0 lead.
Djokovic opened the second with a love hold. Berrettini missed 5/6 first serves but held to 30 for 1-1 with an awesome overhead smash. Djokovic opened the third game with a wicked slice backhand dropshot and closed with an overhead smash. Berrettini continued to misfire off the ground and it cost him as he dropped served for 1-3. Djokovic consolidated the break at love with a monster serve up the tee.
The sixth seed opened the sixth game with three consecutive forehand errors and despite facing five deuce and five break points, held for 2-4 displaying excellent touch at net. Djokovic held easily to 15 for 5-2 despite hitting the deck following a backhand volley. The Italian, serving to stay in the set, opened with an inside-in forehand and backhand volley winner on consecutive points but lost serve and the set when he netted a backhand.
Djokovic served first in the third and hit two aces, the last on game point for 1-0. Berrettini, out of sync and sorts, committed three unforced errors including another double fault, and dropped serve when he overcooked an inside-in backhand. Djokovic continued to play with controlled aggression as he consolidated the break at love for 3-0. Berrettini faced a break point but with two additional aces and a fantastic slice backhand, held for 1-3. At 11:20 pm with heavy rain expected, the roof was closed.
Djokovic held easily to 15 for 4-1. Although Berrettini hit four aces, he faced five deuce and a break point before holding with a colossal serve out wide. Djokovic lost the first two points of the seventh game with forehand errors-his first of the set. He won the next two with the forehand and though he faced break point, held for 5-2 with an ace up the tee and an incredible inside-in forehand. Berrettini, serving to stay in the set, faced triple set point and conceded it when his opponent crushed an inside-out forehand approach.
Djokovic served first in the fourth and held to 30 for 1-0. Berrettini opened with a blistering backhand down the line but dropped serve when Djokovic unloaded on the forehand pass. He consolidated the break with an ace and a massive serve out wide on game point. Berrettini donated two additional forehand errors but held to 30 for 1-3. Djokovic, stepping inside the baseline and dictating play, held to 15 for 4-1. Berrettini struck his 17th ace and held at love for 2-4.
The world #1, serving with new balls, hit two consecutive aces, and held at love for 5-2. Berrettini returned the favor, holding at love for 3-5. The three-time US Open champion served for the match and clinched it when his opponent netted the return. While the Italian posted respectable numbers on serve, he was subpar on two crucial stats – receiving points won (34/116) and break points converted (1/5).
Djokovic continued to serve big, striking 12 aces to just 4 double faults, and won 74% on first and 66% on second serve points. He posted 16 more winners than errors and when receiving, won 44% of the points.
After 3 ½ hours, he was thru to the semifinals where he will battle a familiar opponent, world #4 Sascha Zverev. This semifinal encounter, with so much on the line, will be their 10th tour-level meeting.
Djokovic leads the head-to-head 6-3, having lost their last match, a best of three at the Tokyo Olympics. While the twenty-four-year-old German has never defeated him at a grand slam, he pushed him to four down under at the start of the season.
Zverev, a finalist last year (l. Thiem) is hungry for his first taste of grand slam glory while Djokovic is seeking two historic