US Open: Djokovic Moves Into Second Round

Novak Djokovic dispatches Danish teen 6-1, 6-7, 6-2, 6-1 to reach US Open 2nd round
The heat is on in NYC and Novak Djokovic as he seeks a record-breaking twenty-first grand slam title and the elusive calendar-year grand slam. Only two men have accomplished this feat: Don Budge in 1938 and Rod Laver in 1962 and 1969. With his two main rivals Roger Federer and Rafa Nadal each with twenty slams out of the Open with chronic injuries, the thirty-four-year-old Serb will be navigating unfamiliar but still treacherous waters as a handful of hungry players compete for grand slam glory.
His first-round opponent also made headlines this season. Holger Rune from Denmark, just 18 years of age, is closing in on the top 100, currently #145. Since 2016, he has trained at the Mouratoglou Academy alongside Serena Williams, Coco Gauff, and Stefanos Tsitsipas.
While his childhood idols-Federer and Nadal-are not competing this fortnight, the 2019 French Open junior boy's champion has an abundance of confidence having reached the main draw for his grand slam debut, coming thru qualies as the 24th seed.
At the Chile Open this past spring, Rune received a qualifying draw wildcard and scored his first top thirty victory over Benoit Paire before losing in the quarters to Federico Delbonis. In June he won his first of three ATP Challenger titles which propelled him into the top 150.
This was their first tour-level meeting. Djokovic served first and held to 30 despite missing 4/6 first serves. Rune came out serving big but soon faced double break point and dropped serve when he netted an inside-out forehand.
Djokovic consolidated the break hitting a crosscourt backhand volley winner on game point for 3-0. Rune opened the fourth with an incredible crosscourt backhand pass and held to love when his opponent's backhand sailed long. The world #1 continued to miss on first serve but struck his first ace on game point for 4-1.
Rune continued to go for his shots, but two unforced errors cost him the game. Djokovic, with two breaks in hand, struck three aces-one at 125mph-to close out the set 6-1.
Rune served first in the second and held to 30 for 1-0. Djokovic donated his first double fault and dumped serve when his opponent struck the second of two forehand winners. The Danish teenager, emboldened by his exemplary play and the boisterous New York crowd, consolidated the break with a love hold.
Djokovic held to 30 for 1-3 despite missing 5/6 first serves. Rune missed 4/5 first serves and it cost him as he dropped serve when Djokovic unleashed a spectacular forehand down the line return winner.
The 20-time grand slam champion consolidated the break with a love hold and his 5th ace. Rune donated three unforced errors and dropped serve when Djokovic struck an outstanding lob winner.
The crowd erupted as Rune broke back to level at 4-4. In the 11th game, the Dane missed 4/5 first serves and donated a double fault yet held to 15. Djokovic, serving to stay in the set and force the tiebreaker, opened with an overhead smash and held to 15 for 6-6.
Rune served first in the breaker and led 4-2 as they changed ends. The eighteen-year-old phenom reached triple set point at 6-3 and closed it out 7-5 to level the match at a set apiece.
Djokovic served first in the third and held to 15 with an ace up the tee. Rune struck his first ace of the match and held to 15 for 1-1. Djokovic, clearly playing at another level, struck another ace and held to love for 2-1 with a forehand swing volley winner on game point.
Rune committed four unforced errors, the last off the forehand to dump serve. Djokovic continued to serve big, hitting his 8th ace, holding easily to 15 for 4-1. Rune returned the favor, holding to 15 for 2-4. Djokovic held to 30 for 5-2 and converted his second break point to secure the set 6-2. Rune continued to crank the serve and return but began to cramp and called for the trainer after losing serve and the set with a double fault.
Djokovic served first in the fourth and held to 15 with a crisp crosscourt backhand winner. Rune, clearly in physical distress, faced four break points and dumped serve when he netted a backhand.
Djokovic consolidated the break for 3-0 with two aces-one up the tee, the other out wide-on the last two points. Rune missed 5/8 first serves and gifted another double fault as he dropped serve again following an extraordinary crosscourt forehand by Djokovic.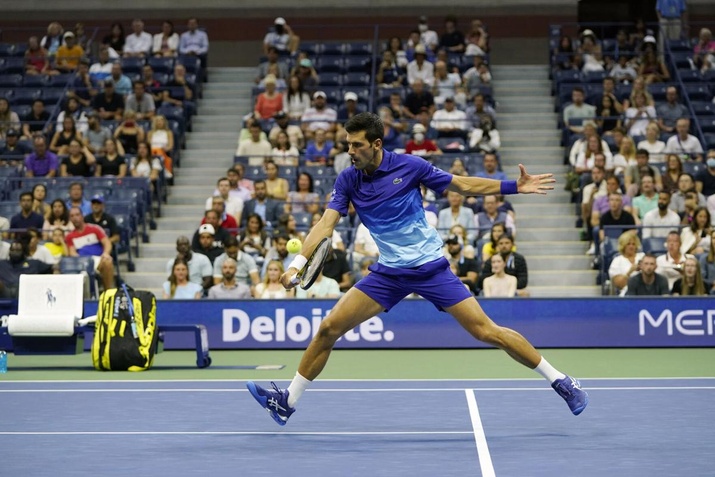 Frank Franklin II/Associated Press
The #1 seed consolidated the break at love with two additional aces for a commanding 5-0 lead. The world #145 served to stay in the match and held at love, hitting a remarkable inside-in forehand on game point.
Djokovic once again held at love and closed out the set and match with two additional aces, the second on match point. It was an incredible turnaround for the world #1 who hit 17 aces and fifty-five winners over four sets.
The three-time US Open champion got the job done but it wasn't always pretty. He struck 30 unforced errors, seven double faults, and was under 50% on second serve points won. He was, however, quite effective at net winning 18/24 and converting 8/14 break points.
In round two he will face world #121, Tallon Griekspoor from the Netherlands whom he has never played.