US Open: Bencic Battles Into Semifinals

Belinda Bencic, the twenty-two-year-old from Switzerland, reached a career high ranking of #7 in 2016 before wrist surgery and a back injury derailed her progress.
While she returned to grand slam competition in 2018 at the Australian Open, she suffered a stress fracture in her foot, forcing her to miss most of the clay court season and finished the year ranked #54. Since the start of the current season she has drastically improved her ranking to world #12.
Donna Vekic from Croatia is twenty-three-years-old and is currently ranked #23. Their three previous meetings were on three surfaces: Bencic winning on grass and hardcourt while Vekic won on clay. Good friends off-court, these two young women took center stage on Ashe vying for their first ever grand slam semifinal appearance.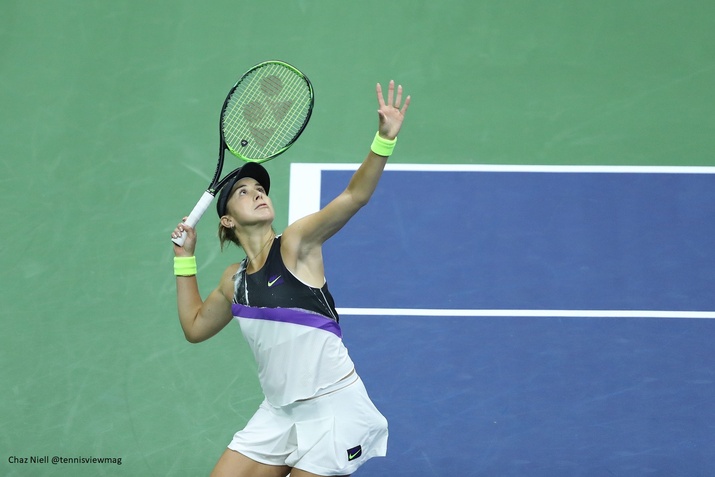 Bencic served first and held to 30 when her opponent's forehand found the net. Vekic had an easier time, holding at love for 1-1. They remained on serve thru eight games, both holding easily with neither player facing a break point.
That changed considerably, however, in the 9th as Bencic, serving in the sun, repeatedly missed on the first serve, donating two double faults, one on break point and dropped serve when she overcooked the backhand.
Vekic, serving for the set at 5-4, struggled to consolidate the break, missing 3/6 first serves in addition to a double fault. Bencic earned a break point with a fantastic crosscourt forehand winner and converted when Vekic netted a backhand.
Level at 5-5, Bencic held to 15 with a blistering crosscourt forehand despite donating another double fault. Vekic served to stay in the set and force a tiebreaker. She succumbed to the pressure, finding the net on two consecutive points and faced break and set point when she dumped another forehand into the net.
She regrouped nicely, saving break point with a huge serve and crosscourt forehand winner and held when Bencic whiffed the return off an outstanding body serve.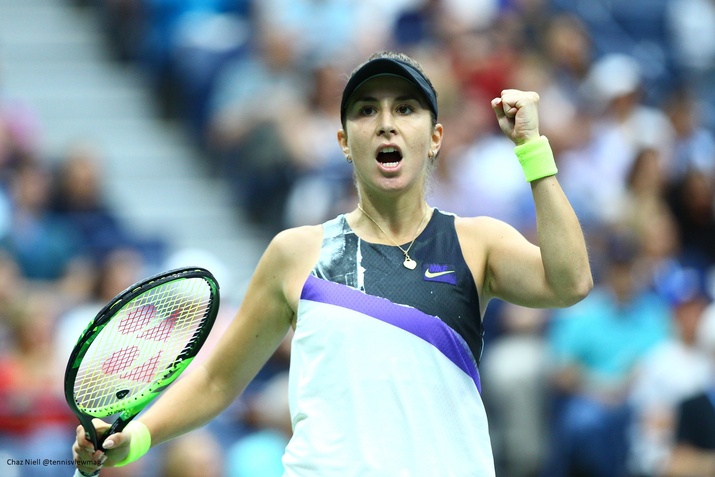 Level at 6-6, Bencic served first in the tiebreaker and lost the point when she netted a backhand. The Swiss sensation got back the break with an amazing forehand swing volley and increased her lead to 4-2 with an ace down the middle. The players changed ends and Vekic clinched the next point with a well-placed serve.
Bencic, finding her groove on serve, struck an exceptional crosscourt forehand winner to increase her lead to 5-3. Vekic netted the forehand return and faced 3 set points.
Vekic, playing within herself, saved two set points with a forehand down the line and an ace on consecutive points. Bencic, up 6-5 and with two serves, needed only one to take the tiebreaker and set as Vekic overcooked the forehand.
Vekic served first in the second set and held easily to 15. Bencic, however, had a more arduous time holding serve as she gifted another double fault but finally held with a splendid serve out wide.
They remained on serve thru six games, the Croatian saving two break points in the fifth game with an incredible inside-out forehand winner. Vekic was not as fortunate in the 7th game however, as she quickly faced triple break point and dropped serve when she once again miss hit the backhand down the line.
Bencic consolidated the break, hitting the ball with conviction and finding the first serve, now a mere four points from her first grand slam semifinal.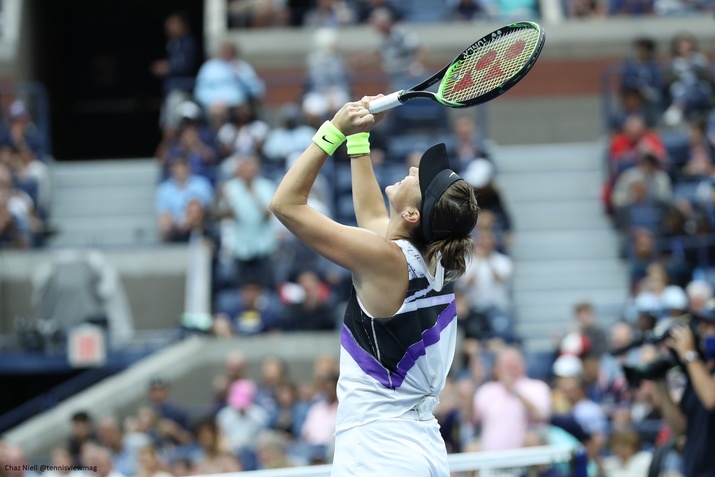 Vekic served to stay in the match and it was a struggle as she missed 5/10 first serves and continued to miss off the backhand wing.
Down 15-40, she saved one break point with two outstanding forehands – one inside-out, the other crosscourt and leveled at deuce with a brilliant inside-in forehand. They played a second deuce point, lost by Vekic when she whiffed the forehand. Bencic converted her 3rd match point when her opponent and good friend missed wide with the forehand down the line.
In an hour and forty-one minutes, Belinda Bencic earned a spot in the US Open semifinals by playing composed yet aggressive tennis. Although she donated 7 double faults, she hit 8 aces and won 84% on first serve and 52% on second serve points. She was also quite impressive at the net, winning 8/10 points and converted 3/8 break points and playing a high-risk game, finished with 21 unforced errors to 20 winners.
In the penultimate round, she will face either the #15 seed, Bianca Andreescu or the #25 seed, Elise Mertens. She has never faced either player so it will be that much more interesting with so much at stake.