US Open ATP Semifinal Preview: Djokovic, Federer Seek Rematch

The US Open men's draw has seemed like a struggle for the survival of the fittest at times, with highly physical and often prolonged battles unfolding in challenging conditions. A rematch of the Wimbledon final between the top two seeds looks likely, but the men who will face them on Saturday have more than earned the right to shine on that stage.
Kei Nishikori v. Novak Djokovic
Djokovic has reached the semifinal stage of the U. S. Open every year since 2007. By contrast, Nishikori will be competing in his first Grand Slam semifinal Saturday afternoon. In fact, before this tournament, Nishikori had only ever made the quarterfinals of one major. Compare this to Djokovic, who has reached the quarterfinals at each of the last 22.
Nishikori and Djokovic have met on two previous occasions. The first meeting, which Djokovic won in straight sets, took place in the second round of the French Open back in 2010. Nishikori won their most recent meeting at the end of Djokovic's breakout year back in 2011. On this occasion, the Japanese No. 1 rallied from a set down to win the second set in a tiebreak and the third set 6-0.
Nishikori has been plagued by injury throughout his career. Following his four-hour-plus victory against Milos Raonic in the fourth round, many wondered if he would be able to recover for his quarterfinal encounter against Stan Wawrinka. Winning again in five sets in yet another match that went beyond four hours, Nishikori proved that he may be turning the corner from a fitness and health perspective. It goes without saying that he'll need to be 100 percent if he expects to take three sets off the world No. 1 on his best surface.
Djokovic overcame a hefty challenge from 2012 U. S. Open champion Andy Murray in the quarterfinals. The Serb went through some inconsistent patches in this match but found a way to get the job done in four sets.
Against Raonic and Wawrinka, Nishikori made substantial inroads when he was able to command the points by getting on top of the ball quickly and taking it early, robbing his opponents of time as a result. Neither Raonic nor Wawrinka is known for his defensive skills. Forcing them to run, stretch, and reach in order to stay in points was supremely effective. Such a strategy, while necessary, will not work as often against Djokovic, who is arguably the greatest defensive force in tennis history.
Djokovic will be attempting to turn this match into a war of attrition in the hopes of pushing Nishikori to the brink physically and mentally. At the same time, he should be wary of Nishikori's offensive prowess. As the tennis world saw in the Madrid final against Rafael Nadal earlier this season, Nishikori is capable of firing his way through almost any opponent on any surface.
The backhand-to-backhand exchanges promise to be spectacular in this match. Djokovic and Nishikori possess two of the best backhands on the planet, and both do a wonderful job changing direction of the ball off that wing.
The one big area of concern for Nishikori will be the serve. Nishikori's serve isn't overly imposing and won't do too much to threaten Djokovic. The Serbian will have his fair share of looks in Nishikori's service games, purely based off the quality returns that he'll be able to deliver.
The future is bright as can be for Kei Nishikori, but being in the prime of his career and the more experienced player, Djokovic should prevail this time.
Prediction: Djokovic in four sets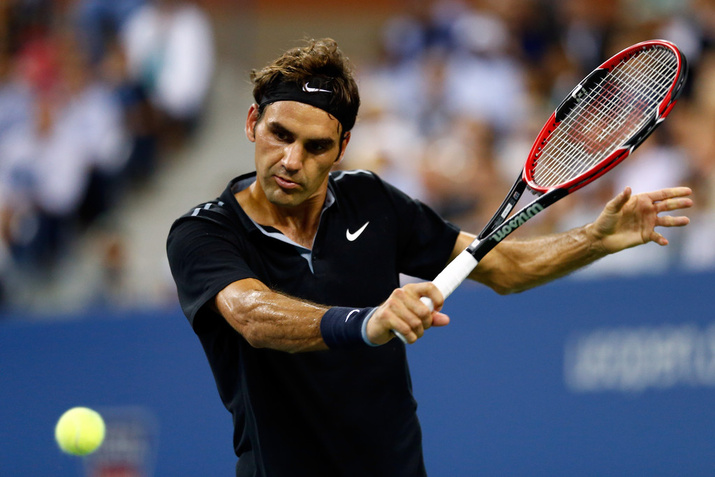 Marin Cilic v. Roger Federer
It's been almost five years since Marin Cilic last saw the semifinals of a Grand Slam. Back in 2010, the lanky, skyscraping Croat reached the final four at the Australian Open before losing to Andy Murray in four sets.
Federer's last appearance in the semifinals of the U. S. Open took place back in 2011, when he failed to convert on two match points against eventual champion Djokovic.
You don't have to look too far back to find the last meeting between these two. Federer and Cilic most recently took to the court in the quarterfinals of the Rogers Cup in Toronto back in August. Federer won this match 6-4 in the third set, needing a grand total of nine match points to fend off a resilient Cilic.
Cilic's big test in this tournament came in the fourth round, where he needed five sets to get past Frenchman Gilles Simon. In his quarterfinal match, Cilic took out Tomas Berdych for the second consecutive major. He only needed the minimum three sets to send Berdych packing.
On Thursday night, Federer was one error away from what would have been a truly disappointing quarterfinal exit to Gael Monfils. Nevertheless, the Swiss overcame two match points in the fourth set to ultimately take the match in five. Monfils had an erratic, uneasy Federer grasping for straws but finding no answers to the Frenchman's explosiveness and baseline protection. After saving the two match points, Monfils seemed to lose the plot. His mental and physical barricade, which kept Federer out of sync for two sets, instantly collapsed. Federer pounced, and the match was over after an uncompetitive fifth set.
Federer told Brad Gilbert after defeating Monfils that he expects a lot of the same things against Cilic—big serves, power from the baseline, and a lot of returns back into play. The last of those similarities is where Cilic has the potential to hurt Federer a lot more than some may expect. In his third-round match against Kevin Anderson, Cilic was returning bomb after bomb, regardless if they landed in the middle of the box or on the line. Federer prefers to get through points quickly, but Cilic's quality of return may make this task more difficult than he desires.
Like Federer, Cilic is going to want to play first-strike tennis when on serve. One would suspect that the majority of protracted rallies from the baseline will go Federer's way.
One shot Federer will look to play with some regularity is the slice backhand. At 6'6, bending down and effectively handling low, knifing slices is not simple. One shot that Cilic will need to use that worked well for him in Toronto is the heavy kicking serve. Cilic won 58% of his second-serve points in Toronto, where Federer was ceaselessly troubled by the heavy kick to his backhand.
Federer leads the head-to-head in this matchup 5-0, and barring the match of Cilic's life, look for the Swiss to extend the lead.
Prediction: Federer in four sets