US Open ATP Draw Preview

Nick Nemeroff breaks down the brackets in the US Open ATP draw, including the key matchups and early upset potential.
First Quarter:
Novak Djokovic, Andy Murray, and Jo-Wilfried Tsonga are the marquee names in what is clearly the strongest quarter of the men's draw. Other notable names in this quarter include Philipp Kohlschreiber, John Isner, Julien Benneteau, Fernando Verdasco, and Radek Stepanek. Kohlschreiber was probably the last name that Isner wanted to see in his section of the draw. Nevertheless, the top-ranked American will be looking to avoid having the German show him the exit in New York City for the third consecutive year.
Murray starts off against Dutchman Robin Haase in the opening round with the potential of having to fend off Stepanek and Verdasco before possibly facing Tsonga in the fourth round and Djokovic in the quarterfinals. Djokovic seems destined to breeze through the first week. It would take a massive performance from someone planted within Djokovic's section of the draw to see him off within the first three rounds. Tsonga could have the chance to repeat his efforts in Toronto by taking out Andy Murray and Novak Djokovic in back-to-back matches on a gigantic stage.
Prediction: Djokovic d. Tsonga
Second Quarter:
Canadian Milos Raonic has been provided with an ostensibly innocuous draw, especially considering that Stan Wawrinka's level of play has been highly variable in 2014. Raonic should view this tournament as a fantastic opportunity to once again reach the semifinals of a Grand Slam, as he did at Wimbledon. If the seeds hold, Raonic would face Winston-Salem champion Lukas Rosol in the third round and an injury-laden Kei Nishikori in the fourth round. Hamburg champion Leonardo Mayer may also benefit from Nishikori being hobbled and could provide Raonic with a significant obstacle in the fourth round. Wawrinka opens with the dangerous young Czech, Jiri Vesely. Nick Kyrgios, Mikhail Youzhny, and Tommy Robredo loom as potentially stern fourth-round tests for Wawrinka.
Prediction: Raonic d. Robredo
Third Quarter:
This quarter is primed to crank out a lot of highly compelling matches from the first round to the quarterfinals. Some of the intriguing opening rounds include Lleyton Hewitt-Tomas Berdych, Feliciano Lopez-Ivan Dodig, Marin Cilic-Marcos Baghdatis, Pablo Cuevas-Kevin Anderson, and Bernard Tomic-Dustin Brown. One of the most notable potential second-round matches could feature Ernests Gulbis against Dominic Thiem. For those who aren't aware, Gulbis and Thiem share Gunther Bresnik as a coach and practice together regularly. This quarter of the draw could end up unraveling in about a thousand different ways. There are a ton of highly capable players in this section, and once these players start colliding, it's likely to create chaos. There may be madness in this quarter, but look for a resurgent, in-form Marin Cilic to make a lot of noise and possibly find his way through to his first Grand Slam semifinal since the 2010 Australian Open.
Prediction: Cilic d. Gulbis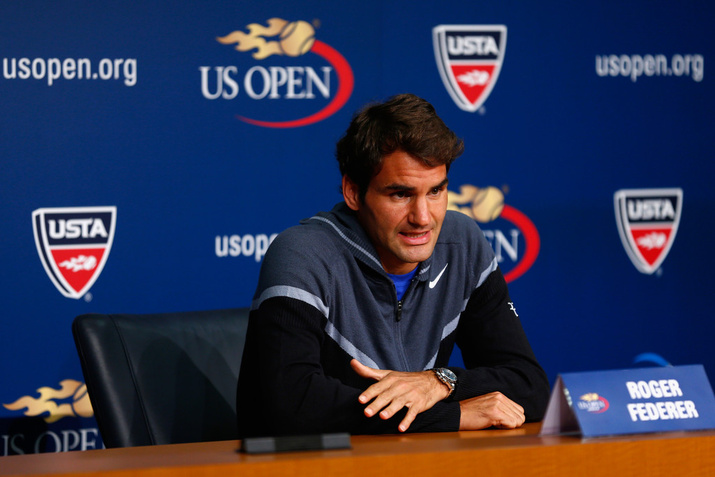 Fourth quarter::
In his pursuit of an 18th major title at Flushing Meadows, Roger Federer comes in with the comfort of knowing that Rafael Nadal will not stand in his way. He now also has the benefit of a relatively soft draw. Four of the biggest threats to the Swiss (Djokovic, Wawrinka, Murray, and Tsonga) are all in the top half of the draw. Grigor Dimitrov is the second-highest seeded player in this section of the draw and arguably the biggest threat to Federer in the bottom half. Standing in the Bulgarian's way could be the red-hot Belgian David Goffin. Goffin has won 25 of his last 26 matches, which included three Challenger titles and his first ATP title in Kitzbühel. This is easily the weakest quarter of the draw, and it's hard to imagine Federer not reaching the quarterfinals and not playing Dimitrov, Goffin, Gael Monfils, or Richard Gasquet once he gets there.
Prediction: Federer d. Dimitrov