US Open American Preview

Amid the doom and gloom cast in recent years on the state of American tennis, a particularly ebullient image emerged at the 2011 US Open. Fresh off the court from her upset of No. 23 seed Shahar Peer, Sloane Stephens sat down at her press conference and addressed the doubters.
"Fun fact," said the Californian. "Christina, Irina and myself are all in the third round of the US Open. We're ready to go to the top, baby. What's up?"
Stephens, of course, was referring to Christina McHale and Irina Falconi, who had already upended the No. 8 and 14 seeds, respectively. They would ultimately be joined by Vania King and Serena Williams, who advanced to the final where she was shocked by Aussie Samantha Stosur.
American men fared even better, with John Isner and Andy Roddick advancing to the quarterfinals, after leaving compatriots Mardy Fish and Donald Young in the fourth round.
ESPN commentator Mary Joe Fernandez, a former Top 5 player who has first-hand knowledge through her role as U. S. Fed Cup captain, says there is good reason to look forward to another American resurgence at Flushing Meadows.
"They just need to continue on the path they're on and keep pushing one another," she says. "They're great peers who work well together, but the key is to keep improving and never be satisfied."
As the tennis world anticipates the first serve being struck at America's Grand Slam in late August, here's a look back at those Americans who played their hearts out last year to steal the show.
Sloane Stephens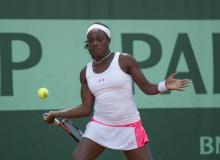 The daughter of record-setting Boston University swimmer Sybil Smith and the late New England Patriots running back John Stephens, Stephens is making her own mark in her own sport. Just 19, she wielded a 119-mile-per-hour serve and blistering groundstrokes to become the youngest member of the Top 100 (at No. 89) on Sept. 12, 2011.
"The ball absolutely explodes off Sloane's racquet," says former pro and Tennis Channel analyst Justin Gimelstob.
"She's a unique athlete who can do things a lot of things her competition can't. She can turn defense into offense, she's comfortable moving forward and she can finish points anywhere on the court," he adds. "For her, it's about staying healthy, figuring out her style and patterns, executing them consistently and getting matches under her belt. Her ceiling is very high."
Stephens has also proven herself a fighter off the court, handling personal tragedy with courage and grace. Within a two-year period, she lost her stepfather, Sheldon Farrell, to duodenal cancer and her biological father in a car accident on Sept. 1, 2009. Stephens flew to Louisiana to attend his funeral, returning just in time to secure a three-set victory in her second-round junior girls' match on Court 11 at the US Open.
During trying times, she has found comfort in her close-knit family, including her mom and 14-year-old brother, Shawn Farrell, but also solace on the court. A Fed Cup team member since 2010, Stephens reached her first WTA semifinal in May at Strasbourg, where she was topped by Italian Francesca Schiavone. She followed that result with a fourth-round appearance at Roland Garros and career-high singles ranking of No. 57 on June 11, 2012.
Stephens narrowly missed the cutoff for the U. S. Olympic team but hopes she can capitalize on her experience on tennis's biggest stages. Looking back, she admits she was overwhelmed by the occasion in her first match on Arthur Ashe Stadium, losing last year to former world No. 1 Ana Ivanovic 6-3, 6-4.
"I was really nervous," Stephens says. "It's what you dream of doing, and I had fun, but it was crazy. I'll be better prepared next time."
Christina McHale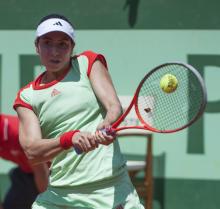 At 20 years old, McHale is very much at home at the USTA Billie Jean King National Tennis Center, where the aggressive baseliner trains year-round as part of the USTA Player Development program. Her breakthrough at the 2011 US Open was foretold by the biggest win of her career, a slugfest over then-world No. 1 Caroline Wozniacki in convincing style just weeks earlier in the second round at Cincinnati. The New Jersey native then continued her winning ways at Flushing Meadows, topping Canadian Aleksandra Wozniak and No. 8 seed Marion Bartoli of France, before her Cinderella run ended at the racquet of No. 25 seed Maria Kirilenko of Russia.
McHale, who learned Mandarin Chinese while living in Hong Kong from the ages of 3 to 8, has already inched up from her season-ending No. 42 ranking in 2011 to inside the top 30. This year's highlights include reaching the third round at the Australian Open and French Open, as well as the quarterfinals at Doha.
After three previous Fed Cup losses, McHale said she was "super excited" to notch four consecutive Fed Cup wins – overpowering Belarusians Anastasia Yakimova and Darya Kustova in the World Group II quarterfinals in February and besting Ukranians Lesia Tsurenko and Elina Svitolina in the World Group play-off in April.
Come September, McHale hopes home-court advantage will fuel another deep run at the US Open – which is, perhaps not coincidentally, her favorite tournament. Chris Evert calls her the "most solid of all the young American players, and obviously the best prospect that we have right now." John McEnroe says each time he has hit with her, he has found a "noticeable improvement" in her game and fitness.
"Her progress from when I first saw her maybe three years ago, she's really made some great progress," he adds. "So if she can even keep close to what she's done, she's really got a chance to move quite a ways higher up the rankings."
"I just kind of have to take the positives," McHale says, "and keep working hard, keep going."
Irina Falconi and Melanie Oudin
Born in Ecuador, raised in New York and now based in Atlanta, Falconi plays far bigger than her 5-foot-4-inch, 135-pound frame. She honed her all-court prowess for two years under coach Bryan Shelton at Georgia Tech before turning pro in 2010, quickly serving notice that she belongs. In fact, Falconi cracked the Top 100 in 2011, even before her surprise dismissal of No. 14 seed Dominika Cibulkova of Slovakia landed her in the third round of the US Open.
Still only 22, Falconi began the 2012 season in steady fashion, highlighted by her run to the final in the ITF tournament at Charlottesville in April. There, she was edged by compatriot Melanie Oudin in the early stage of her renaissance.
The Georgian, who gave the boisterous New York crowds a reason to cheer by toppling seed after seed on her march to the 2009 US Open quarterfinals, tumbled from a career-high No. 31 to No. 370 from the weight of expectation and subsequent losses of confidence and conditioning. Oudin made good use of her wild card at this year's French Open by reaching the second round. The following month, she stormed through qualifying to claim her first WTA Tour title at Birmingham, where she edged Falconi and toppled three seeds, including No. 5 Jelena Jankovic in the final.
McEnroe acknowledges the benefit of a fresh start in terms of Oudin's new team and training base with the USTA Player Development program at the site of the US Open. "It's nice to see when the more obvious hard work pays off," he says.
Even when Oudin was losing, however, Evert observed how she never lost her focus.
"When she was training with the USTA down in Florida, I got to see a lot of her. She was in that gym for hours, on the practice court for hours," Evert adds. "But she just had that determination, and I'm so happy for her because the work has paid off and the perseverance has paid off. She never lost that look, and I think that really helped her get through the adversity that she went through."
Mardy Fish and John Isner
Fish seemed satisfied with his longtime role as the second-ranked American behind Roddick until his decision in 2009 to recommit himself to the sport with renewed discipline. Thirty pounds lighter at 180 pounds, the 6-foot-2-inch Californian notched a then career-high 40 match wins in 2010 and finished inside the top 10 for the first time in 2011.
Now 30, Fish was prevented from competing from early April until mid-summer to diagnose and correct a form of arrhythmia that had been causing frightening heart palpitations. He underwent a successful electrophysiology procedure and now believes the issue to be entirely behind him.
With Fish on the sidelines, 27-year-old Isner – best known for his epic 11-hour, five-minute marathon victory at Wimbledon in 2010 – claimed the No. 10 spot on June 11, 2012, while Fish dropped to No. 12. The 6-foot-9-inch, 235-pound mega-server kicked off his breakthrough run with an unlikely Davis Cup victory over Roger Federer on indoor clay in Switzerland in February. He subsequently reached the quarterfinals in Memphis, semifinals at Delray Beach and finals at Indian Wells (after upending top-ranked Novak Djokovic in the previous round) and Houston.
McEnroe said he'd like to see Isner – who turned pro after his four-year career at the University of Georgia ended with a team NCAA title in 2007 – take more chances and play more aggressively to "unsettle the guys and [not] get stuck in rallies." But even from the baseline, McEnroe says, "he's a legit 10 in the world."
ESPN commentator Cliff Drysdale says he is also "very high" on Isner.
"In my view, John Isner has got a lot more potential than Mardy, regardless of Mardy's health issues," Drysdale adds. "I don't think we'll ever get to the point where the servers can dominate like they did in the [Pete] Sampras era. But if we can get closer to it, John Isner and [Milos] Raonic [from Canada] and maybe Kevin Anderson from South Africa, all huge servers, are the guys that can benefit from that sort of new game."
This article is from the Sept / Oct 2012 issue

SOLD OUT

Subscribe now and you'll never miss an issue!