Unbreakable: Stanislas Wawrinka Dominates Andy Murray for Semifinal Berth

When the men's quarterfinal matches were set, there can be little doubt that the quarterfinal pitting Andy Murray against Stanislas Wawrinka was the matchup that had the most tongues wagging, and deservedly so. For all the differences in their respective career achievements, everyone knew that Stan "the man" Wawrinka was a powerful, dangerous opponent, and Murray would need to be on his guard if he hoped to continue his quest to repeat as champion.
Of course, immediately heading into the US Open, Wawrinka had given little indication that he was poised to make a deep run at Flushing Meadows and challenge the sport's elite. He had played both Canada and Cincinnati beforehand and only won one match between the two. But, as disappointing as those tune-up events were, he had plenty of positives to draw on from earlier this season. He defeated Murray en route to the quarterfinals in Monte Carlo, and he played one of the best matches of the year in his fourth-round Australian Open loss to Novak Djokovic. Despite losing 12-10 in the fifth set, Wawrinka says that the Djokovic match gave him the belief that he could compete with the game's best.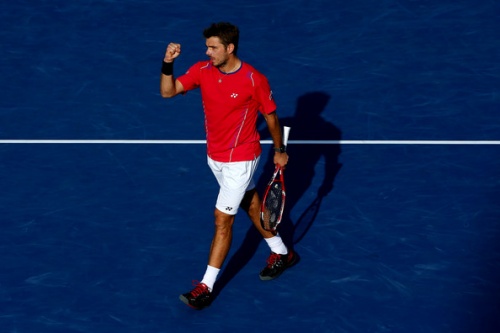 Murray is certainly one of the game's best. He has won multiple titles this year, including Wimbledon and Miami, and he also reached the final at the Australian Open. Murray also had a mental advantage in that he had far more experience playing in the latter rounds of a major than did his opponent, who had never been beyond the quarterfinals.
The importance of the head-to-head between Murray and Wawrinka also could not be discounted in this match. Murray held the edge 8-5, but Wawrinka likely took heart from that record as well. Unlike his dismal showings against the other members of the Big 4 (Djokovic, Rafael Nadal, and Roger Federer) where he is a combined 3-35, Wawrinka knew that he had historically held his own with Murray. In fact, when they last met at the US Open back in 2010, it had been Wawrinka who came out the victor. Armed with this knowledge, both knew that this was potentially going to be a dogfight in which either man could realistically hope to advance.
As the first set got underway, it seemed apparent that this match would not disappoint. After Murray netted an easy forehand at 30-30 in the opening game on Wawrinka's serve, the Swiss gained control of his nerves, and soon there was spectacular shot-making coming from both ends of the court. Though there was initially little to choose between the two, it became increasingly obvious as the set progressed that Wawrinka with his greater firepower was the man making things happen. He was more effective on his first and second serve and hit twice as many winners. In the tenth game, Wawrinka held six break points, which was six more than Murray had held. Converting the sixth ultimately earned Wawrinka a one-set lead.
If Murray and his fans were hoping that Wawrinka would cool off in the second, they were destined to be disappointed. The second set was a very one-sided affair won 6-3 by Wawrinka. It was not because Murray was playing poorly, either. Wawrinka essentially took the Scot out of the equation by upping his own level of play. He became even more effective on his serve, cut down his unforced errors, converted one of two break points, and most impressively, he hit 13 winners to just five for Murray to take a commanding two-set lead.
Despite the manner in which Wawrinka had played up to that point, one wondered if the pressure of defeating Murray to advance to his first major semifinal would get to the Swiss. If he was feeling the nerves, however, he never showed them. He continued his relentless onslaught against Murray, and the world No. 3 was feeling the pressure. At deuce in the third game of the set, Murray missed an easy forehand off a net cord and followed that up with a double fault to lose serve. It was a break from which he would never recover. Wawrinka went a perfect 10/10 on first-serve points won and hit an astonishing 16 winners while earning a double break. Closing out the third set 6-2, he secured his first major semifinal berth.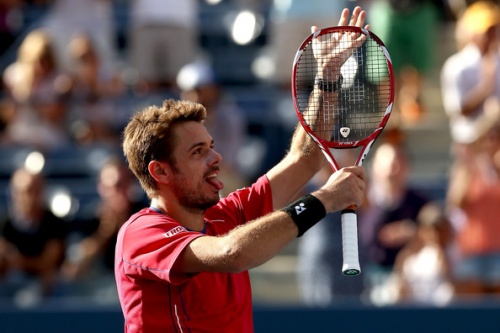 This clash was an absolute clinic by Wawrinka. He hit more winners than unforced errors, and perhaps most impressively, served so well that even Murray – one of the greatest returners in tennis – did not get a sniff at a break point for the duration of the entire match. Also important to note was Wawrinka's reaction after he won. There was no big celebration at making his first major semifinal. He looked like he expected the win, and that is the mark of a man who believes in himself and is ready to step out of the shadow of Roger Federer.
Wawrinka will most likely face Djokovic in his semifinal match, which means he is apt to have his hands full. Then again, if Wawrinka continues to play this brand of tennis, the same can be said for his semifinal opponent, irrespective of whether it is Djokovic or Mikhail Youzhny.