Is This The Turning Point For Alexander Zverev?

An ample number of headlines have emerged over the course of what has been a very entertaining first week of the Australian Open. From Andy Murray's likely retirement to new tennis couple Gael Monfils and Elina Svitolina, all kinds of interesting stories have come to light. There is one potential story flying under the radar, however, and it is one that could become something much more significant in the second week.
The potential story in question concerns Alexander Zverev. It is no secret the slams have been a source of major disappointment for the fourth-seeded German. Although he is still one of the youngest guns on tour and head and shoulders ahead of the vast majority of his fellow Next Gen competition, there has been more than a few murmurs regarding the disparity between his disappointing results in the slams and stellar results outside of them. That is why despite making some inroads at the majors last year and capping off his 2018 in style with the title at the ATP World Tour Finals in London, there was still a healthy dose of skepticism surrounding Zverev in Melbourne.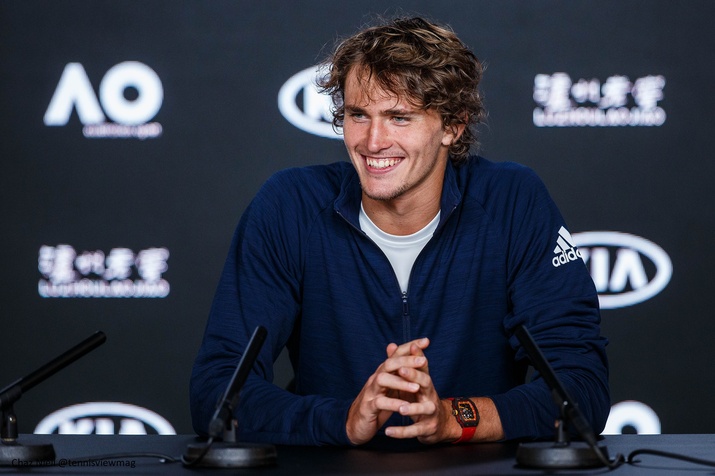 There were unquestionably some scary moments in the German's second-round clash with Jeremy Chardy on Thursday in Melbourne. Securing a two-set lead and looking well on his way to booking a place in the third round, things suddenly got complicated. Unable to grab a crucial break despite multiple chances, the German soon found things all squared away at two sets apiece, and those murmurs of doubt surely must have seemed louder than ever as pundits, fans, and perhaps even Zverev himself wondered if he was headed for yet another early exit at a major. But to Zverev's credit, he did not panic. He did not allow the doubts to show or his frustration to boil over in his level of play. Instead, he steadied the course, taking the fifth set with the loss of just a single game.
That this match was a competitive affair is not in and of itself a surprise. As Zverev noted, Chardy is a talented shot-maker, capable of causing fits for any player when he is firing on all cylinders. But the manner in which this match unfolded and the ultimate victory for Zverev could be pivotal for the young German going forward. The relief at emerging victorious was evident on the fourth seed's face, and he also acknowledged it was a new and valuable learning experience for him, having squandered a two-set lead and finding himself in a fifth. That he was able to come through with flying colors and put some of the nagging demons to rest could speak volumes about where he is mentally in his approach to the slams.
For sure, Zverev finding a way to finish his match with Chardy with a win was a big one as far as Zverev's development at the majors, but it is also important that he continues to build on it by advancing to the second week. He has a pretty decent draw, and if at his best, might just break new ground by advancing to at least the semifinals. There is a lot of tennis to be played between now and then though, but if Zverev can take what he has learned and the confidence he garnered with his win over Chardy, then he could be poised to deliver on that potential so many already see in him.