Trying to Keep Up with Gigi Fernández
Since playing her last professional tennis match over twenty years ago, Gigi Fernández has done everything but retire. She has become a mother. She has gotten two degrees. She has coached recreational and professional tennis players. She has harnessed the latest technologies to advance tennis education. She even teamed up with Grand Slam Tennis Tours to launch her own tennis travel.
Fernández was born in San Juan, Puerto Rico and so it comes as no surprise that she is turning her immediate attention and talents to aid in the humanitarian crisis resulting from Hurricane Maria's devastation of the island. In a letter she published online, she explained: "I was able to arrange to have the elderly in my family evacuate the island. They are all coming to Florida tomorrow so that is a big relief. My dad, however, has to stay because his medical condition doesn't allow him to fly." Bringing the same sharp strategic mind she brings to coaching to relief logistics, Fernández also explained in the letter that the generators she purchased with donations are being given to pharmacies, grocers, and restaurants to maximize impact. Fernández's love of family and fix-it attitude that ring loudly through the letter carry a sincere candor she also brought to a recent interview with Tennis View Magazine ahead of the launch of her latest venture, doubles. tv.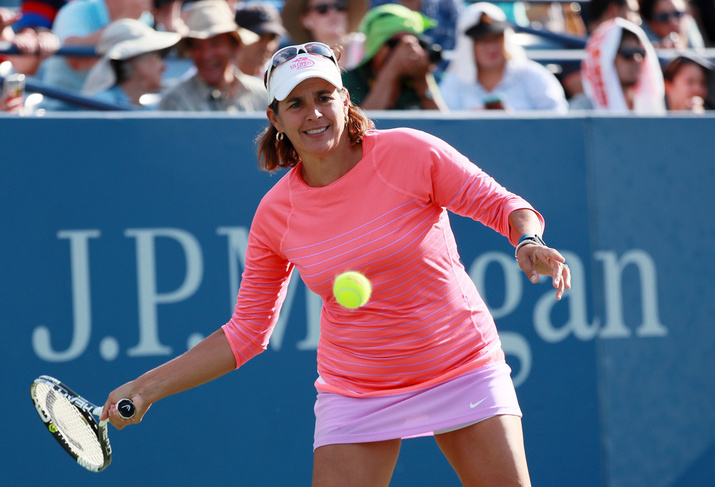 In the interview, Fernández shared the path from her professional tennis tour to recent technology-based approaches to coaching recreational players. Since retiring in 1997, after winning 17 Grand Slam doubles titles and two Olympic Gold medals, the player known as a doubles specialist who is careful to remind she also broke the top 20 in singles, has mostly focused on others and their game. After ending her professional career, she studied psychology at the University of South Florida, and even briefly considered a future in clinical psychology. However, as she explains, "my passion is tennis, so I always revert back to it" and she chose to pursue further education in a way that would allow her to sneak back into the sport, by earning an MBA to help her build tennis oriented businesses.
Like many legends of the sport, Fernández did prove herself a successful coach to professional players, leading Lisa Raymond and Samantha Stosur to their 2005 US Open doubles title. While coaching tour players, Fernández was quickly reminded of the impossibility of starting a family while coaching tour players and her priorities were clear: "I quit tennis because I didn't want to travel. I didn't do it long, coaching, for that reason. At the time I was trying to be a mom, so I was going through the fertility treatments and all that you have to go through to become a parent at my age, I was already in my forties. It was hard to get pregnant so I really needed to be at home. You have to see the doctor every two weeks, and then every week, and then every day."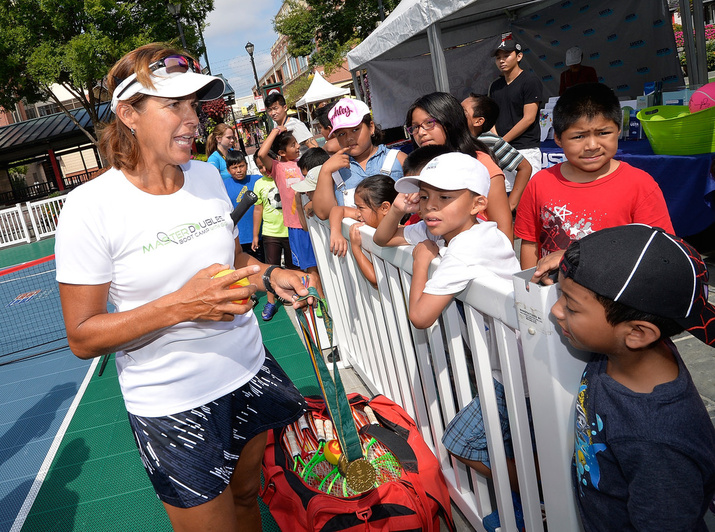 Living and parenting in Connecticut gave Fernández the chance to connect with recreational players, where she noticed the gap between singles coaching and doubles play, which she has since worked to bridge. "When you come learn from me, it's not about me or hanging out with me. It's not a fantasy camp that you get to say you hung out with a Grand Slam champion, that's not it. I'm teaching people to be better. It's a learning experience. Doubles.tv is all about the consumer."
The most recent of the ventures, doubles.tv, came out of Fernández's recognition that there is a strange dichotomy in how tennis is coached and how it is played. While recreational coaching focuses on singles, most players find themselves engaged in doubles. Her multi-media subscription program addresses the specific needs of recreational doubles players by teaching the specific techniques and strategies needed for success that might get lost in singles emphasis.
Gigi Fernández's response to Hurricane Maria's devastation of her home encapsulates what made her a great player, a great coach, and a great person. She has compassion coupled with the ability to rise above any terrible stressor and come up with a strong, actionable strategy to help and make things better. She takes charge of the situation and motivates her partner, players, and fans to be right there with her.
To learn more about Fernández's fundraising efforts and make a donation, please visit https://www. youcaring.com/lasvictimasdelhuracanmariavictimsofhurricanema…
You can learn more about doubles.tv here ([http://www. tennisviewmag.com/tennis-view-magazine/article/gigi-fernandez…) or sign up for a limited free trial (https://doublestv. samcart.com/products/free-14-day-trial-to-doublestv/)