Tomas Berdych Flies His Flag with Pride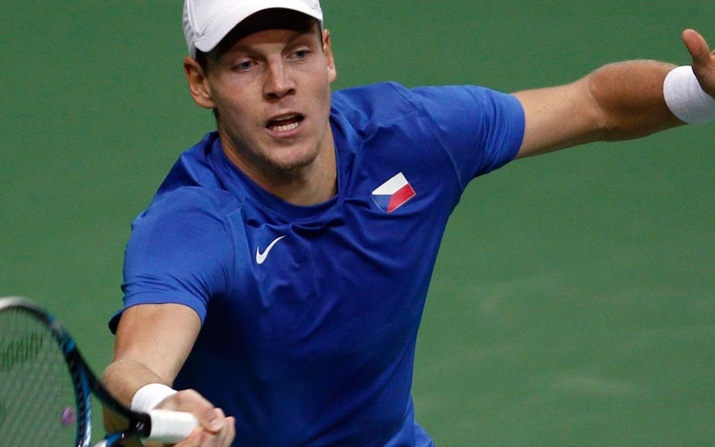 Growing up after the Cold War in the Czech Republic gave Tomas Berdych a strong national identity, which heightens his resolve when competing for his country.
The Davis Cup may have lost a touch of its former luster lately, with the game's leading stars shunning it in favor of more lofty ambitions, but you wouldn't have guessed it by watching November's Davis Cup final showdown between Serbia and the Czech Republic.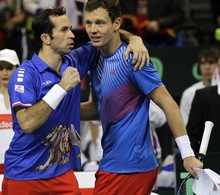 If anyone doubted the competition's enduring significance, they only had to look to Tomas Berdych. The normally reserved Czech celebrated his second successive Davis Cup crown as if he had just won a Grand Slam, clasping teammate Radek Stepanek in a mighty bear hug after watching the 35-year-old seal a 3-2 win over Novak Djokovic and company.
"It's hard to put it into words," Berdych said as he relived those champagne-drenched memories. "It was simply an amazing feeling."
Over the past two years, the Czechs have established themselves as the leading heavyweight in Davis Cup, winning their first title in more than 30 years in 2012 with a dramatic 3-2 win over Spain in front of a delirious O2 Arena in Prague.
"That first win was definitely more emotional," Berdych revealed. "We were playing at home in front of our people. The fans were amazing that weekend. It was just an unforgettable feeling and an incredible experience. But every day you learn something new, and once the training for the new season starts and you're back on the practice court, you have to move on and forget what happened. Everyone starts from the beginning again, and that's how it is in tennis. It's nice to talk about it during the day and over dinner, but on the court, nobody cares about what's happened in the past."
Such is the fleeting nature of tennis. No other sport is capable of bringing its champions so swiftly down to earth. Berdych, however, has always remained extremely grounded. As a junior, he worked briefly with Ivan Lendl, who delighted in popping the youngster's ego in his own inimitable way whenever he felt it necessary.
"When we met, Ivan always gave me a lot of good advice with a portion of his humor included," Berdych laughed. "You know what the mentality of young players is like. They think they know everything, and he always enjoyed showing that wasn't the case! You have to be focused all the time with Ivan. He's like a virus, he knows when to attack! But our relationship wasn't anything special. We knew each other when I was growing up but he's lived in the States for a long time."
FAMILY FIRST
Despite coming from a country that boasted two of the biggest 1980s stars in Lendl and Miloslav Mecir, the young Berdych never had any sporting role models as such. Instead, the defining influences on his life have always been his parents, train engineer Martin and doctor Hana. Berdych has never forgotten the investments that his parents made in his career, such as sending their only child to the city of Prostejov as a teenager in search of better practice partners and coaches.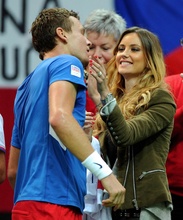 "I admire my parents so much, and I'm really grateful to them for everything," he said. "It's so good when they're able to come and watch me at tournaments, as it's not often that I'm able to spend time with them. I wish they could come more often. My dad was the first person to bring me to the tennis courts, he was the one who gave me the racquets, so for him being able to watch me is the just best payback for all the time he spent with me."
In a sport where the bitter taste of defeat is never too far away, Berdych feels that the life lessons instilled by his parents play a large part in helping him with the myriad of ups and downs provided by each calendar year. In 2013, such perspective was especially valuable as he balanced wins over Novak Djokovic, Andy Murray and Roger Federer with the frustrations of disappointing losses at the French Open and the US Open.
"Both of them have always taught me one important principle, that if someone's life is not at stake, you should not care too much," he said. "They've taught me to approach life and tennis with joy, but without letting your emotions swing too high or low from wins or losses. They've also taught me to develop an honest work ethic, and I never had to worry about anything while growing up. They always provided everything I ever needed. They have been my best friends and their modesty, decency and enjoyment of life have had a great influence on me."
When conversation turns to his roots, Berdych quickly points out that he grew up during one of the most tumultuous spells in the history of Eastern Europe, as the Cold War came to a close in the late 1980s. In November 1989, when the Berlin Wall came down, Berdych was just four. Still, he experienced the ramifications while growing up during that period of austerity, and they contributed to his decision to play tennis.
"You have to understand that when I was young, it was the end of the communist era in my country," he explained. "So when I was playing tennis as a kid, I didn't have so many useless things around me that could have distracted me from my hobby and reduced the enjoyment I got from playing sport. By useless things I mean PCs, computer games, Facebook and all those kind of time-consuming activities, which kids today grow up with. Instead, I grew up as just a boy who enjoyed playing sport and that's still the case today. So I'm trying my best to promote tennis as an option to the younger generation, and hopefully I can show them that it's something cool to do."
BREAKING NEW GROUND
The level of success the Czechs have enjoyed over the past two seasons has certainly helped his cause. Berdych has been a talisman for his country, and he produced a stirring effort to almost single-handedly drag them past a determined Swiss side in the first round of Davis Cup last year. Along with Lukas Rosol, Berdych saw off Stanislas Wawrinka and Marco Chiudinelli in a staggering doubles encounter that lasted more than seven hours, the second-longest match in history. Then, he dragged himself out the following morning to beat Wawrinka in four gruelling sets and put his nation in the last eight.
"It's just better not to think about it too much," Berdych smiled when asked about the physical and mental exertions of the competition. "I go on the court to win and it's always hard, but I'm not made of snow you know. I'm a tough guy!"
That steely determination isn't always immediately apparent away from the court. Berdych may be 6'5 and built like a tank, but in interviews, he's quietly contemplative and sometimes almost subdued. But there's something about Davis Cup that draws out that hidden fire, perhaps even the influence of Stepanek, a wild extrovert whose youthful exuberance belies his veteran status. The duo has a formidable record as a doubles pairing, undefeated together since 2009.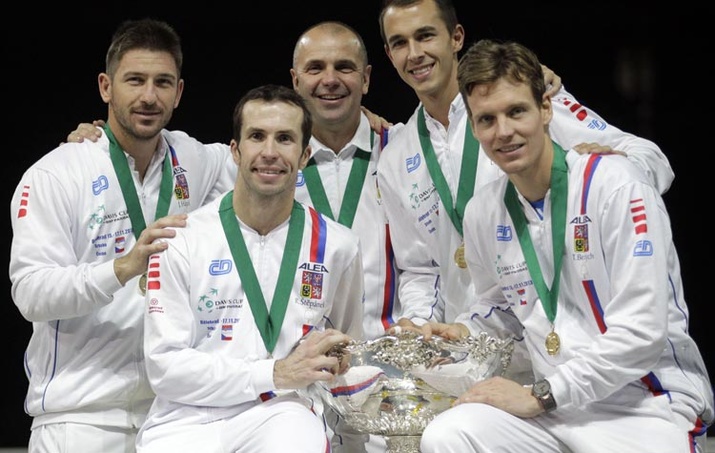 "Radek is such a good friend that playing doubles with him is like when you go somewhere by car, if you know what I mean," Berdych said. "We know where to go, we know what direction to go in and we want to get to the final destination quickly, safely and enjoy it. Whenever I think of Radek it always brings to mind smiles and a lot of laughing."
Their chemistry has taken them far in a competition that traditionally favors teams with strength in depth. In contrast to the array of talent the Spanish have at their disposal, Berdych and Stepanek have flown the Czech flag by themselves for almost a decade now.
While many players see tennis as purely an individual sport with the Davis Cup an irksome distraction from the real business of the tour, for Berdych it's about national identity.
"For us, Davis Cup means that we get to represent our country and show everyone in the Czech Republic and all over the world that tennis is one of the best sports ever," he said. "The team atmosphere definitely brings out the best in me individually, especially when I get to play at home. It always just feels like a celebration of tennis when that happens."
The question now is whether team success is all Berdych will be remembered for, or whether his game's easy power can carry him to the cusp of another major title. One suspects that if tennis immortality was determined under the bright lights of one of Prague's arenas, rather than the lawns of Wimbledon or the cement of New York, he would prove hard to stop.
This article is from the Mar/Apr 2014 - Stan Wawrinka issue

SOLD OUT

Subscribe now and you'll never miss an issue!