Tim Van Rijthoven Upsets Daniil Medvedev To Win Libema Title

From wild card to wild ride, Tim van Rijthoven defeats Medvedev 6-4, 6-1 to claim title
Although he lost the final, tomorrow morning Daniil Medvedev will be ranked #1 for the second time this season as points from Roland Garros 2021 drop off.
Tim van Rijthoven, competing in just his second tour-level event, will be ranked 106 having begun the event ranked 205. The Dutch native just twenty-five, cashed in the wild card he received by dispatching #14 Taylor Fritz and #9 Felix Auger-Alissime in the semis, in a third set breaker.
Medvedev, without a title this season, reached the final at the Australian Open, losing to world #4 Rafa Nadal in an epic five-setter. The twenty-six-year-old Russian, no stranger to grass, claimed his maiden grass court title in Mallorca last spring (d. Querrey).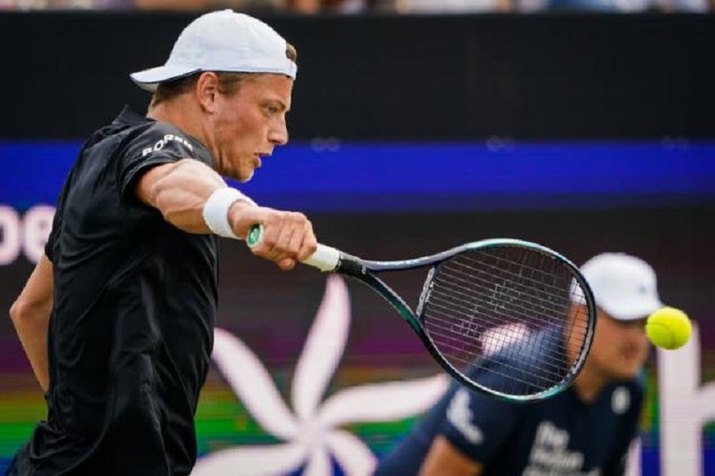 Medvedev won the toss and elected to receive. van Rijthoven was composed from the start, striking an ace up the tee as he held to 15 with an exquisite one-handed backhand down the line. Medvedev hit an ace out wide but faced triple break point and dumped serve when he double-faulted.
van Rijithoven faced triple break point and gave back the break when he netted a forehand. During this game, Medvedev went to his chair as his nose began to bleed and as a result, play was paused briefly following a medical timeout.
Medvedev faced 15-30 but managed to hold for 2-2 with an incredible forehand re-drop winner. van Rijthoven made 3/5 first serves, employed the slice backhand and held to 15 with a forehand winner from the forecourt.
The soon-to-be world #1, continued to misfire with the forehand and serve as he double-faulted to face triple break point. The Russian, however, regained his focus and held for 3-3 with three consecutive aces!
van Rijthoven continued to impress with his formidable serve and groundstrokes which consistently extracted errors from his opponent. The Dutchman made 5/5 first serves and held to 15 for 4-3 when Medvedev netted the return.
Although the crowd in Rosmalen was clearly behind their native son, they consistently applauded Medvedev's winners. The Russian made 3/5 first serves and held easily to 15 with an outstanding serve out wide to level at 4-4.
van Rijthoven continued to strike the ball with conviction, hitting a crisp backhand volley winner and another ace to hold at love for 5-4. Medvedev, serving to stay in the set, faced double break point and lost the set when a lob went wide.
van Rijthoven repeatedly handcuffed and rushed his opponent with potent, well-placed serves and blistering groundstrokes. The Dutchman served first in the second and with two additional aces and a deft drop shot, held at love for 1-0.
Medvedev, dazed and bewildered, missed 4/6 first serves and it cost him as he dropped serve with another forehand error while van Rijthoven emphatically held at love to consolidate the break for 3-0. The supremely talented Russian was running out of time and options. His powerful and unorthodox forehand continued to betray him and following three consecutive errors, dumped serve for 0-4.
The boisterous crowd urged on their charge as he stepped to the line to serve. van Rijthoven, just two games from the title, continued to out-serve his opponent as he held for 5-0 with an exceptional serve and inside-in forehand.
Medvedev, serving to stay in the match, missed 6/12 first serves and faced three deuce and a match point yet held with his 6th ace and a backhand error from his opponent. van Rijotheven, with the home crowd behind him, opened with an ace and closed out the game, set and match with a massive serve up the tee.
It was an incredible, near-flawless performance from the Dutchman. He plowed thru the draw, downing three seeded players to claim his first career title.
van Rijthoven outplayed his opponent in every department. He finished with 4 aces, 1 double fault, and made 74% of first serves. Astonishingly, he won 84% of first and 70% of second serve points. Medvedev, conversely, won just 56% of first and 44% of second serve points.
van Rijthoven converted 4/10 break points and won 60 of 95 points played. It was a remarkably poised and authoritative performance from the soon-to-be ranked world #106.