Thiem Rolls Into The US Open Final

Dominic Thiem dismantles Daniil Medvedev 6-2, 7-6, 7-6 to reach first US Open final
Although Thiem led the head to head 2-1, Medvedev won their last meeting last year on a hardcourt. Thiem, the #2 seed from Austria, had his best result in New York two years ago reaching the quarterfinals. Medvedev, the #3 seed from Russia, was trying to match his best result, having reached the final last year, losing in five, scintillating sets to Rafa Nadal.
Both were in fine form heading into their first grand slam encounter as Medvedev had not dropped a set in five matches while Thiem lost just one.
Thiem opened with a big first serve and held to 30 when Medvedev overcooked the inside-out forehand. Medvedev had a bit more trouble holding as he missed 4/8 first serves and donated a double fault but with an ace and two fantastic forehands, held for 1-1.
Thiem held easily to 15, closing out the game with an ace out wide, short in the box. This would be his go-to serve, paying dividends throughout the match.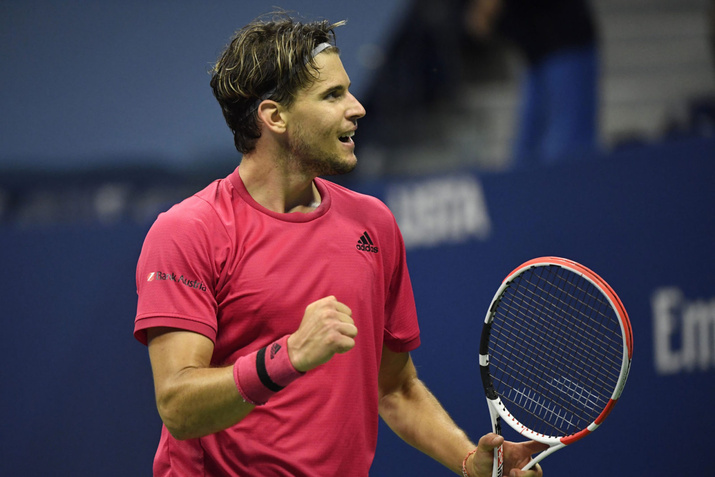 Medvedev, three years younger than Thiem at twenty-four, once again struggled to hold serve, missing 4/8 first serves and faced break point when Thiem ripped the backhand pass down the line. The Russian went for broke on first serve winning the next three points, the last with an ace up the tee.
Level at 2-2, Thiem went 4/4 on first serves and held at love for 3-2. The seventh game is referred to as the "swing" game but in the opening set of this semifinal slugfest, it was the sixth. Medvedev, a master tactician, mixed ¾ pace shots with powerful groundstrokes to frustrate and confound his opponent. With a potent serve up the tee, Medvedev led 30-15 but soon faced 30-30 as he donated another double fault.
Thiem, hitting a second serve return close to the baseline, earned break point. He would earn another when following a well-struck, extended rally, Medvedev netted a backhand.
From this point, things spiraled out of control as Medvedev, believing his first serve was long, was not prepared for Thiem's return. Prior to hitting the ball in the net, he called out to the chair umpire as he heard no out call. The umpire did not overrule and did not permit Medvedev to challenge the call.
Medvedev was irate as he implored the chair to grant him another serve and as he proceeded to go around the net to check out the mark, he was issued a code violation by the umpire.
Hawkeye review, viewed by only the commentators and tv audience, confirmed that the serve was out, and Medvedev should have had a second serve but instead lost the point and game.
Thiem, who agreed that Medvedev should be permitted to challenge the call, held easily to 15 as his opponent continued to unravel. Medvedev, serving to stay in the set at 2-5, quickly faced triple break and set point as he continued to misfire on the forehand. Although he saved one with an ace out wide, he lost serve and the set following another forehand error.
Thiem, served first in the second and dropped serve as he committed three unforced errors and his first double fault. Medvedev, seemingly more composed, opened with an ace up the tee and held at love to consolidate the break. Thiem continued to miss with the first serve but with solid hitting off the backhand, held to 15 for 1-2. Medvedev held to 30 for 3-1, while Thiem held at love for 2-3.
The Russian, serving at or below 58% first serves, managed to hold with a huge one on game point despite donating multiple unforced errors. Thiem, determined to keep it close, once again held at love with a powerful serve up the tee. Medvedev, struck his 5th ace and held easily to 15 for 5-3.
While there were not many extended rallies, Thiem continued to alternate between slice and topspin on the backhand and it often extracted errors from his opponent. Medvedev's pinpoint accuracy off the ground was less than stellar as he continued to whiff the forehand and overplay the drop shot.
Medvedev missed a golden opportunity to close out the set on Thiem's serve as he quickly went up 0-30 following a double fault and a spectacular forehand down the line, executed from the doubles alley. Thiem, dug in, winning the next four points as Medvedev donated three unforced errors.
Medvedev, serving for the set at 5-4 could not get it done despite hitting his fastest serve of the match up the tee at 129mph. He quickly faced double break point and dumped serve following two additional forehand errors.
Level at five games apiece, Thiem gifted his third double fault to face break point and would face four more but miraculously held for 6-5, forcing Medvedev to hold or drop the set. Medvedev, demonstrating steely resolve after missing a handful of opportunities in Thiem's last two service games, continued to struggle on first serve but battled to hold for 6-6 and force the tiebreaker.
Medvedev reached set point on his own serve at 6-5 but could not convert as he committed another unforced error. Following a poorly executed drop shot from the Russian, Thiem closed out the breaker 9-7 with a spectacular forehand down the line.
Although the Russian came back from two sets down to force a fifth against Nadal in last year's final, he was unable to replicate that level against Thiem.
The Russian served first in the third and immediately faced a break point as he overcooked another forehand. After an ace, a double fault, and three deuce points, he held with another ace out wide.
Thiem also had difficulty in his opening service game as he whiffed a forehand to face break point and dumped serve when he misfired on the backhand down the line. Medvedev, once again with the early break, held at love for 2-0. Thiem returned the favor, holding at love for 1-3.
The Russian, missing on the first serve all too often, struck his 9th ace and despite facing deuce and one break point, held with a sweet backhand drop shot and a return error from Thiem. The Austrian fell to the ground for the second time, apparently slipping on his own sweat. Although he faced two deuce and one break point, Thiem held for 2-4 when Medvedev's backhand clipped the net.
The Russian, seemingly in control, struck his 10th ace and once again held at love for 5-2. His opponent, applying the pressure, held to 15 with a huge serve up the tee. Medvedev, serving for the set, failed to close as he whiffed an easy forehand on set point and dropped serve when after a long and well-played point, went wide with the crosscourt forehand.
Thiem, sensing his opponent's doubts and frustration, held to 30 to level the set at 5-5. Medvedev, determined to not let another set slip away, buckled down and held at love for the third time. Thiem, serving to stay in the set and force the tiebreaker, struck his 2nd ace, and held for 6-6 when his opponent misfired on the backhand.
Medvedev needed 7 points to stay in the match while Thiem was just 7 from his first US Open final. The Austrian raced out to a 4-1 lead, but the Russian fought back to 4-5 with a well-struck serve.
After close to three hours, Dominic Thiem reached match point at 6-4 with an explosive backhand down the line and secured the breaker, set and match when his opponent donated yet another forehand error.
In the end, this three-set match, littered with unforced errors, was not played at an exceedingly high level. Medvedev gave away leads in the second and third sets and committed 44 unforced errors to 29 winners. He seemed to lack clarity of purpose, often making poor shot selections which cost him dearly. Thiem finished with 33 unforced errors – including 15 off the backhand-and 22 winners.
Someone other than Novak Djokovic or Rafa Nadal will be crowned US Open Champion as Dominic Thiem takes on Sascha Zverev in the final on Sunday. Thiem's fourth. The Austrian leads the head to head 7-2, winning their last three matches. This will be the German's first grand slam final, and Thiem's fourth.