Thiem Defeats Cecchinato To Advance To French Final

Dominic Thiem, the twenty-four-year-old Austrian and world #8, reached his first grand slam final following a comprehensive win over the Sicilian, Marco Cecchinato. Thiem, having lost in the semis the last two years, saved three set points in the second set tie-breaker to secure his place in the finals at Roland Garros.
This was the third meeting between Thiem and Cecchinato having split the previous two. Cecchinato won their previous meeting on clay at a futures event in 2013. The twenty-five-year- old Italian came into the French Open ranked #72 but will leave Roland Garros as a top thirty player and most probably will be seeded at Wimbledon.
Cecchinato had never won a match at the grand slam level yet on the terre battue at Roland Garros, dispatched three seeded players including former world number one and 2015 French Open champion, Novak Djokovic.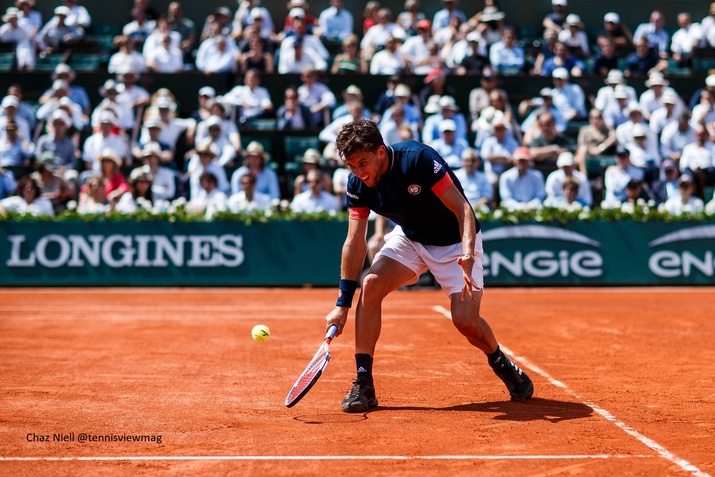 Thiem did not underestimate his opponent given that earlier this spring on the dirt in Budapest, Cecchinato, as a lucky loser, won his first ATP title.
Cecchinato served first and was immediately broken. The Sicilian found himself down another break point in the fifth game but managed to hold. Thiem held his first three service games easily but found himself down triple break point in the 8th game following a double fault. Despite saving one, Cecchinato converted his fourth break point to level the set at four games all.
Cecchinato took advantage of Thiem's court position deep behind the baseline by continually employing the drop shot to great effect. Thiem continued to mix it up alternating between heavy topspin off both wings and wicked slice off the backhand in addition to serving and volleying, keeping Cecchinato on his heels.
Thiem held for 5-5 and with a monstrous forehand winner down the line, broke the Sicilian to take the lead 6-5 and held to take the opening set 7-5.
Cecchinato faced a break point in the opening game of the second set but held with a blistering forehand down the line. He would face double break point serving at 2-2 but held with a scintillating drop shot winner.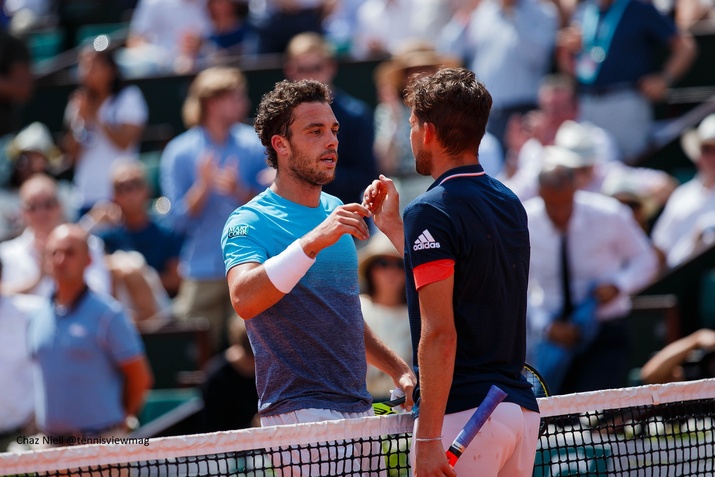 They remained on serve through twelve games and played an incredible tie-breaker to decide the second set. Thiem jumped out to a 5-2 lead following an overhead smash and brilliant inside-out forehand but Cecchinato replied with a crisp volley winner for 3-5.
Thiem found himself up triple set point following a service return winner but could not close it out. Cecchinato held three set points at 7-6, 9-8 and 10-9 but failed to convert. Thiem executed an exquisite drop shot to level the breaker at 10-10 and on his fifth set point, closed out the breaker 12-10 when Cecchinato's return sailed long.
Thiem's relentless ground game, well-placed volleys and drop shots took the wind out of the Sicilian's sails and he raced to a 5-0 lead in the third set. Although Cecchinato had double break point with Thiem serving at 5-1, the Austrian saved both and secured the set and match with an extraordinary forehand down the line.
Thiem's stats were stellar: 83% of first serve and 66% of second serve points won and broke four times. With ten career titles, Thiem is looking for his first at a grand slam event. Standing in his way of the Coupe des Mousquetaires-10-time French Open champion and world #1, Rafa Nadal.