Tennisgiving: 10 WTA Reasons to Give Thanks in 2013 (Part II)

On the day before Thanksgiving, Victoria Chiesa and David Kane offer their top five reasons to be thankful for the 2013 season in women's tennis.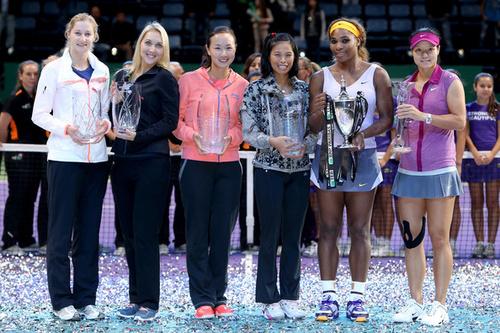 5. The WTA Championships in Istanbul
The WTA's season-ending championships likes to think of itself as the most important women's tennis event of the year outside the four majors. In theory, this would be right. Not only does the tournament boast the top eight singles players of the season, it boasts one of the biggest paychecks on the circuit and is often accompanied by thrilling drama that only the end of the season can provide. It can be hard to market the importance of an event like this, however, without the crowd support to match.
Istanbul, of all places, brought the WTA Championships back to relevance after a dreary three-year stint in Doha. Despite being staged in a country with little tennis history, crowds came in droves to watch the world's best duke it out. Every match was accompanied by a raucous atmosphere, and each player received her fair share of support from the assembled crowd. Istanbul's three-year run as host of the final stop on the WTA calendar came to an end in 2013, but we give thanks for the memories. The tournament will move onto Singapore, where we can only hope that fans again come out to support the world's best.
4. Alisa Kleybanova
In a world where diseases like cancer can derail even the most ordinary of lives, it was heartwarming to see former top-20 star Alisa Kleybanova make good on her long-promised comeback from Hodgkin's Lymphoma. The powerful Russian was inching towards her peak when she received the diagnosis, and her return during last year's Sony Ericsson Open proved too soon, so another layoff was in order. Returning to the Tour in early 2013, Kleybanova was made to start from zero, having to rely on wildcards to enter events where she used to be a seed.
But the woman who felled a deadly disease was not about to give up on the game that she loved. Kleybanova began grinding for points on the ITF circuit, playing small challenger events where she played the roles of athlete, lineswoman, and ballkid all at once. She played a full season of World Team Tennis, where she was named Rookie of the Year and helped lead her team to the Championships. The Russian's anticipation and pinpoint accuracy were beginning to return by the US Open, where she pulled off a tremendous win over the up-and-coming Monica Puig. Kleybanova still has some ground to make up before she reaches her goal of re-entering the top 20, but wherever this journey takes her, the tennis world is thankful to be able to take it with her.
3. Wimbledon's "Wacky" Wednesday
Once a hotbed for shock losses and record-breaking upsets, the WTA has become as stable as it has ever been in the last 24 months as Serena Williams, Victoria Azarenka and Maria Sharapova have achieved a near-monopoly on the last eight majors. For those who disappointed by the sudden lack of chaos, the first Wednesday of this year's Wimbledon was heaven on a Triscuit. Beginning on a somber note with Azarenka's withdrawal, the day took a quick veer into Crazy Town, as seeds began to fall with little warning.
Former junior Wimbledon winner Caroline Wozniacki took an early tumble to underrated Petra Cetkovska in a match that only got worse for the former No. 1. Cetkovska yanked the Dane all over Court 2 with her laser-like groundstrokes to pull off the upset. Sharapova was up next on the same court, and had an almost balletic "cow on grass" performance to Michelle Larcher de Brito. Looking to get back into the match as the Portuguese former prodigy served for it, the Russian could not keep the footing and balance needed to unleash her groundstrokes. These early results set the stage for the most surprising major in the last few years, and it reminded everyone that no one was safe from the shadow of an upset. Anyone can lose on any given day, and consistency is the real difference between the top-10 player and those ostensibly deemed also-rans.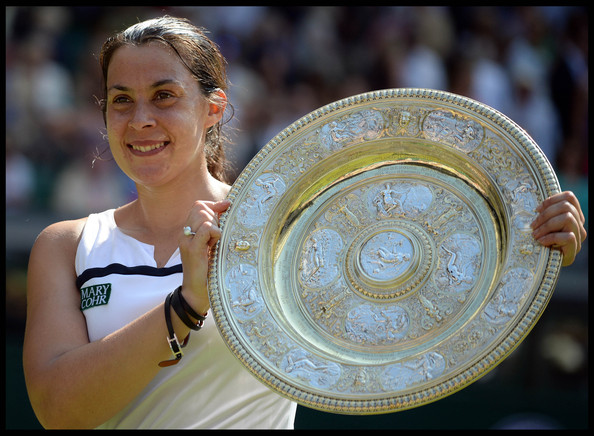 2. Marion Bartoli
Is it any wonder that Marion Bartoli captured the weirdest Wimbledon in recent memory? Through her long career, there were few in tennis who could question Bartoli's talent, nor her ability to compete with the best. However, with her unorthodox training methods and penchant for picking up injuries at majors, many doubted her stamina over a two-week tournament. With the top three seeds all eliminated before the quarterfinals, the quirky Frenchwoman grabbed this tournament with two fists.
In seven matches, she did not drop a single set, including to Sabine Lisicki, the darling of the Wimbledon fortnight. Seemingly nerveless as she served out her first major title, Bartoli earned her place at the All-England Club with a piercing two-handed forehand to set up championship point and an ace to clinch it. Looking like a threat going into the summer hard courts, Bartoli suddenly retired, citing niggling injuries and decreased motivation. But who could blame her? This was a woman who gave her entire self to this sport. Suffering through lackluster results for most of 2013, she changed everything. She fired Walter Bartoli, her father and lifelong coach, dabbled with coaching arrangements and hitting partners before settling on Thomas Drouet with input from a former Wimbledon champion in Amelie Mauresmo.
A loner for most of her career, Bartoli re-entered the fold of the French Tennis Federation. Her once-empty box was filled with supporters and fellow players during her Wimbledon win. By the time that she reached the quiet town of Mason for the Western and Southern Open, Marion Bartoli had already earned her fairytale ending. Kudos to the Frenchwoman for having the courage and poise to close the book on her terms.
1. Billie Jean King
In 2013, the WTA Tour turned 40, and Billie Jean King turned 70. Milestone birthdays, aside from an opportunity to appreciate nice, round numbers, are often accompanied by pointed reflection. She turned a dream into reality. She refused to hear the word "no," or that she should not do something because of her gender. Not only did she blaze trails, she laid them down first before setting them ablaze.
Things were much different in 1970. The Open Era of professional tennis had begun just two years earlier, but all of the opportunities were for men. Men held the power, signed the checks and cashed the checks. Nine women finally had enough. Billie Jean and the eight others (Peaches Bartkowicz, Rosie Casals, Judy Dalton, Kristy Pigeon, Nancy Richey, Valerie Ziegenfuss, Julie Heldman and Kerry Melville) who made up the 'Original 9' had everything to lose when they began the fight for equal prize money, but they knew that the generations to come would have everything to gain from their fight. The WTA was born from nine $1 contracts. Forty years later, it has grown to be the most lucrative and high-profile women's sport in the world.
Without Billie Jean King, everything that we enjoyed about women's tennis in 2013 never would have been possible. "Legend" is one of the most overused word in sport, but Billie Jean King is one in the truest sense of the word.
Be thankful for Billie Jean, one of sport's biggest humanitarians, and her vision of equality. For her unwillingness to accept the status quo and for taking a leap of faith. For inspiring generations of girls and for opening the door, not just for girls and women in sports, but for women across the world.