Tennis View Readers' Issue

Recreational tennis players are unique in many aspects, but one thing they have in common is their love of sport. Tennis View Magazine surveyed several of its subscribers and chose a handful to be showcased in the following pages. Read on to learn how these players were introduced to the game, their favorite go-to stroke and what motivates them to return to the court time and time again.
By Teresa Thompson with Kait O'Callahan
---
DANA KALAL
Admin. Asst.
Southlake,

TX

USTA

rating:

3.5

Plays

5

times a week
Favorite Discipline: Singles
Favorite Stroke: Backhand
Favorite Player: Rafael Nadal
Dominant on-court thought: I don't know. Brad Gilbert would say that is a problem.
Dana Kala's first opponent was her sister when they were children. Like most sibling rivalries, competition grew heated. Dana may have not played her sister since then, but she's since met plenty of troublesome opponents. If her rival makes a dodgy call, Dana takes a deep breath and asks pointedly, "Are you sure?" then accepts the call. "If someone is unfair, I have learned to let it go. I lose far more points by letting it get to me…I've never come off the court wishing I had been more combative verbally – only that I had hit better or taken more risk."
---
JONATHAN AKERS
U. S.

Navy Corpsman
San Marcos,

CA

Plays every day if possible
Favorite Discipline: Singles
Favorite stroke: Serve
Dominant on-court thought: Win the next point!

Stress relief, competition and maintaining fitness keep Jonathan returning to the courts. He has a long-standing rivalry with his best friend and enjoys plotting a game plan and using his backhand that has evolved into a quirky weapon.
"For a long time I would only play a slice on the backhand side. Since I started developing a topspin backhand, I can never decide between a one- or two-handed stroke. The ball sometimes comes off my racquet a little weird since it can end up being a strange mix of the two strokes."
Tennis has taught Jonathan that nothing is impossible. He fights hard for wins, knowing that only he can control how well he plays. He attributes his victories to having a solid serve and taking one point at a time.
---
GABE JIMENEZ
Attorney
Raleigh,

NC

USTA

rating:

3.5

–

4.0

Plays

3

to

4

times a week
Favorite stroke: Inside out forehand
Favorite player: Andy Roddick
Dominate on-court thought: "I try to push my opponents back off the court. They can't hit many winners from behind the baseline."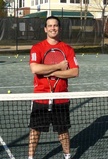 Gabe picked up tennis in 2009 and gravitated towards doubles, utilizing strategy and a wicked backhand slice. "There is nothing like a great doubles match and getting to share the victories and defeats with a teammate and team." When he steps onto a court, he says he adopts Andy Roddick's attitude. "He played in an era against all-time greats, yet he never quit and won or lost guns-a-blazing. His most recent Wimbledon final versus Federer was the most inspirational match I've ever seen, and he multiplied the respect I have for him after the valiant effort."
---
CHRIS PONDISH
Educator
New York,

NY

Plays:

2

to

3

times a week
Favorite player: John McEnroe, Bjorn Borg
Dominant on-court thought: Control your errors

Chris plays year-round, competing in about 100 matches annually. Because he doesn't enjoy competing in team sports, he prefers singles over doubles. Years of lessons eliminated any unorthodox technique, and he considers the cross-court forehand his best stroke. Even when a loss looks inevitable, he controls his temper: "Manners are important…I was taught early that tennis is a gentleman's game."
Chris's motivation to play tennis hasn't changed with time: good exercise, a keen mental challenge and healthy competition will keep Chris playing into an old age. "Keeling over on the court would be all right with me!" he laughs.
---
KAREN POOLE
Office Assist.
Roseville,

CA

USTA

rating:

3.5

Plays:

3

to

4

times a week
Favorite Disclipline: Singles
Favorite Player: Caroline Wozniacki
Dominant On-Court Thought: Find a way to win, relax and play my game.

Karen Poole admires the fighting spirit of Caroline Wozniacki, but her own game style might best resemble that of Gael Monfils: never giving up on a point and throwing herself across the court in a dramatic leap to reach the ball if necessary. She relies not just on her determination, but her favorite stroke, the serve, to dominate opponents. Her best tennis memory is when she and her boyfriend took second place at a college doubles championship. They've since married, proving that tennis can bring people together on – and off – the court!
---
KEVIN PETERSON
Health Club Membership Dir.
Shawnee,

KS

USTA

rating:

4.5

Plays

2

to

3

times a week
Favorite Discipline: doubles and singles
Favorite stroke: Backhand
Favorite player: Roger Federer
Dominant on-court thought: Stay positive and be confident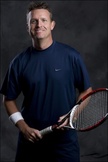 Kevin's first sport love was golf. However, with a second child on the way, golf was too time consuming and costly. So he made the switch to tennis – a cheaper, faster sport – and says he hasn't looked back.
Kevin believes singles tennis is more difficult than golf. "In golf, the ball is just sitting there, and you don't have to strategize much. In tennis, the ball can have underspin or topspin, as well as variation in speed and height. There isn't a caddie or guidebook telling you how to play, or friends giving you advice from a nearby cart. It's mano a mano, baby!" He also adds that tennis burns a lot more calories. "I'll bet that a lot of weekend golfers consume more calories than they burn during a round!"
---
KRISTIE RASHEED
Regional Dir. of Revenue Optimization
Mt. Pleasant,

SC

Plays

3

+ times a week
Favorite Discipline: Singles
Favorite stroke: Forehand
Favorite player: Her husband, Charly
Dominant on-court thought: Focus

They say in tennis that love means nothing. Kristie Rasheed bucked that age-old saying when she set up a first date playing tennis. She'd never played tennis before, but her date, Charly, had tennis in his family and Kristie had always wanted to give the sport a go. The first date was a success; four years later, Kristie and Charly are playing tennis together as husband and wife. Tennis has taught Kristie that you can't judge a book by its cover, and when she steps on the court, she's prepared for anything. After all, her first opponent turned out to be the love of her life!
---
TOM ALFANO
Physician
Paradise Valley,

AZ

USTA

rating:

5.0

Plays

1

to

2

times a week
Favorite Discipline: Singles
Favorite stroke: Passing shots, forehand
Favorite player: Bjorn Borg, Kim Clijsters
Dominant on-court thought: Stick to my rituals and strategy

Tom played tennis as a child and says it kept himself out of trouble through his teenage years by busying himself with the sport. He won the Boy's 16 National Indoors in doubles and was presented with a runner-up trophy by Arthur Ashe at another tournament. Despite early success, Tom abandoned the sport after college for twenty years. When he returned he adjusted to the new level of power with a counterpunching style. "I rely on steady, aggressive groundstrokes against other baseliners, hoping to eventually wear them down. Against bigger, stronger opponents, I rely on my return of serve and passing shots," he explains. Tom's perspective towards competition has also changed with time.
"I'm still extremely competitive, but I get over a loss or bad performance rather quickly. It's fun to go have a beer with your opponent afterwards. Just being out on the court and able to play physically makes us winners as we advance in age."
---
PETIA RODEWALD
CPA

Clearwater,

FL

USTA

rating:

3.5

–

4.0

Plays

4

times a week
Favorite variation: Singles
Favorite stroke: Forehand
Favorite player: Roger Federer, Maria Sharapova
Dominate on-court thought: Run for every shot and win every point.

Petia was a late starter to tennis, first picking up a racket age 36. She realized that tennis could be the sport for her when she watched Roger Federer and Andre Agassi play the 2005 US Open final. "I was pregnant with my first child," she remembers. "That is when I told myself that I will be signing up for tennis after my delivery and secretly wished that I would love to see my unborn daughter play on that stage one day." True to her word, Petia joined a tennis club to help shed the pregnancy weight and soon cracked forehands and swinging volleys. Petia's daughter is now 5 years old and is playing Quick Start tennis. Thoughts of playing with her children when they are older motivate Petia to continue to work hard and improve.
---
CARLOS CRUZ-AEDO
Pres., Tennis Lovers for Charity
Torrance,

CA

Plays

2

to

3

times a week
Favorite Discipline: All – singles, doubles and mixed
Favorite stroke: Stretch volley
Favorite player: Rod Laver
Dominate on-court thought: I'm blessed to play this great sport!
Tennis was a sport firmly engrained in the Cruz-Aedo family; his grandfather taught his son the sport, and in turn, his son passed down to Carlos both his love of the game and a solid technique. Carlos played tennis as a child and worked as a ball boy, once ball-boying for Ilie Nastase. Watching the Romanian, he discovered a shot to add to his own repertoire: the 'side-tweener.' He found himself attempting the unorthodox shot to return difficult lobs. Carlos competed on the European pro circuit for a time, but despite his time on the tour and an experience meeting his idol Rod Laver, Carlos recalls his favorite tennis memory as playing with his children in national father-son and father-daughter competitions. Carlos dreams of playing until the grand age of 100. "It would be great if I can play just one point in the national 100 and over singles championships!"
---
TERI L. OHAN
Health

&

Wellness Product Rep
Boulder,

CO

USTA

rating:

3.5

Plays

6

times a week
Favorite Discipline: Singles
Favorite stroke: Backhand
Favorite player: Rafael Nadal
Dominant on-court thought: Play tough, smart and brave. Reduce unforced errors. Shake a bad point off and play my best!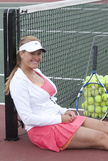 When Teri, a self-confessed tennis addict, tore a tendon in her dominant forearm, doctors advised a two-month break from tennis. After two months and her injury still hadn't healed, she learned to hit with her other hand. To her surprise, the left-hander was ambidextrous.
"The scary thing is my forehand is better with my non-dominant hand (right) than with my dominant hand (left)," Teri exclaims. "I had one coach tell me he thought I should stick with my new learned right hand because my tennis was prettier and smoother!" Teri, however, eventually returned to swinging with her dominant arm. She thrives on competition and believes her instinct and drive to win are unique, but admits that close matches make her nervous.
---
ELIOT HOWELL
Financial advisor
Linden,

NJ

USTA

rating:

3.0

Plays

2

to

3

times a week
Favorite Discipline: Doubles
Favorite stroke: Whatever brings success
Dominant on-court thought: The point in play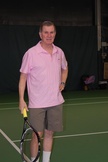 When Eliot was hit in the head with a softball three years ago, he recognized the danger of that sport and switched to tennis. "Tennis keeps me young. It provides a recreational outlet that gives me joy. I believe tennis makes me a contented individual and consequently a better financial advisor, husband and father." When asked how long he will continue to play tennis, Eliot is taken aback. "You mean I have to stop sometime? I have played with guys in their mid-80s, and they still have a sound game. So, why do I even have to think about stopping?
---
ERIC SANTANA
Assoc. Dir., Design Project Mgt
Los Angeles,

CA

USTA

rating:

3.5

Plays

4

to

5

times a week
Favorite Discipline: Singles
Favorite stroke: Forehand
Favorite player: Andre Agassi
Dominant on-court thought: Remain focused

Eric was first inspired to play tennis when he watched Bjorn Borg compete against John McEnroe in the legendary 1980 Wimbledon final. Even though courts were not greatly accessible in the Bronx, Eric found a way to learn and now considers it an integral part of his life. Tennis is Eric's passion, and he plays for the social aspects and exercise. One of his finest tennis moments came at a Pro-Am doubles match. Not only did he hold his own against doubles legend Pam Shriver on an intense net point, Eric came out on top, proving that anything is possible in tennis.
"I will play tennis until I cannot walk anymore!"
This article is from the Jan/Feb 2013 issue

SOLD OUT

Subscribe now and you'll never miss an issue!