Tennis Needs Nick Kyrgios

Last fall I sat at the bar at the Newport Beach Tennis Club in California having lunch on a Saturday afternoon watching Nick Kyrgios play a match on TV. I was relaxing and eating my chicken sandwich after a morning workout on court with the young professional female player I was coaching. At one point, I glanced to my left and across the bar from me I thought I saw Dennis Rodman sitting and talking to some club members. Rodman is, of course, the bad boy of the NBA who won 5 world championships and played for the legendary Chicago Bulls during their golden era. He had an earring in his nose. It sure looked like Dennis. The guy next to me confirmed it was. Dennis, it turns out, is friends with the owner of the club and was there to sign some largely framed posters of the Bulls from their dominant era.
Anyhow, I couldn't help but think that tennis needs a bad boy, or someone with some vastly different character, to give it some flavor. And then it struck me. I realized that in some ways Dennis and Nick are both similar. The NBA needed a Rodman among the good guys. Nick, while yet to match Rodman in achievements, is exactly what tennis needs. A player who could be viewed as a potential bad boy with incredible talent, who does things his way. And who happens to be very good at what he does. He is also someone that the vast majority of this generation of kids can relate to.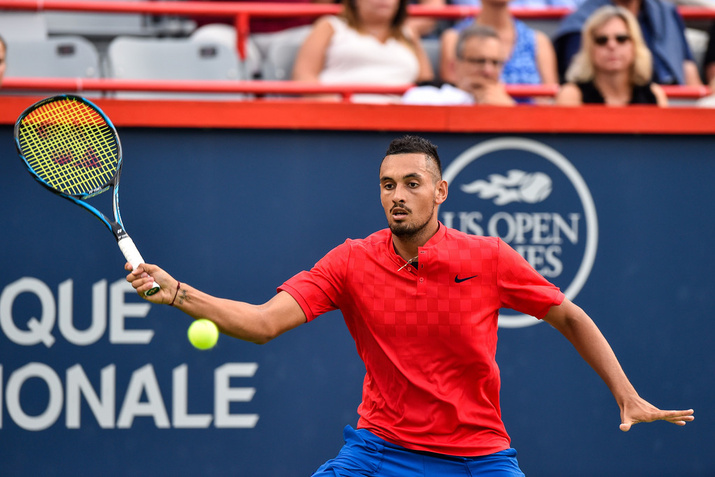 Nick Kyrgios does indeed bring flavor. He also brings drama, raw talent, athleticism, self-confidence, and he does things his way. Heck, he even walks out onto the court in green basketball shoes. It is the Nick Kyrgios show. He is the ultimate entertainer. He draws attention for many reasons. Rodman brought attention to himself and others during his illustrious 14-year hall of fame NBA career. Rodman sported tattoos, and different hairdos, along with the earrings. He also really could play the game. And not just basketball, but the game of life. Rodman used his fame and image from basketball to carve out brief careers as a professional wrestler and actor. He also appeared in several "reality" TV series shows. He regularly clashed with opponents and officials during games. Tennis needs Nick Kyrgios.
At the tender age of 22, Kyrgios has made over a whopping $5 million in prizemoney, has 3 ATP titles to his name, a 63.95-win percentage in ATP world tour main draw matches as well as Davis Cup matches, and a career high world ranking of number 13. In addition to his achievements, he has made personal comments directed at opponents, he speaks his mind during matches, he hits shots during matches on big points that other players don't dare try such as tweeners, and has been known to have colorful conversations with spectators and umpires during matches. Not all of it is behavior that myself or anyone else with character would condone, but it brings publicity, excitement, controversy and makes tennis that much more interesting. I think that if we took away Nick Kyrgios from the game, it would be duller. Tennis would miss a key element and would be worse off. Personalities draw interest. Successful personalities draw more interest.
Earlier this year, I was in attendance at the Miami Open where Nick faced off against Roger Federer in the semifinals. Nick, by the way, just happens to be the second man after Lleyton Hewitt, to defeat Federer, Nadal, and Djokovic in their first meeting. The whole world loves Federer. And that's fair enough. He's clean cut, classy in every sense, politically correct but can give you his opinion simply and directly, on the court makes the game look easy, and he is on his way to becoming the greatest player our sport has witnessed.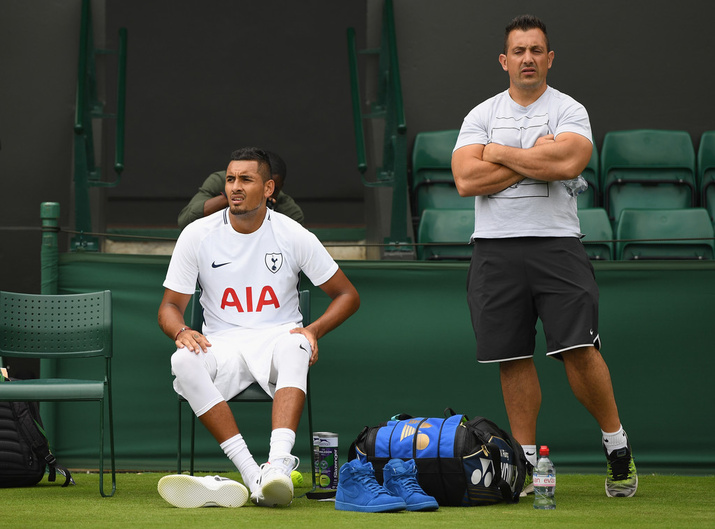 I can't remember the last time stadium court in Miami was packed for a men's semifinal. Or really any semifinal for that matter. Chaos basically reigned that evening as the fans gave it to Kyrgios left and right. Loud boos were becoming the norm. Nick argued line calls, played his heart out, talked not so nicely to members of the crowd and hit some amazing shots. The standard of the tennis was amazing. However, the atmosphere in that stadium was something I'd never seen before in a tennis match. Not even Davis Cup in Australia could match that atmosphere and I've been to some of Australia's most memorable Davis cup ties in recent decades. At the end of the match, Kyrgios was booed off the court. I couldn't help but think to myself, this type of match is what tennis needs. Electricity, entertainment, and excitement. It almost resembled a greatly anticipated boxing match. We cannot just have good guys behaving themselves when playing each other and expect the public, especially in America, to take more notice of tennis. We need more than that. We need Nick Kyrgios.
In May of this year, I was coaching a player at the women's ITF 60k in Charlottesville, Va. Nick Kyrgios was there to support his girlfriend at the time, Ajla Tomljanovic. He was polite to everyone there. It was interesting because when he was on court hitting with Ajla, a lot of players and casual observers were videoing Nick on their phones. I couldn't believe the amount of interest he was getting from just about everyone there including Ajla's fellow competitors from the tournament. I know he's an up-and-coming star on the men's tour, but still. In the days to come, I watched him dismantle players from Virginia's men's tennis team in practice with little effort. Ok, he's a professional and they're college athletes, but it was amazing first hand to see the difference in talent levels between a top 20 men's professional player and a top 20 men's college tennis team. It's as though Nick is just a guy that happens to be incredible at tennis, practices when he wants and buys his racquets from some sports store rather than have them custom made. I hope he chooses to dedicate himself to getting in superb tennis shape. The sky is the limit for him.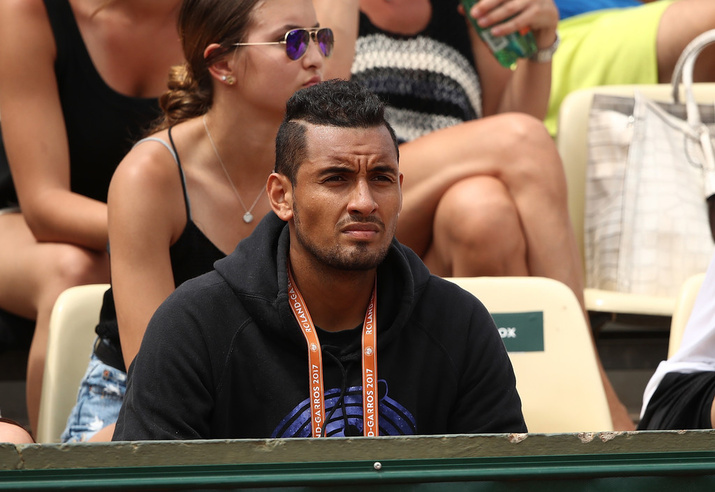 Kyrgios clearly knows what he's doing. He is a regular on social media and lights up his twitter account with interesting tweets and comments. He brings attention to himself with his opinions. It creates a buzz and gets people animated and interested. I remember some of the banter he received after losing to young Canadian phenom Denis Shapovalov last summer, on twitter, regarding Pokémon. Nick loves this stuff. And If it affects him negatively, he doesn't show it on court. I firmly believe he loves the game, and often his defense mechanism for deflecting pressure is his so-called lack of interest. Or stating that he would rather play professional basketball. No one is perfect after all.
Australians are typically known for their well-mannered, calm demeanor, and as a nation they are viewed upon as having a tradition of success based around hard work and coming off the court covered in blood, meaning they give it their all. Rafter, Laver, Rosewall, and Newcombe instantly come to mind as Aussies who fit this mold. However, in more recent decades, fellow Aussies Pat Cash and Lleyton Hewitt certainly had their temperamental moments in their younger days, and while they always played with their hearts on their sleeve giving it their all, they brought personality and international flavor to tennis. Nick Kyrgios does the same. And he is indeed his own man.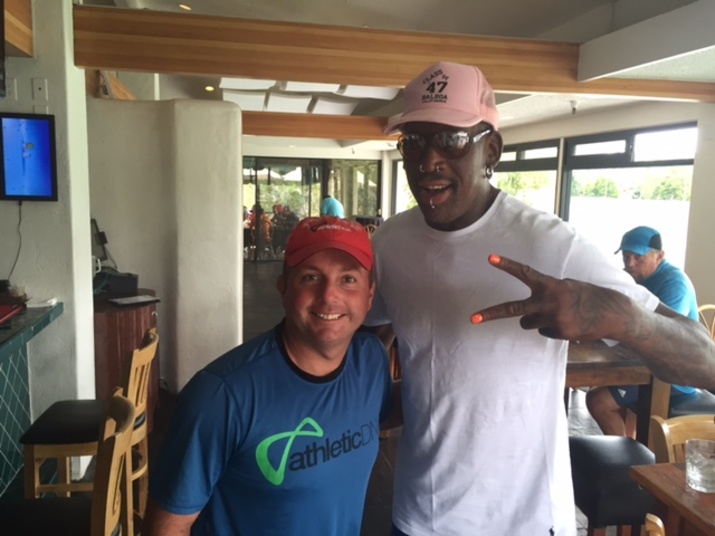 As I sat at the Newport Beach bar and restaurant watching Rodman sign autographs, I remembered that as a young boy growing up in Australia, many thousands of miles away, how cool it would be to meet someone who played for the dominant Bulls of the 1990s. On that particular day, I enjoyed every minute of it. Dennis was great. In the distant future, I hope that many young tennis fans will be asking Nick Kyrgios for autographs and photos, with the knowledge that Nick fulfilled his potential and achieved greatness from his career. Because he has the talent to do so.
Tom Downs is a tennis coach and consultant for elite professional and junior tennis players who has traveled with players to professional and junior tournaments.