Team Europe Wins Laver Cup For 4th Consecutive Time

It was do-or-die for Team World, down 1-11 heading into the final day of competition where each victory was worth 3 points and the first to 13 wins the Laver Cup. Team World captain, John McEnroe, was hopeful that Reilly Opelka and Denis Shapovalov would conquer Team Europe and extend the competition.
Sascha Zverev and Andrey Rublev, friends since they were juniors, joined forces for the first time. Team Europe won the toss and elected to receive. Team World came out hot, winning the opening point with a crisp forehand volley from Shapovalov. Opelka struck a huge ace out wide but dropped serve following an incredible inside-in forehand return winner from Rublev.
Zverev served first for Team Europe and held easily to 15 with an ace to consolidate the break. Shapovalov missed 4/6 first serves and with a poorly executed backhand volley and a double fault, dumped serve.
Rublev opened the fourth with a double fault but held to 30 for 4-0 with a terrific inside-out forehand on game point. Opelka opened with an ace out wide and though he missed 3/5 first serves, held to 15 to get Team World on the board. The enthusiastic crowd now was hopeful they might battle back and claim the opening set.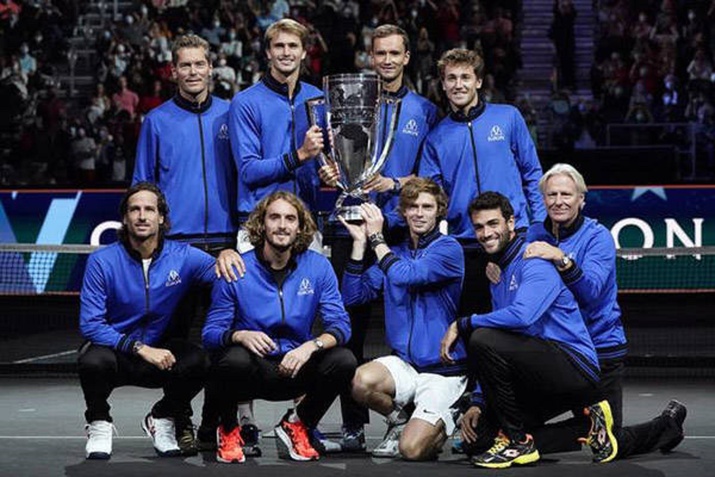 Zverev had a more challenging time than in his opening service game as Team Europe donated four unforced errors and faced break point yet held winning the last three points with a stunning forehand drop volley by Rublev and two return errors.
Serving to stay in the set at 1-5, Shapovalov dug in, making 5/5 first serves, and secured the game with a sweet crosscourt forehand drop volley by Opelka. Just as in his opening service game, Rublev opened with a double fault but emphatically closed out the set 6-2 with an ace up the tee.
Opelka served first in the second and with two monster serves, one a second serve ace, held at love for 1-0. Team Europe continued to rack up the winners including a forehand down the line off a let cord, a crosscourt forehand volley, and a 118mph ace up the tee from Zverev for 1-1.
Shapovalov opened the third game with an ace out wide and with an overhead smash from Opelka, held to 15 for 2-1. Rublev misfired on serve but with an ace out wide and an overhead smash from Zverev, held for 2-2. Opelka opened the 5th game with a double fault and quickly faced triple break point but battled to hold, making 4/5 first serves, including an ace, on the last five points.
The TD Garden crowd, sensing Team World was emboldened by that massive hold, cheered even louder when they hit winners and forced errors. Zverev held easily to 15 for 3-3 while Shapovalov, with an ace and Opelka a deft crosscourt forehand volley, held to 15 for 4-3.
Rublev made 3/5 first serves and held easily to 15 for 4-4. Opelka, serving with new balls, struck three consecutive serves over 131mph and a magnificent lob to hold for 5-4. Zverev, serving to stay in the set, held easily to 15 to level at 5-5.
Shapovalov donated another double fault but with three consecutive volley winners, held to 30 for 6-5. Although Rublev gifted another double fault, Team Europe held to 15 for 6-6 and forced the tiebreak.
Opelka served first and claimed the first point following a well-struck forehand volley from Shapovalov and Zverev leveled with a backhand down the line that clipped the tape. They changed ends tied at 3-3 but Team World assumed the lead when Zverev netted a backhand volley. Team World reached triple set point following a 120mph serve from Opelka and converted with a formidable forehand. The partisan crowd in TD Garden erupted in applause knowing Team World was just ten points from victory.
A ten-point match tiebreak would decide the winner. Team Europe served first and clinched the opening point when Opelka whiffed a forehand and Team World leveled with a fine forehand volley from Shapovalov. Team Europe raced to an 8-2 lead and won the breaker, match, and Laver Cup 10-3 with two winners on the last two points.
It was a dramatic finish to what had appeared from the start, a demolition job by Team Europe. They remain undefeated in Laver Cup competition having won the inaugural event in Prague and then the following two in Chicago and Geneva.
Captains McEnroe and Borg praised their team's efforts as well as the unwavering support of the Boston crowd. In addition, they paid homage to Roger Federer and Tony Godsick who created the Laver Cup as well as its namesake, two-time Grand Slam champion Rod Laver. Over and out from Boston! See you next year at the O2 arena in London!