Swiatek Rolls Into Roland Garros Quarterfinals

Iga Swiatek conquers Marta Kostyuk 6-3, 6-4 to reach 2nd consecutive French Open quarters
Like her incredible run to the title last fall in Paris, Iga Swiatek had not dropped a set thru three rounds. The twenty-year-old reigning French Open champion has achieved a career-high ranking of #9 and is brimming with confidence having recently won the Italian Open.
Her opponent, 18-year-old Marta Kostyuk whom she had never played, defeated the 2016 French Open champion, Garbine Muguruza in straights in the first round. Prior to today's encounter, her best performance at a slam was the third round at the 2020 US Open.
Swiatek, seeded 8th, served first and held easily to 15 despite missing 3/5 first serves including a double fault. Kostyuk opened with an ace but faced two break points, one following a fantastic forehand down the line by Swiatek, the other when she overcooked a backhand. The teenager struck another ace to reach deuce for the second time and behind a brilliant backhand down the line and a return error from Swiatek, held for 1-1.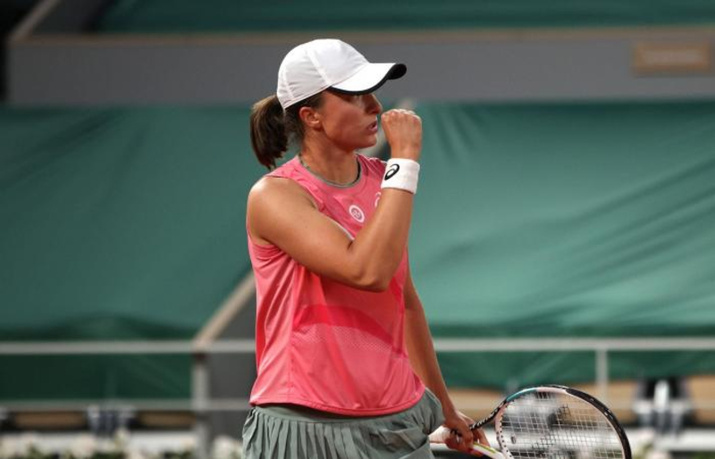 The twenty-year-old from Poland faced double break point when she mishit the backhand and inside-out forehand on consecutive points and dumped serve when she netted another backhand.
Kostyuk was unable to consolidate the break in an epic game that seemed to last an eternity. After missing 9/18 first serves and donating her second double fault, she faced six deuce and five break points and dropped serve following another forehand error.
Swiatek went for a bit more on serve and it paid dividends. Although she faced a break point when she netted a squash forehand, she struck a forehand swing volley, inside-in forehand, and three backhands down the line winners – two on consecutive points – to hold for 3-2.
The Ukrainian teenager leveled the set at 3-3 behind well-placed serves and formidable forehands both inside-out and crosscourt. Swiatek missed 5/8 first serves and it cost her as she faced double break point following a spectacular forehand drop shot from her opponent. The pride of Poland benefited from two unforced errors from Kostyuk and held for 4-3 with a phenomenal forehand on game point.
Kostyuk had chances in the opening set but could not capitalize. Behind another double fault and two unforced errors, she once again dropped serve.
Swiatek served for the set at 5-3 and following an ace up the tee and another outstanding serve out wide, reached 40-15, double set point but committed two backhand unforced errors and faced deuce. She steadied the ship and secured the set with two incredible shots – a crosscourt backhand and an inside-out forehand on the last two points.
Kostyuk served first in the second and held to 30 for 1-0. Swiatek continued to unload especially off the forehand and held at love for 1-1 while Kostyuk dumped serve following four consecutive unforced errors including her 3rd double fault.
Swiatek, up 2-0, could not consolidate and gave back the break following potent groundstrokes from her opponent and a netted backhand on game point. Back on serve at 2-2, Kostyuk dug in
and held at love for 3-2 behind three extraordinary forehand winners on consecutive points.
Swiatek, cognizant of her opponent's resurgence, unleashed another colossal crosscourt forehand and overhead smash as she held to 15 for 3-3. Kostyuk was pushed behind the baseline more often than not as Swiatek consistently hit with pace and precision. Swiatek earned a break point following a backhand volley winner and earned another with a remarkable lob that landed on the baseline and converted when her opponent netted a slice backhand.
Swiatek, just two games from her second consecutive Roland Garros quarterfinal, felt pressure as she continued to miss the first serve and faced a break point when Kostyuk hit an exceptional forehand approach and overhead smash. Swiatek saved the break point with a massive inside-out forehand and held when her opponent's forehand sailed long.
Kostyuk's level of frustration continued to rise as she failed repeatedly to convert break points. She opened the 9th game with her fourth double fault and faced a match point when her backhand clipped the tape. She reached deuce with a spectacular inside-in forehand and held for 4-5 with a powerful serve up the tee.
Swiatek served for the match and though she lost the first two points misfiring on the backhand, continued to pummel the ball and earned her second match point with a terrific crosscourt backhand and closed it out with an astonishing backhand lob.
Keep your eyes on Kostyuk. The teenage phenom tested the defending champion and the numbers do not lie. She won a respectable 57% on first serve and 50% on second serve points, was 11/18 at the net and converted 2/7 break points.
Playing doubles has greatly benefited Swiatek as she glides agilely around the net, winning 8/13 points. She could do better on break points converted as she won just 4/12. She finished with two more winners than errors (24/22) and won 14 more points than her opponent.
The 2020 French Open champion won 74% on first serve points but was under 50% on second serve points. She must do better if she hopes to reach the semifinals and potentially defend her title.
Her quarterfinal opponent, Maria Sakkarri from Greece, is the 17th seed and playing with an abundance of confidence having dispatched the #14 seed, Elise Mertens, and the #4 seed and last years' finalist, Sofia Kenin in the previous two rounds. This will be their first tour level meeting and one I am eagerly awaiting.