Swiatek Continues To Roll Through Indian Wells Draw

Swiatek dispatches Andreescu 6-3, 7-6 for the round of 16 in Indian Wells
Two former Indian Wells champions took the court in the desert Monday evening for a spot in the round of 16. Iga Swiatek from Poland is world #1 and defending champion who in the previous round, lost just one game.
Bianca Andreescu from Canada broke thru the stratosphere as a wild card recipient at Indian Wells in 2019 when she defeated three-time grand slam champion Angelique Kerber 6-4 in the third. She won two more titles that season; another Masters 1000 and the US Open. The then nineteen-year-old reached a career high ranking of #4 following her grand slam triumph but now is #36 due in large part to chronic injuries and Covid-19.
This was their second tour level meeting. Swiatek triumphed last season in straights on the dirt in Rome. Swiatek won the toss and chose to serve.
Swiatek missed 3/6 first serves and her opponent took full advantage. Andreescu hitting down the middle with depth, slices and an overhead smash, broke for 1-0. Andreescu donated a double fault, faced three deuce and four break points, and gave back the break when Swiatek crushed a backhand crosscourt.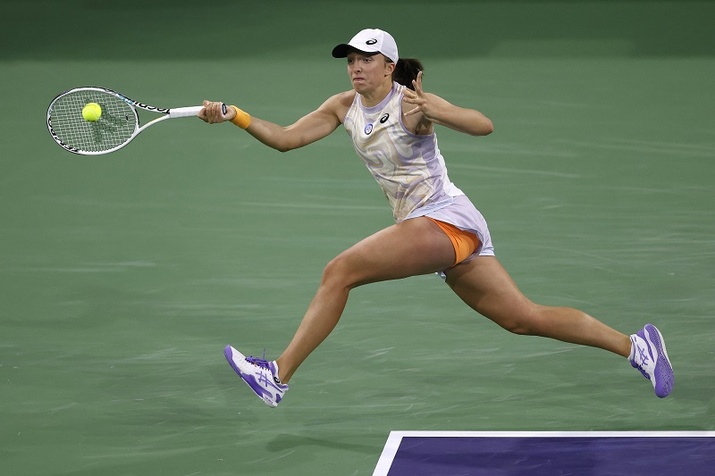 (EPA Photo)
The #1 seed consolidated the break for 2-1 with an ace out wide while Andreesscu struck two winners, the last on game point to level. Swiatek appeared a bit rattled and confounded by her opponent's exemplary defense. The Canadian earned break point with a fantastic inside-out forehand and two more following mishit groundstrokes yet Swiatek held for 3-2.
Andreescu made 4/5 first serves but dumped serve following two consecutive winners from Swiatek who missed 3/6 first serves yet consolidated the break for 5-2. Andreescu serving with new balls, dug in making 6/6 first serves including an ace up the tee for 3-5. Swiatek ripped a forehand down the middle and with an netted forehand from Andreescu, secured the set 6-3.
Andreescu served first in the second and though she continued to play aggressively mixing in slices and moonballs, dropped serve following two consecutive errors off the ground. Swiatek struggled in her opening service game facing a break point but with two unforced errors from Andreescu, held for 2-0.
The 2019 US Open champion gifted two additional errors but with a monster serve up the tee, got on the board. Swiatek missed 4/5 first serves, faced double break point, and dropped serve when she netted a backhand drop volley.
Andreescu continued to fluster the world #1 with her aggressive court position and world-class defense. Although she threw in another double fault, she consolidated the break for 3-2 with a crisp crosscourt forehand drop volley. Swiatek committed two forehand errors, faced triple break point and dumped serve when Andreescu pummeled a forehand down the line.
With the crowd fulling engaged, the 32nd seed opened the seventh with a remarkable forehand swing volley, but it was all for naught as she dumped serve following two groundstroke errors.
Swiatek serving with new balls continued to pummel anything short as she held to 30 for 4-4 while Andreescu dropped serve following two more errors and two forehand winners from her opponent. The world #1 and defending champion served for the match at 5-4 but dumped serve after netting the last two points.
The Canadian fans erupted in cheers and applause as their charge reached parity. Andreescu reached 40-15 but needed three additional points to secure the game. Swiatek down 5-6 opened with a spectacular serve and forehand put-away and held easily to 15 to force the breaker which she dominated 7-1 to snatch the set and match.
It was a highly competitive, entertaining third round match between two former champions. While Andreescu failed to capitalize on her eight break point opportunities, she should glean confidence and inspiration from her physical and mental performance.
Swiatek won just 62% of first and 43% of second serve points and was more effective when returning winning 45% of first and 76% of second serve return points. She saved 4/8 break points while converting 5/8.
In the next round she battled another grand slam champion. Emma Raducanu from Britain came thru qualies to capture the 2021 US Open. Just 18 years old at the time, she stormed thru the draw without the loss of a set. The following season she reached a career high ranking of #10 but is currently #77 and unseeded.
While she has struggled with injuries and expectations since that miraculous run, she has defeated two seeded players to reach the round of 16 at the season's first Masters 1000 event. But on Tuesday, she was no match for the world number one, who rolled in straight sets.