Sugarpova for Sweet-Tooths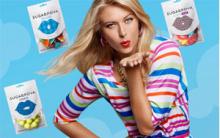 Tennis sweetheart, Maria Sharapova, loves candy, and she's not apologizing! In fact, she's developed a new candy company, Sugarpova, producing several varieties of gummy fish, licorice and gumballs.
"I thought it was really funny and young and full of energy. And then I put candy together, and God knows how much candy I eat!" says Maria.
The Russian said that she wanted to invest her money in a product that has her name on it and where she was the final decision maker – and that's how the name Sugarpova was born. From concept to launch, the deal took 18 months to nurture.
"It's like I've been pregnant twice," Sharapova said jokingly, as she posed outside retail partner, It'Sugar, in New York City, a candy company that has 40 locations globally.
Eventually, Maria wants to add chocolate and caramels to the production line and take distribution worldwide.
This article is from the Nov / Dec 2012 issue

SOLD OUT

Subscribe now and you'll never miss an issue!