Style and Substance: Richard Gasquet Outlasts David Ferrer for Semifinal Berth

On the surface, the quarterfinal match between David Ferrer and Richard Gasquet was a classic case of style against substance. On one side of the net was the flashy Frenchman, who owns that one-handed backhand that so many have rhapsodized about over the years. On the other side was the consistent Spaniard, known for grinding down the opposition into submission. In tennis, more often than not, substance trumps style, but there was plenty to indicate that this particular men's quarterfinal would not be so black and white.
It is unfortunate that Gasquet has a bit of a reputation for being an underachiever, but it is a reputation that he has deserved. He was the No. 1 junior, and he won junior titles at both Roland Garros and the US Open. Like a number of top juniors before him, however, he has struggled to maximize his potential at the professional level. There have been moments of brilliance followed by extended lulls. But that has begun to slowly change for Gasquet since adding former top-10 player Sebastian Grosjean to his team. He has become more professional, more dedicated, and smarter at making decisions in his matches. These changes have been starting to pay dividends for Gasquet, and both he and his fans had reason to believe that this quarterfinal could go the Frenchman's way in spite of his dismal 1-8 win-loss record against Ferrer.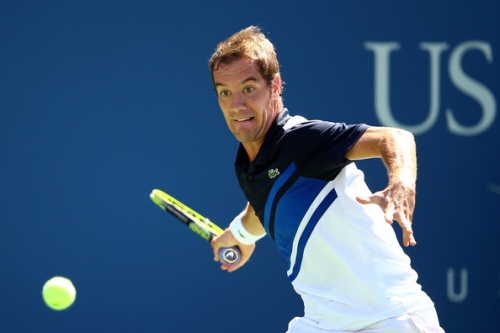 Ferrer's play coming into the US Open would also have bolstered the hopes for Gasquet. Between fatigue and a niggling ankle injury, the Spaniard opted to take a month off after his quarterfinal finish at Wimbledon, and he had been struggling to find his rhythm ever since. He played both Canada and Cincinnati before heading to New York, and between the two, he only won one match. But Ferrer is not ranked No. 4 for nothing. He has enjoyed a phenomenal amount of success the last couple of years, and he knew that if he found his range he could continue to enjoy his favorable edge against Gasquet. Ferrer also had the added bonus of having had far more experience at this stage of a major than the Frenchman.
As the first set got underway, there was always the feeling that it would be more important for Gasquet than Ferrer. Gasquet had had the tougher five-set match against Raonic in the previous round, and when you are 1-8 against a guy, you are always looking for any indication that today will turn out differently than in the past. That was what made the opening game of the encounter so important. Gasquet served to kick things off and quickly found himself down 15-40 before his underrated serve bailed him out to secure the hold. The hold seemed to settle him down, and his game began to flow just as Ferrer's began to falter. The Frenchman jumped out to an early break lead and very nearly earned an insurance break before Ferrer held. Ferrer's efforts to keep the set close were in vain, however. Gasquet, despite hitting more unforced errors and fewer winners than his opponent, played superbly to force Ferrer into missing shots and secure that first set.
Unlike Istomin against Murray the previous night, Gasquet also carried the momentum into the second set in a big way. The Frenchman went into full flight, getting it done from everywhere on the court. By contrast, Ferrer struggled with his own form and was embarrassingly reduced to being a spectator watching the magic coming off of Gasquet's racquet. Gasquet struck a whopping 15 winners to Ferrer's three and quickly swept the second set by a score of 6-1.
But despite the way the match was progressing, fans knew the cast of characters, and more importantly, each competitor knew the other well. With both of their respective track records, it was unlikely that this match was ever going to go routinely for Gasquet. Lest there be any doubt of that, Ferrer broke Gasquet to love in the opening game of the set and began to assert himself from there. The Spaniard soon earned a double break, and though Gasquet briefly fought to get one of the breaks back, he was never able to climb out of the hole in which he found himself. Thanks to Ferrer's ability to make Gasquet pay on the second serve and some ill-advised shot selections from the Frenchman, Ferrer comfortably took the third set to extend the match.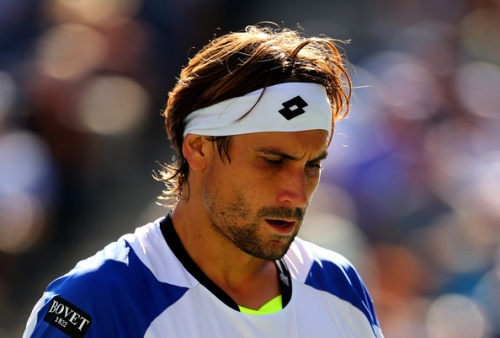 As the fourth set got underway, it initially looked like Gasquet had gotten his head back on straight. He held serve and expressed plenty of positive emotion, but that all disappeared when he stepped to the line for the second time that set. Ferrer broke him, and as Gasquet began to show increasing signs of visible frustration, there was a real sense that the wheels were coming off. To Gasquet's credit, he showed that improved competitiveness and attempted to get back into the thick of it. In the longest game of the match, with Ferrer serving at 3-2, Gasquet threw everything but the kitchen sink at Ferrer to carve out multiple break points, but the Spaniard once again came up with the goods to hold. It was Gasquet's last stand in that set, as Ferrer went on to rattle off another two games and push the match to a deciding fifth.
Ferrer went into the fifth set with all the momentum. Everyone knew he had a dominant head-to-head record against Gasquet, and he also owned the better five-set record. A betting man would have put all his chips in Ferrer's corner. And he would have lost big. Both men held serve through the early goings before the Spaniard surprisingly blinked first. That was all that Gasquet needed as he battled nerves and the continual fight from Ferrer to hold on to that single-break lead and earn the win to book a place in the US Open semifinal for the first time in his career.
It is hard to gauge how much gas Gasquet will have left in the tank when he takes to the court in his semifinal match, but then again, in some ways, it does not necessarily matter what happens there. He has already accomplished much and proven plenty to everyone, including himself, with his back-to-back five-set victories to reach that stage. It was clearly evident in the heart and drive he showed in that win over Ferrer that he has turned over a new leaf as a professional player. With his increased ability to combine style and substance, there is reason to expect much from him in the second half of his career.