Steve Doocy, In a Class All His Own

Age:

56

Resides: Wyckoff,

NJ

Occupation: Fox News Channel Personality, Journalist, Author
Every weekday morning, Steve Doocy informs and entertains the viewers of Fox News Channel's morning show, Fox and Friends. Sitting alongside co-hosts Gretchen Carlson and Brian Kilmeade, Doocy reports the latest in current affairs with enthusiasm. When his studio gig is done for the day, he sheds the business suit for sports apparel, taking that passion to the tennis court.
"I have basic motor skills," Steve says, "but I wouldn't consider myself a great athlete."
In high school, he played football, ran track and wrestled. His first memories of playing tennis involved a girl from his high school tennis team.
"I'd serve, she'd hit it back, then I'd send the next ball soaring! I'm not sure if you can call that playing tennis?"
Then in college, his future wife Kathy taught him the meaning of love – tennis style.
"I needed a P. E. requirement, so I enrolled in tennis. Kathy played all the time growing up, and she's very athletic. The first time we played, she destroyed me. After the match, I didn't talk for five hours."
Steve's ego eventually healed, and when he and Kathy married and had children [Peter, Mary and Sally], they still found time for tennis, making Friday a date-night on the court.
"We'd get a babysitter and join three other couples to play round robin at the park. A few hours later we'd go drink beer. That was our source of fun."
Steve's children received tennis lessons throughout their youth and still play today. Now, as adults, the family vacations together each summer, choosing a destination with tennis courts. During their travels, Steve says he makes a point to work with the local pro to learn a different perspective.
"I took a lesson from Roy Barth at The Kiawah Island Golf Resort in South Carolina last year, and he really improved my serve. He said after you toss the ball and hit it, don't look down. Keep looking up. Seems easy, but it's more difficult than it sounds. It really helped."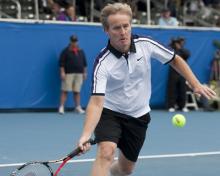 Steve plays tennis every day at his local tennis club when the seasonal outdoor Hartru clay courts are open. With his unorthodox strokes, he keeps the club pro in business.
"Last year, I took a lot of lessons and improved a ton," he says. "My forehand is my best stroke. My backhand is terrible – I'll start with two hands then go to one. I call it the 'Doocy.' It's very unique, in a class all of its own."
As his sport of choice, Steve plans to chase the little yellow ball "as long as these old knees will hold up," saying tennis is social, provides him great competition and improves his fitness.
"Tennis is the best exercise and the most fun – it can't be just about the beer, can it!"
This article is from the Mar/Apr 2013 issue

SOLD OUT

Subscribe now and you'll never miss an issue!