Stephens Survives Keys To Advance To US Open Second Round

The third time was the charm for these good friends as one progressed to the second round of the season's final slam. The two Americans, Madison Keys and Sloane Stephens split their two previous matches this season on the dirt in Charleston and Rome. Their most significant and career-defining match came four years ago in the final of the US Open.
With a grand slam title on the line in front of a home crowd, they battled each other and their nerves. Stephens, then twenty-four years of age, secured a straight-sets victory for her first grand slam title. The following year she reached the final of the French Open (l.to Halep) and later that season, achieved a career-shigh ranking of #3.
Keys, at twenty-six years of age, has not progressed past the fourth round at the Open since reaching the semis in 2018 the same year she reached the semis at Roland Garros. Since 2018, both have struggled to duplicate and sustain that level and this season, reached the quarterfinals just once – Stephens in Charleston and Keys in Berlin. Neither player is seeded as Keys ranking has dropped to #42 from a career- high of #7 in 2016 while Stephens ranking has plummeted to #66.
Stephens, now twenty-eight years old, leads the head-to-head 4-2 including both hardcourt matches. Keys served first, holding to 15 with an ace up the tee on game point. Stephens, on the other hand, had a much harder time in her opening service game as she donated two double faults yet after facing three break and three deuce points, held for 1-1.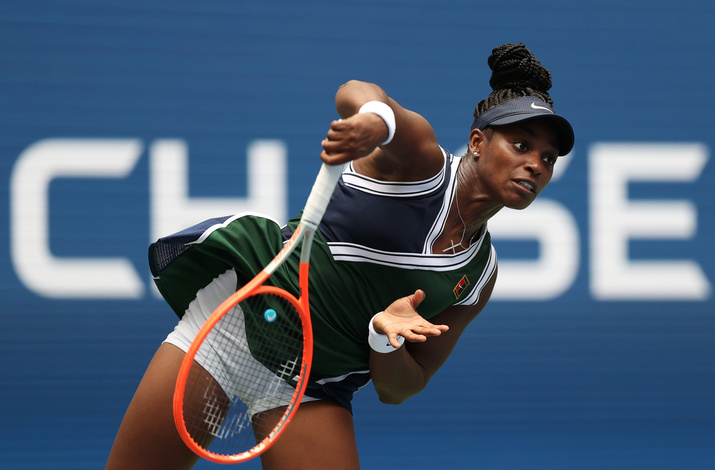 Keys appeared to have lost her focus as she committed five unforced errors and dumped serve when she overcooked a backhand. Stephens consolidated the break for 3-1 with a huge serve up the tee.
Keys opened the fifth came with an ace out wide and held to 15 for 2-3. Stephens, despite donating three unforced errors including another double fault, held for 4-2. Keys, dictating from the baseline with formidable forehands, held easily to 15 for 3-4. Stephens, serving with new balls, made 4/5 first serves, holding easily to 15 for 5-3.
Keys missed 4/8 first serves and it cost her as she lost the set when a crosscourt backhand went wide. While Stephens was effective absorbing her opponent's pace in the opening set, she dropped serve to start the second following three forehand errors.
Keys, having regrouped nicely after dropping the opening set, consolidated the break with a love hold behind a remarkable forehand down the line and her third ace. While her opponent struck winners, Stephens continued to misfire off the ground and dumped serve.
Keys, once again held at love, this time showing her prowess at the net with an awesome inside-out forehand approach and crisp crosscourt forehand volley. Stephens opened the fifth game with forehand errors on consecutive points and held for 1-4 behind a well-struck serve and inside-in forehand winner. Keys opened with an ace and held to 15 for 5-1 when Stephens' netted a backhand. Stephens, seemingly resigned to losing the set, did just that when Keys executed a spectacular backhand drop volley winner on set point.
Keys power game on full display in the second set, carried her to an easy hold in the opening game of the deciding set when she crushed a forehand down the line on game point. Stephens faced a deuce point but held for 1-1 with well-placed serves and an extraordinary backhand down the line.
Keys, clearly loving the quick court in Arthur Ashe Stadium, struck her 6th ace and held to 15 for 2-1. Stephens missed 5/10 first serves and faced a break point but managed to hold when her opponent donated two unforced errors on consecutive points.
Keys, keeping her foot on the gas, once again held at love hitting a fantastic serve out wide on game point. Right before Stephens stepped up to serve, the chair issued a coaching violation. Stephens was peeved but refused to let it unnerve her as she held at love for 3-3, striking her first ace of the match.
Keys misfired on serve and off the ground but held for 4-3 when Stephens' return sailed long. Stephens unloaded on a inside-in forehand and held to 30 for 4-4 when Keys netted a forehand.
Keys struggled to hold, committing two backhand errors, and faced double break point yet held with an outstanding crosscourt forehand stab volley, inside-out forehand and two blistering backhands on the last four points.
Stephens, serving to stay in the match and with new balls, quickly reached 40-0 behind two incredible forehands on consecutive points but lost the next two before holding after her opponent's forehand clipped the tape.
Keys, serving at 5-5, appeared to lose focus as she quickly faced triple break point and dumped serve when she netted a forehand. Stephens, exceptional on defense, made her opponent play one more ball and it paid off. The 2017 U S Open champion was four points from the second round but dropped serve following three additional forehand errors.
After a little over two hours, a tiebreak would decide the outcome. They changed ends at 3-3 with Keys seemingly in control as she dictated play hitting winners and extracting errors. Keys assumed the lead at 5-3 following an amazing backhand swing volley but Stephens reached match point at 6-5 following three unforced errors from Keys.
The 26-year-old American saved one with a monster inside-in forehand but faced another when she netted a makeable forehand. Stephens, struggling with her opponent's pace of shot, earned another match point when Keys netted another forehand. Stephens closed out the breaker and the match when Keys crosscourt backhand went wide.
While this was not a high-quality match, it was certainly entertaining. Keys should avoid analyzing the match stats since she fared better on first serve percentage, net points won, receiving points won and break points converted. Although she struck 12 more unforced errors, she hit three times as many winners and finished with eleven more points and still lost.
Keys, on paper, should have won the match but when a tiebreaker ensues, all bets are off. Stephens will need to serve and return better if she hopes to reach the third round for her next opponent will either be the #48 ranked Magda Linette, a two-time titlist or American teenage sensation Coco Gauff, the #21 seed.