Snapshots of a Season: 2012
January: Marathon in Melbourne [NOVAK]
If none of the previous major finals between Djokovic and Nadal quite reached the standard of "classic," their epic duel at the Australian Open may have redefined the term. Taking the sport to a level of physicality never seen before, the then-top two men hurled missiles at each other with chilling courage and retrieved them with relentless determination. This test of endurance extended across a record-shattering 353 minutes, by far the longest major final in history, and its narrative featured not one, but two plot twists. After Djokovic methodically marched within five points of victory in the fourth set, Nadal just as methodically turned the tide and plowed to within six points of victory in the fifth. But this night, like almost all those of the previous year, belonged to the Serb when he ground through a sequence of backbreaking rallies and found the strength to deliver a punishing serve-forehand combination on his first championship point. Punctuated by a howl of undiluted ecstasy, this victory marked the climax of Djokovic's remarkable dominance over the sport.
February: The Sum of the Parts [ISNER/FISH]
Traveling to Switzerland to face a team spearheaded by Federer on indoor clay, the American men might well have entered their first-round Davis Cup tie beset by ominous forebodings. Most observers expected a comfortable sweep by the Swiss, far more proficient on the surface and bolstered by their home fans, not to mention fielding a 16-time major champion. Refusing to accept their fate, a feisty squad led by John Isner and Mardy Fish marched into hostile territory and swept their hosts out of the World Group in one of the Cup's most shocking recent results. Especially impressive was the confidence with which Isner dismantled Federer in a four-set upset during which neither the surface nor the opponent intimidated him. The towering server from Georgia built upon this triumph to reach his first Masters 1000 final at Indian Wells, where he defeated Djokovic in the semifinals. Meanwhile, Team USA built upon their shared triumph in Switzerland to record a smaller upset in France a round later, also on clay. Defeating a team centered upon a single superstar, the Americans demonstrated the significance of balance, depth and cohesion in national team competition.
March: V is for Viktory [AZARENKA]
Although 2012 began with anticipation of Kvitova's rise to the top, a different Eastern European blonde soon entrenched herself in that position. With a Premier Mandatory title at Indian Wells came the culmination of a four-title, 26-match winning streak by newly crowned WTA No. 1 Victoria Azarenka. During that splendid span, Azarenka not only won her first career major final and claimed the top ranking for the first time, but she also recorded six resounding victories over leading rivals Sharapova and Radwanska. From the seaside cities of Sydney and Melbourne to the deserts of Dubai and Palm Springs, her hybrid style transitioned as smoothly between offense and defense as had Djokovic's similar game the previous year. Azarenka would not win another title for the rest of the first half of the year after Bartoli finally halted her in Miami, but victory No. 26 ranked as one of the year's most memorable matches. Trailing Cibulkova 6-1, 5-2, the top-ranked woman clawed herself back into the match one backhand and shriek at a time, displaying the confidence of a champion remarkably soon after assuming the role. Much about Azarenka is controversial, but her competitive desire is not.
April: The Emperor Strikes Back [NADAL]
A victim of the irresistible Djokovic on seven straight occasions, including three straight major finals, Nadal had surrendered part of his treasured clay turf to the Serb in 2011. Reluctantly contenting himself with the runner-up trophies at Madrid and Rome that year, Rafa rebounded this season to sweep all three clashes on his favorite surface with the man who supplanted him at the top. If the Roland Garros final carried the greatest significance of them, the Monte Carlo final struck the first crucial blow that the Spaniard needed to build his confidence for Paris. While an emotionally burdened Djokovic fell well below his transcendent standards, Nadal delivered a comprehensive effort across the net that left no doubt about his mastery of clay. That Mediterranean afternoon also garnered him the feat of becoming the first man ever to win the same tournament seven consecutive years. Just as in 2010, when he snapped an 11-month title drought there, Monte Carlo continues to offer Rafa a reliable refuge when adversity looms elsewhere. Perhaps Djokovic should have thought twice before venturing into the bull's favorite pasture after all.
May: Something New, Something Old [FEDERER/SERENA]
When the idiosyncratic Ion Tiriac laid down the first blue clay court at Madrid, players quickly criticized this unfamiliar surface with its unpredictable bounces and slippery shell. Much less unfamiliar, if only a little less unpredictable, was the dominant performance of Serena Williams as she demolished the Premier Mandatory draw without losing a set. Unconvincing at the Australian Open and Miami, usually two of her most successful events, the American lost just nine total games to the top two players in the world, Azarenka and Sharapova. Relishing the fast court that others like Nadal and Djokovic deplored, Serena did not lose her serve from the quarterfinals onward and faced only one break point in her last three matches. Although she could not translate it into a Roland Garros title, signature display of athleticism and first-strike power presaged her march to a 14th major championship at Wimbledon. Meanwhile, Federer exploited the opportunity created by the petulant, quickly dispatched top two men to collect his second Masters 1000 title of a resurgent 2012. Despite the novel surface, then, Madrid ultimately awarded its trophies to two of this generation's most vintage legends.
June: Comeback Complete [SHARAPOVA]
Never had a player returned from shoulder surgery to win a major, nor had a woman completed a career Grand Slam by winning exactly one title at each major. A path-breaker who has defied conventional wisdom throughout her career, Sharapova broke both of those molds in unison after an undefeated campaign on red clay. The Russian lost only one set in the fortnight at Roland Garros and lost more than six games in only one match. The title favorite after Serena exited to Razzano, Sharapova handled that pressure with her customary poise en route to her first major title in four and a half years. Awakening more emotion in her than the previous three, this accomplishment represented the long-sought reward after a winding journey back to the championship podium. Also returning to No. 1 with her semifinal victory, she overcame the frustrations of losing finals at Wimbledon and the Australian Open by demolishing both of those nemeses during the clay season. Sharapova famously had labeled herself a "cow on ice" amidst early setbacks on the surface. Once she confronted this daunting challenge, though, she conquered it like the rest.
July: Fed Up [FEDERER]
Thwarted by Nadal in an Australian Open semifinal and Djokovic in a Roland Garros semifinal, a frustrated Federer must have realized that his remaining window of opportunity for major glory was shrinking dramatically. Many wondered whether it had closed altogether as his drought reached nine majors, but the Swiss champion never surrendered to doubts or relinquished his confidence. A day after Nadal fell to Rosol, Federer hovered within two points of defeat against French journeyman Julien Benneteau, spurring murmurs about the end of the golden age that the two legends had crafted together. Once he recovered from that near-catastrophe, though, the six-time Wimbledon champion soared through the rest of the fortnight to a record-tying seventh crown (and 14th major title overall). At the climax of his vintage effort came consecutive victories over Djokovic and Murray that showcased a serve as lethal and movement as agile as Federer had honed in his prime. Just as remarkable as the 30-year-old's championship performance was his return to the top ranking for the first time in two years, a convincing statement of his ability to still transcend his younger rivals.
August: Golden Girl [SERENA]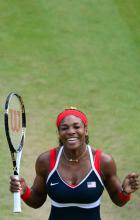 Riding the wave of momentum that carried her to a Wimbledon crown, Serena became just the second woman and fourth player overall to complete a career Golden Slam. The 14-time major champion didn't lose more than five games in any of her matches at the Olympics, a stunning statistic considering the quality of her opponents: four of six had held the No. 1 ranking, and five of six had reached a major final. Brilliant against both veterans (Zvonareva, Sharapova) and rising stars (Wozniacki, Azarenka), Serena never suffered the mid-match or mid-tournament lulls that have characterized her late career. This authoritative week also laid the foundation for her second straight major title in New York, during which most of her challengers looked as intimidated of her as ever. Perhaps equally important to Serena was the doubles gold medal that she earned with her sister, a goal towards which both had striven in their recent comebacks. The Williams sisters now have seized the ultimate prize at three of the last four Olympics doubles events, a testament to the duration of their dominance over the sport.
September: Major Breakthrough [MURRAY]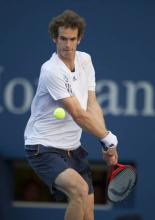 Foreshadowed by his gold medal on home soil, Murray's fortnight at the US Open echoed Serena's sweep from the Olympics to New York. Unlike his fellow No. 4, he needed to escape dangerous matches in the quarterfinal and semifinal before he battled through an epic final, much like Serena. Spared bouts with Nadal and Federer, Murray still found himself confronted with a familiar nemesis at majors: Novak Djokovic. Among the four major finals that the Scot had lost was an Australian Open rout at the hands of the Serb, but he overcame the scars of that match to edge through two painfully tense sets. Then, with victory in sight, Murray tormented his fans by offering Djokovic the respite that he needed to launch himself back into the contest. When the momentum swung in the other direction, though, the man without a major did not despair. Instead, Murray calmly tightened his focus and his defense in the final set to claim the first major title for a British man since 1936. Long a drama of Three and a Half Men, the ATP finally turned into the Rule of Four.
October: The Night To Remember [WTA top 8 group pic]
At the WTA year-end championships, the top four women confirmed one of the year's most notable trends by sweeping all of their matches against opponents outside the top four. By the time the dust settled on 2012, this elite quartet had captured all of the majors, all of the Premier Mandatory tournaments, all of the Olympic medals and this climactic tournament in Istanbul. But beneath that smooth surface smolders plenty of drama, illustrated by an evening early in round-robin play. Holding spectators spellbound until 2:14 a. m., consecutive marathons pitting Azarenka against Kerber and Sharapova against Radwanska stretched for nearly six and a half hours. No competitive satiation dulled the appetite of the top two women late in their spectacular seasons, while their challengers battled to the bitter end with intelligence and determination. Often considered a euphemism for inconsistency, the WTA's depth shone in matches that fused bold shot-making, thoughtful point construction and stark contrasts of style with the resilience under pressure that turns exciting matches into titanic epics. Although Azarenka and Sharapova left the court as exhausted, elated winners, the greatest winner on this magical night was the WTA, which could not have arranged a more emphatic way to signal its revitalization—or a more auspicious omen for 2013.
November: The Djoker Laughs Last [Novak]
Eluded by the two main goals with which he entered the season, a Roland Garros title and an Olympics gold medal, Djokovic entered its waning weeks with the No. 1 ranking assured but doubts clouding his stature. At the ATP year-end championships in London, however, he delivered the ideal statement to dispel those doubts. One by one, all five of his opponents vanished into the Serbian meat grinder, from ambitious dark horses Del Potro and Berdych to leading rivals Murray and Federer. Most of those victories came in a fashion far from routine, including two comebacks from losing the first set and escapes from early deficits in both sets of the final. But those victories revealed the resilience under pressure that had defined Djokovic's rise to the top nearly two years before. Unlike any other champion of the era, except perhaps Serena, the world No. 1 played his most impressive tennis with his back to the wall and drew ever greater inspiration from ever deeper adversity. After he had lost the momentum in several key rivalries this summer, the Serbian sweep at the year-end championships ended a symmetrical season for Djokovic that began with his dominance in Melbourne and ended with him standing alone as a titan on the Thames.
This article is from the Jan/Feb 2013 issue

SOLD OUT

Subscribe now and you'll never miss an issue!