SNAKES IN THE GRASS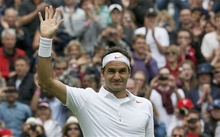 The dirt devils had their day on the clay of Roland Garros. Now the spotlight shines on players whose weapons are designed to wreak havoc on the grass of Wimbledon. Few are title contenders, but any can fling chalk and high seeds around the All England Club. Meet some of this summer's snakes in the grass.
The Wimbledon surface has slowed since the era of Pete Sampras, Patrick Rafter and Goran Ivanisevic. Yet grass still rewards explosive first strikes from players aiming to end points quickly. Look no further than the feats of Roger Federer, who will seek a record-breaking eighth Wimbledon title this summer.
In many ways, Federer defines the quintessential grass-court game: pinpoint serves, silky movement, deft volleys. He has won more titles at Wimbledon than at any other major, and he has defeated all of his Big Four rivals there. Having claimed two of three grass collisions with Rafael Nadal, Federer toppled Novak Djokovic and Andy Murray in succession two years ago. Those triumphs lifted him to his 17th and most recent major title, nearly a decade after Wimbledon witnessed his first. Stunned in the second round last year, Federer will exude resolve to erase that blot on his record. On the other hand, the anticipated birth of his third child may disrupt his preparations.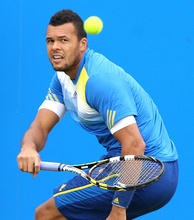 Plenty of veterans less legendary than Federer will hurtle toward the net with abandon this year. Among them is two-time Wimbledon semifinalist Jo-Wilfried Tsonga, hoping to rebound from an uneven start to 2014. Tsonga's acrobatic athleticism has spawned plenty of highlight-reel exchanges at the All England Club, including a 2011 pas de deux with Djokovic that ended with both men sprawled chin-down on the grass. Fusing seismic serves with delicate touch, the Frenchman has mastered the two extremes that grass rewards. He has defeated both Federer and Nadal on this surface, in addition to top-10 stalwart David Ferrer.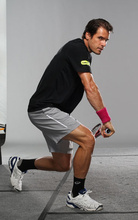 An equally impressive group of grass-court upsets belongs to Tommy Haas, twice a champion on the surface in Halle. Haas has toppled not only Federer and Djokovic, but Tomas Berdych and Tsonga, although most of those victories have come at non-majors much smaller than Wimbledon. A semifinalist at the All England Club in 2009, the 36-year-old German has found that the fast surface masks his inconsistency from the baseline while showcasing his reflexes around the net. Haas must recover from a nagging shoulder injury, however, before eyeing a deep run.
In contrast to their French and German peers, few Spaniards have thrived on grass. A key exception is Feliciano Lopez, who has achieved his best results of any major at Wimbledon. Far from the clay grinder that Spain typically produces, Lopez uses the angles of his left-handed serve to open the court for net approaches. His talent for serving and volleying has propelled him to three Wimbledon quarterfinals as well as a title last year on the Eastbourne grass. Two of the Spaniard's most significant upsets came on this surface, where his retro style lifted him past Nadal and three-time Wimbledon finalist Andy Roddick.
Another man who uses the serve as an approach shot, Ivo Karlovic can intimidate even the steeliest competitor. At a stratospheric 6-foot-10-inches, Karlovic struck the fastest serve in ATP history three years ago. That 156-mph bomb booked the Croat's place in tennis record books, but his serve is lethal for reasons beyond speed. A player of Karlovic's height can create unpredictable bounces and unique angles with that shot. Although his resume includes just one Wimbledon quarterfinal, he has battered Australian Open champion Stanislas Wawrinka and former US Open champion Juan Martin del Potro into submission on grass. Nadal has compared the experience of facing Karlovic to playing a goalie in soccer.
Serving and volleying in the style of a Lopez or a Karlovic has not gained traction among the ATP's younger stars. This rising generation has found success on grass by modulating from the one-two punch of serve and volley to a one-two punch of serve and forehand. Some of the younger men also have integrated this modern grass-court style with vintage net rushing.
The trailblazer in this group, Jerzy Janowicz became the first man born in 1990 or later to reach a major semifinal. He cracked the final four in an upset-riddled Wimbledon draw last year, bursting through a section that had contained Federer and Nadal. Janowicz left the Center Court crowd silent in awe when he blasted 30 aces past Nicolas Almagro in a straight-sets upset. British fans quailed when he claimed an early lead against eventual champion Andy Murray before fading in their semifinal. If rain forces Wimbledon to close its roof, the Pole will become even more dangerous as controlled conditions bring out the best in his game.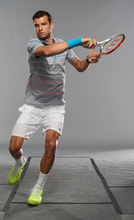 The advent of Janowicz may herald a bright era for Eastern European men's tennis, as does the rise of a Bulgarian peer. Granted, Grigor Dimitrov has not yet left his mark on the ATP main draw at Wimbledon, but he won the 2008 junior title there, the first statement of his promise. Considering how brightly Federer has shone on grass, it should not surprise that the young star most similar to him has shone there, too. Dimitrov's self-belief, often a question mark, has soared over the last several months. A key factor in best-of-five matches, his fitness has improved as well.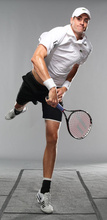 Fitness was paramount for John Isner when he won the longest match in tennis history at Wimbledon in 2010. Four years later, his feat remains branded on the brain of anyone who watched. The 11-hour sprawl of Isner's victory over Nicolas Mahut has overshadowed the two grass titles that he has claimed since then. The American towers at a height similar to Karlovic, which offers him the same serving advantages. Unlike Karlovic, though, Isner prefers to end points with inside-out or inside-in forehands rather than following his serve to the net.
Looming near Isner in the ATP rankings, fellow giant Milos Raonic ventures toward the net more often than the American does. Raonic has achieved little on grass to this stage, ousted by the second round in all three of his Wimbledon appearances. His struggles on grass highlight some of the obstacles that tall men can face there. The slippery surface can test their fallible footing, and the low bounce can keep balls below their favored strike zone. And yet, Raonic has more than enough firepower on serve to strike fear into a contender with that shot alone.
Fewer formidable servers, and fewer grass specialists, have evolved in the baseline-bound WTA than in the ATP. A handful of women have turned grass into their best surface, however, by combining first-strike power with crisp net skills. While five-time Wimbledon champion Serena Williams should enter the All England Club as the favorite, these women could create intriguing subplots to watch.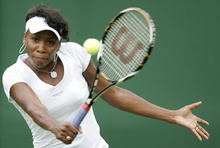 Near the head of the list looms Venus Williams, who has won five of her seven major titles at Wimbledon. Her last triumph came six long years ago before Sjogren's syndrome turned Venus into a shadow of herself. Still, nobody wants to duel on grass with a server who can crack 120 mph and a volleyer whose wingspan seals off most passing shots. Venus revived her fortunes early this year after a bleak 2013 campaign, claiming a Premier title in Dubai. Turning 34 shortly before the tournament, Venus will hope that her experience carries her past some of the WTA's bold young shot-makers.
One of those shot-makers has made stunning upsets an annual event at the only major where she shines. Surprise 2013 finalist Sabine Lisicki shocked two top-five women in Serena Williams and Agnieszka Radwanska at Wimbledon last summer. Before then, Lisicki had defeated Maria Sharapova and Li Na at the All England Club as she reached four quarterfinals there in a five-year span. She has defeated the previous month's Roland Garros champion at Wimbledon three times. Lisicki complements her booming serve, arguably the best among women her age, with feathery drop shots that seem to die almost as soon as they land on the low-bouncing surface.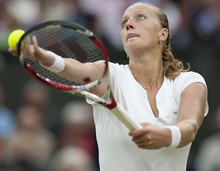 The grass mitigates the ebbs and flows in Lisicki's volatile game, allowing her to win points quickly without stringing together long rallies. A champion at Wimbledon three years ago, Petra Kvitova benefits from the same characteristic of the surface. Like Lisicki, Kvitova relies on one-two punches of her serve and forehand while also taking risks with ultra-aggressive returns. She has claimed Sharapova, Victoria Azarenka, and Agnieszka Radwanska among her marquee victims at Wimbledon. Far from consistent at most tournaments, Kvitova has reached at least the quarterfinals there in every year since 2010.
Halting Kvitova at the All England Club last year, Kirsten Flipkens enjoyed a breakthrough similar to Janowicz by reaching her first major semifinal. Her exploits during that fortnight did not surprise, for she had reached three semifinals at the smaller grass tournaments in the Netherlands. Relatively unassuming in stature, Flipkens relies on placement more than power to take control behind her serve. She will follow it to the net more often than most women and complement it with biting volleys. Her backhand slice also exploits the low bounce of this surface.
But what if a rising player lacks a fierce offense, anchored by the seismic serve of a Janowicz or a Lisicki? Another path to success on grass beckons, signposted by a former men's champion and a recent women's finalist.
Streamlined in body and streamlined in game, Lleyton Hewitt has found ways to blunt massive serves without a massive serve of his own. The Aussie captured Wimbledon in 2002, just before Federer's era of dominance, and he is the only former men's champion in the 2014 field outside the Big Four. He rarely lights up the stat sheet with aces and often struggles with his first-serve percentage, partly because he stands less than 6 feet. In contrast, Hewitt relies on keen reflexes, compact swings and a low center of gravity to parry an opponent's first strikes with laser-like returns and passing shots. Those counter-intuitive grass weapons have carried him to seven titles on the surface.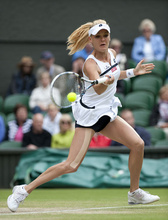 If Hewitt does not fit the prototype of a grass specialist, neither does Agnieszka Radwanska. The unassuming Pole has produced her best results at Wimbledon of any major, however, reaching the final in 2012 and nearly returning there in 2013. Her semifinal epic against Lisicki last year revealed a stark contrast between two styles that can succeed on grass. Using her opponent's own pace against her, Radwanska blocked back vicious serves and returns with penetrating depth that often thrust the heavy-footed German off balance. A chasm in ball-striking power yawned between the two women, yet their encounter was far from a mismatch despite Lisicki's eventual victory.
As Radwanska proved that day, and as Hewitt has proven for more than a decade, there is no formula for success on grass. The brief season on this surface will expand by one week in 2015, offering elite players more time to adjust before launching their Wimbledon quests. Even then, however, these snakes and others will continue to lurk in the grass.
This article is from the July/August 2014 - Wimbledon issue

SOLD OUT

Subscribe now and you'll never miss an issue!