Slinger Bag CMO Discusses Portable Ball Launcher

Slinger Bag, a portable tennis ball launcher, has announced several high-profile brand ambassadors in the past year. Professional tennis players Tommy Haas, Genie Bouchard, Bob and Mike Bryan, and Dustin Brown have all lauded the benefits of using Slinger Bag on the practice courts.
Chief Marketing Officer at Slinger Bag, Juda Honickman, joined the company in 2017 to lead product design and overall strategy for the Kickstarter campaign. After they surpassed their crowdfunding goal by 2600%, he became responsible for overseeing the planning, development, and execution of the brand's marketing and advertising initiatives.
Honickman is also a testament to how Slinger Bag helps bring new people into the sport. "When I started working for Slinger prior to launching our crowdfunding campaign, I had never even held a racquet," he says. "Through my role within Slinger I have learned to love the sport, playing 1-2 times a week and often with Slinger when I do not have a partner."
Honickman spoke with Tennis View about how COVID-19 impacted tennis, connecting with brand ambassadors, and a partnership with Wilson to create a ball that was designed for sustainability.
Tennis View: Slinger Bag started shipping right at the start of the pandemic. How did COVID impact your demand and operations?
Juda Honickman: "Our Kickstarter took place in 2018, and after seeing huge success we had a lot of work to do, ultimately leading us to start shipping product to the initial backers by March 2020. It was in May of 2020 that orders to the public became available and started to ship. Since the COVID-19 pandemic hit, tennis has become increasingly popular – a recent Physical Activity Council study confirmed that tennis has boomed during the pandemic with an estimated 21.64 million Americans picking up a racquet in 2020, up 22.4% from the previous year. In addition to this growth in the tennis space, Slinger Bag allows users to practice solo, which made our product increasingly popular during the pandemic when remaining socially distanced is preferred.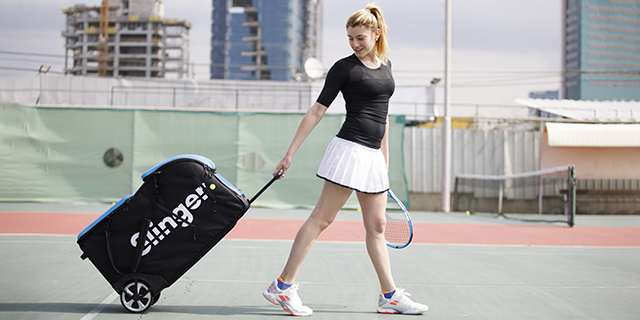 During COVID we were seeing some really creative use cases, as courts around the world shut down. We had customers sending us videos using Slinger in their driveways, backyards and even sometimes inside their houses! Anything to hit some balls and stay active with the sport you love. As restrictions begin to loosen, we predict that tennis enthusiasts will continue to turn to their Slinger Bag to hit the courts."
TV: How did you connect with your brand ambassadors such as Nick Bollettieri, Bob and Mike Bryan, and Tommy Haas?
JH: "Nick Bollettieri, the Bryan brothers and Tommy Haas connected with us after experiencing the product firsthand and seeing the impact it was having on the tennis market. All four have benefited from their Slinger Bag, either while coaching or practicing. Tommy Haas was appointed as Chief Ambassador after seeing the benefits it can bring to both casual and professional players. He is now in charge of leading the strategic direction of expanding our ambassador program. With the Slinger Bag's popularity among these professionals, we've also recently signed on Patrick Mouratoglou, Eugenie Bouchard, Darren Cahill and Dustin Brown as brand ambassadors as well. Other professional players have also begun using the Slinger Bag to practice while at home or on tours – we're excited to bring more on board to our ambassador program!"
TV: Innovation seems to be embedded in your company blueprint. Why is innovation important to Slinger, and how is the company pushing itself to innovate?
JH: "Slinger saw a need in the tennis space for an affordable, portable and versatile tennis ball launcher and created a product that went above and beyond. Many of the tennis ball launchers that are on the market today are expensive, bulky and difficult to transport – not realistic for the average player. The Slinger Bag makes tennis more accessible to everyone by providing a product that is both affordable and easily portable. The bag is priced at approximately 50% less than its competitors. Anyone from professionals to amateurs can use Slinger Bag to practice their swing or get a good workout in.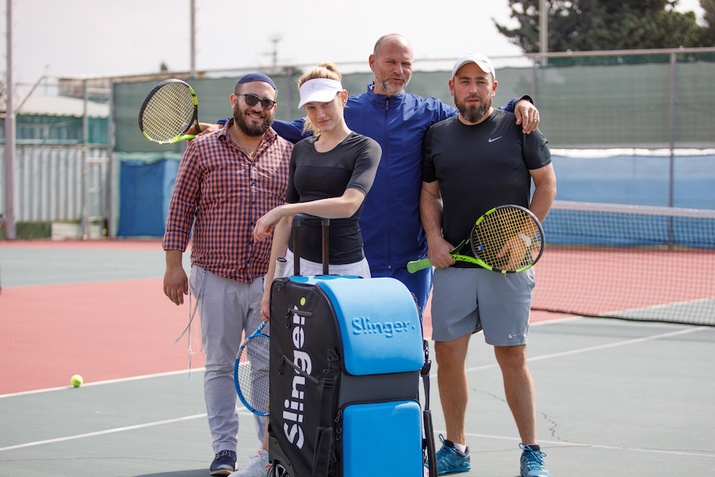 We are constantly taking a look at what's missing in the tennis space or what could be done better to help players improve at all levels. We also have exciting things coming down the pipeline, such as a new app and pickleball products, that we're looking forward to sharing in the coming months."
TV: How does Slinger Bag compare to other innovations in home exercise equipment? In what ways are you disrupting or reinventing traditional tennis equipment?
JH: "The Slinger Bag allows players to practice anywhere, anytime without relying on a partner. When practicing tennis with a partner, it's essential to find someone that is relatively at the same skill level as you in order to truly get a good practice in – the Slinger Bag cuts this out and allows anyone at any skill level to get the most out of their practice session. When we created the Slinger Bag, portability was one of the key features we wanted to hit on – the bag is only 33 pounds, which is incredibly lightweight and makes it easy to throw in the back of a car and transport with a handle and wheels. Once you're at the court, you can start hitting balls almost immediately because of the bag's quick set up. "
TV: What should players know about Wilson/Slinger-branded Triniti tennis balls that are available with some Slinger Bag packages and for sale on your website?
JH: "The Triniti tennis balls are the first tennis balls designed with sustainability at its core while maintaining high performance levels, and we're excited to be able to co-brand these tennis balls with Wilson. Working in close collaboration with such a renowned brand is a great endorsement of the credibility and potential of Slinger Bag, and we're excited to continue to collaborate with Wilson on branded products and promotional initiatives to fulfill our shared mission to grow tennis."
TV: How does Slinger Bag make tennis more accessible for players and fans? What other ball sports might you get involved with in the future?
JH: "Slinger Bag makes tennis more accessible for players at all skill levels by providing a product that can be used by both amateurs and Olympic athletes. When someone uses a Slinger Bag, they're using the same equipment that the Bryan Brothers, Tommy Haas and countless other professional tennis athletes use. Additionally, when using your Slinger Bag, you're in complete control of your workout and can work at your own pace, making it a great tool for any age and skill-level. After seeing success in the tennis space, we're excited to step into our next venture in the ball sports space – pickleball."
Slinger Bags are currently shipping 3-4 weeks after purchase, and Honickman says they are trying to reduce that timeline from mid-August moving forward. The Slinger Bag is available online at www. slingerbag.com at prices ranging from $599 for the base model to $900 for all the bells and whistles.