Sinner Survives Monfils To Reach US Open Fourth Round

Sinner survives Monfils 7-6, 6-2, 4-6, 4-6, 6-4 to reach US Open 4th Round
While this third-round encounter may have been a study in stark contrasts – veteran vs NextGen phenom, showman vs thinker – it also exhibited a chief commonality drive. Gael Monfils, the thirty-five-year-old sublime athlete, and shot-maker from France, had not reached the 4th round at a major since the 2020 Australian Open. Jannik Sinner, the twenty-year-old from Italy, had his best showing at a major this past spring, reaching the 4th round at Roland Garros. Both had much to prove as they battled to reach the second week at the season's final slam.
Sinner, currently ranked #16, reached the final in Miami, his first at the Masters 1000 level, and won two of his three career titles this season. Last month on hardcourt at the Citi Open and eight days prior to his 20th birthday, he became the first Italian finalist and champion in addition to the youngest and first teen to win a title at the 500 level since 2009 when the category was created.
Monfils, currently ranked #20, reached a career-high ranking of #6 in the fall of 2016 the same year he reached the semis in NY, his best result to date. Monfils played just ten events this season and competed best on hardcourts at the Canadian Open losing in the quarters to John Isner and the Cincinnati Masters, losing in the 4th round to world #7, Andrey Rublev.
This was their third tour-level meeting having split the first two in 2019 on indoor hard. Sinner served first and held easily to 15 for 1-0. Monfils hit two aces and an unreturnable serve on game point for 1-1. Sinner hit a spectacular inside-in forehand and another on game point as he held to love for 2-1.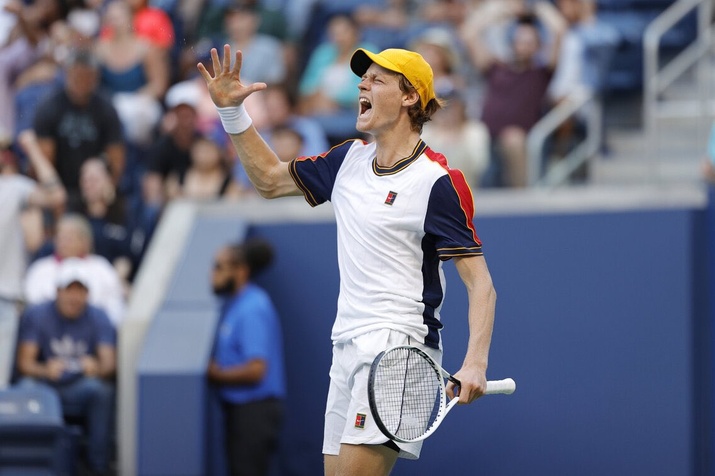 Monfils opened with an ace and though he missed 4/5 first serves, held to 15 with a 107mph serve up the tee. While both struck the ball with conviction, the Italian was steadier, extracting errors from his opponent as he held to 15 for 3-2. Monfils once again opened with an ace and with a blistering backhand down the line, held at love for 3-3. Sinner continued to cruise on serve and dictate with the forehand, holding easily to 15 for 4-3.
While Monfils has variety of shot, and touch at his disposal, he is often plagued with indecision, and that has cost him. In the 8th game, he struck two fantastic forehands and his fifth ace to level at four apiece.
Sinner struggled on serve, missing 8/12 first serves including his first double fault, and faced three deuce and three break points but held with his first ace and an amazing crosscourt forehand on game point.
The Louis Armstrong crowd, fully engaged, erupted in applause after Monfils opened with an ace and closed with a colossal forehand down the line to level at 5-5. Sinner seemed to buckle under the pressure, missing 4/6 first serves including another double fault, and dumped serve when he whiffed a crosscourt forehand.
Monfils served for the set but dropped serve following three forehand errors and a double fault. While being too passive is counterproductive, aiming for the lines is equally unwise. Sinner served first in the breaker and took the opening point with an overhead smash. Monfils claimed the second with a crisp backhand volley and never won another point as Sinner ran away with the tiebreak 7-1.
Monfils served first in the second and soon faced double break point but with two more aces and a formidable forehand down the line, held for 1-0. Sinner held at love for 1-1 and while Monfils opened the third with a double fault, struck two additional aces for 2-1.
Sinner continued to misfire with the forehand and serve yet held to 30 for 2-2. Monfils missed 5/6 first serves and donated two double faults to dump serve. Sinner consolidated the break with a love hold while Monfils dropped serve following two poorly struck backhands. Sinner served for the set at 5-2 and converted when his opponent's backhand sailed long.
The crowd, sensing this might be a straight sets affair, urged on the Frenchman as he stepped to the line to open the third. Monfils galvanized the crowd with two consecutive aces and whipped them into a frenzy when he held for 1-0.
Sinner struck an ace out wide and another huge serve on game point to level at 1-1. Monfils faced a break point when he overcooked a forehand but managed to hold with a monster serve out wide. Sinner struggled to level at 2-2 as he faced three deuce and four break points yet held behind two consecutive well-struck serves.
Monfils, serving with new balls, held easily to 15 for 3-2 with a 125mph ace on game point. Sinner returned the favor, holding to 15 for 3-3. Monfils opened the 7th with a brilliant backhand down the line but dropped serve following two additional double faults and a forehand error.
This well-attended match was brimming with excitement and intensity as they showered the Frenchman with applause and roars. Monfils reached 0-30 on Sinner's serve with two massive forehands, deuce, following an epic 24-shot rally and break point with a titanic forehand. After two additional deuce and break points, Sinner dropped serve when he overhit a forehand.
The crowd was all-in as Monfils consolidated the break at love with two aces and a scintillating forehand down the line. Sinner, serving to stay in the set at 4-5, donated three consecutive unforced errors and lost serve and the set when Monfils pummeled a backhand down the line.
Monfils served first in the fourth and dropped serve when Sinner crushed a crosscourt forehand. The Italian continued to misfire on serve and despite a double fault and three deuce points, held for 2-0 with a deft backhand volley. Though Monfils struck two aces, he gifted three unforced errors and dropped serve for the second time.
Sinner, serving with new balls, consolidated the break after extracting a backhand error. Monfils hit another ace and a phenomenal forehand down the line pass to hold at love for 1-4. Sinner quickly faced triple break point and dumped serve when Monfils passed him with a crosscourt forehand.
Monfils consolidated the break for 3-4 when Sinner netted the return. The Italian, just two games from the fourth round, seemed to buckle under the pressure, missing 4/6 first serves and dropped serve when Monfils ripped a forehand crosscourt. Monfils opened the 9th game with a huge serve out wide and closed with his 19th ace. The crowd burst into cheers and rapturous applause as he took the lead 5-4. Sinner, serving to stay in the set, capitulated with four consecutive forehand errors! And just like that, we were going the distance.
After three hours, Monfils opened the fifth and dropped serve following three unforced errors. They remained on serve thru nine games when Sinner took the court to serve for the match. The crowd had hoped for another miracle, but it wasn't to be as the world #16 struck his 5th ace and ripped a forehand approach to secure his place in the fourth round.
Like a good thriller, this match had multiple plot twists and plenty of intensity. Monfils certainly had his chances but was undone by poor shot selection and footwork. Sinner will be pleased he came thru but not completely satisfied with his performance.
Though he donated five double faults and struck 12 more errors than winners, he was stellar on net points won (19/27), break points converted (7/14), and receiving points won (42%). He won an impressive 69% on first and 55% on second serve points and won 14 more points than his opponent (175/161).
Sinner, usually subdued and composed, was extremely impassioned knowing the round of 16 was at stake. Next up for the NextGen superstar is world #4 Sascha Zverev.