Sinner Sizzles, Dethrones Alcaraz In Miami

Sinner sizzled in Miami semis to dethrone Alcaraz 6-7, 6-4, 6-2
Carlos Alcaraz has achieved career milestones as a teenager. Two months shy of his 20th birthday, the affable Spaniard was world #1 and the defending champion and had to defend his title to maintain that ranking.
The Masters 1000 event in Miami was just his fourth event of the year having endured two injuries at the tail end of last season. The reigning US Open champion has won two titles – Buenos Aires and Indian Wells – and reached the final in Rio (l.to Norrie).
His semifinal opponent Jannik Sinner is inching his way back to the top ten. Currently ranked #11, the 21-year-old Italian reached a career high ranking of #9 in 2021. He claimed his 7th career title earlier this year in Montpellier and is no stranger to the hardcourts in south Florida having reached the final two years prior.
These two prodigious talents and NextGen Finals champions are fashioning a fascinating rivalry. Alcaraz led the burgeoning head-to-head 3-2 including a five hour plus, five-set marathon in the quarters last September at the US Open. Their most recent battle took place in the desert in mid-March at Indian Wells which Alcaraz took in straights.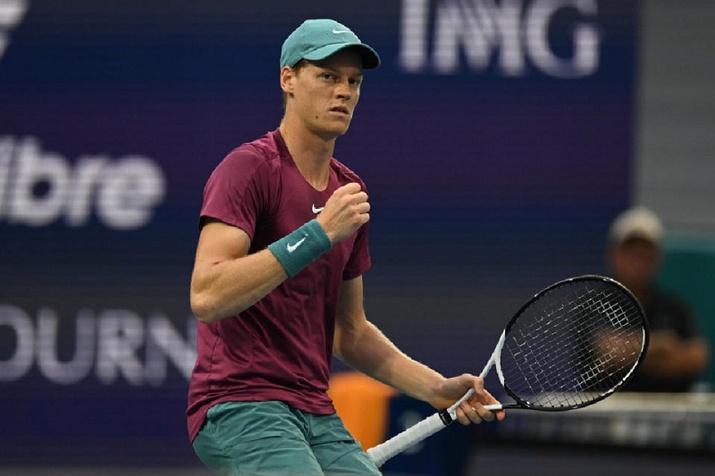 Getty Images
Alcaraz won the toss and elected to receive. Sinner struggled in his opening service game despite making 9/10 first serves. While he hit an overhead smash and an ace out wide, he donated four unforced errors and faced two deuce points before holding. Alcaraz missed 3/5 first serves yet held easily to 15 to level.
The 10th seed struck a 119mph serve up the tee and with another ace, held to 15 for 2-1 while the Spaniard uncharacteristically unsure, opened with a double fault, faced two break points, and dumped serve after Sinner crushed a crosscourt forehand. Sinner gifted his first double fault but with another ace and two blistering groundstrokes, consolidated the break for 4-1.
The packed house in Hard Rock Stadium was stunned into silence. While the Italian received a warm reception and steady encouragement, it was Alcaraz who received unfailing support from the substantial Spanish-speaking population of Miami.
Alcaraz found himself in unfamiliar territory with a slew of unforced errors in conjunction with his opponent's stellar defense. Although he made 7/12 first serves, the world #1 gifted another double fault and faced three deuce points before holding for 2-4.
Sinner tried to slow it down but it was to no avail; with another double fault and two additional errors dropped serve. The partisan crowd erupted in applause as Alcaraz opened the 8th with new balls. Although his serve still was MIA in Miami, the teenager hit two backhand winners including a stunning crosscourt lob to consolidate the break.
Sinner clearly the better performer through eight games, found himself level at four apiece. He continued to crack the serve making 4/5 and held easily to 15 for 5-4. Alcaraz donated another double fault but with a deft drop shot, forehand down the line pass and an overcooked return, held for 5-5.
The world #11 committed two unforced errors and though he hit his fourth ace, faced double break point, and dropped serve after Alcaraz nailed a crosscourt forehand swing volley following a marvelous extended rally.
The Spaniard served for the opening set with momentum and the crowd on his side. In the longest game of the set, he donated seven unforced errors including his fifth double fault and faced four deuce and four break points and with a poorly executed drop shot, gave back the break.
Level at 6-6, Sinner served first in the tiebreak and soon led 4-2 but with an ill-timed drop shot, two mishit groundstrokes and an ace from Alcaraz, lost the breaker 4-7.
Alcaraz served first in the second and faced double break point and dumped serve as the unforced errors continued to accrue. Sinner hit his fifth ace but with his third double fault, faced double break point yet consolidated the break with well-struck serves and a terrific forehand down the line.
Alcaraz with a look of disbelief hunkered down and held to 30 to get on the board. Sinner serving with new balls opened the fourth with a 92mph inside-out forehand and his sixth ace, but trouble loomed. He committed four unforced errors including another double fault, faced three break points and dropped serve when he netted a makeable forehand.
The defending champion made 4/5 first serves and held easily to 15 for 3-2 with a spectacular crosscourt backhand. During the changeover his left hand was examined by the physio, but it was not wrapped.
Sinner missed 3/5 first serves yet held easily to 15 while Alcaraz missed 4/8 first serves and faced deuce before holding for 4-3. Sinner continued to pummel the ball off both wings and despite missing 5/10 first serves and facing two break points, held for 4-4 when Alcaraz whiffed the forehand return.
Alcaraz continued to struggle on serve and with the humidity. He opened the 9th with his 6th double fault and dumped serve following two consecutive forehand errors. Sinner made 3/5 first serves and reached double set point with a colossal crosscourt forehand and converted when Alcaraz went wide with a backhand down the line.
Alcaraz left the court following the conclusion of the second set. He missed 4/5 first serves, faced double break point and dropped serve when uncharacteristically, he netted another drop shot. Sinner whenever possible, extended the rallies to extract additional errors from his opponent.
The Italian continued to dictate play and with his seventh ace, held at love for the first time. Alcaraz serving with new balls, missed 4/5 first serves but with two consecutive forehand winners, held for 1-2. The Spaniard spent time behind the baseline bending his knees to alleviate cramps while Sinner kept his foot on the gas with another love hold.
Alcaraz threw in another double fault but with a 94mph inside-in forehand, held to 30 for 2-3. Sinner opened the 6th with a netted forehand and faced two deuce and break point but held for 4-2 when Alcaraz went wide with a second serve return.
Alcaraz clearly suffering the effects of dehydration, faced four deuce points and dumped serve following two consecutive double faults. The crowd subdued into submission accepted the inevitable as Sinner after three hours, reached his second Miami Open final in two years with his 8th ace and a formidable forehand crosscourt.
Although the world #1 clearly was not at his best and will drop to #2, Sinner weathered the storm of missed opportunities and untimely errors. The Italian finished with 8 aces, 4 double faults and won 68% of first and 55% of second serve points.
He was equally efficient when returning winning an impressive 34% of first and 59% of second serve return points. He converted 6/12 break points and struck twenty-seven winners to twenty-six unforced errors.
Awaiting in the final is first-time finalist and former #1 Daniil Medvedev. The Russian is into his fifth consecutive final having won three consecutive titles in Rotterdam, Doha and Dubai. After losing a one-sided final to Alcaraz last month in slower conditions in Indian Wells, he'll revel in the faster conditions and glean confidence from his winning record against the Italian.
Medvedev has won all five meetings, all on indoor hard including this past February in Rotterdam which required three sets to secure the title. This will be their first match on outdoor hard with the trophy and 1000 ranking points on offer.