Shelton Knocks Out Karatsev For First ATP Title In Tokyo

Shelton knocks out Karatsev 7-5, 6-1 for first ATP title in Tokyo
Ben Shelton turned pro during the summer of 2022. Since that pivotal moment, the twenty-one year old American has reached the quarters at the Australian Open and the semis at the US Open. Currently at a career high ranking of #19, the 6'4 southpaw has attained another milestone in his burgeoning career – his first ATP final.
His opponent was familiar; this was their second career meeting having battled in the third round at the US Open this past September which the American clinched in four.
Aslan Karatsev from Russia had reached a career high rank of #14 in February of 2022 following his victory in Sydney but has since struggled with consistency and confidence.
The thirty year old with three career titles saw his ranking plummet to outside the top 100 but has steadily reascended the ranks and is currently #50. He dropped one set in four matches while Shelton dropped three and contested five tiebreaks.
Karatsev playing his 40th match of the season with a win/loss record of 22/17, served first and despite missing 4/5 first serves, held easily to 15. Shelton struggled in his opening service game gifting four unforced errors and faced three deuce and break point but with three outstanding winners, held to level.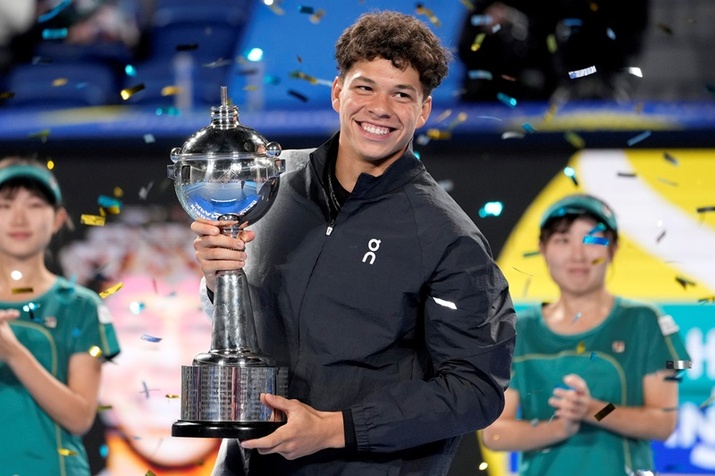 (Shuji Kajiyama/AP Photo)
The Russian hit an ace out wide and held to 30 while Shelton held to love for 2-2. Karatsev opened the fifth with a double fault yet managed to hold to 30 and Shelton held to 30 with an inside-out forehand and monster serve up the tee for 3-3.
Karatsev made 3/5 first serves and held easily to 15 for 4-3 while the American serving with new balls, leveled with a love hold. Karatsev missed 4/5 first serves yet held to 15 for 4-4 while Shelton struck two consecutive aces for another love hold.
Karatsev took his foot off the gas, and it cost him; with his second double fault and three additional errors, faced break point and dumped serve. Shelton seized the momentum and after fifty-one minutes, consolidated the break and set 7-5.
Karatsev served first in the second, made 5/6 first serves and held to 30 while Shelton gifted his first double fault yet held to level. The Russian opened the third with this third double fault and with another faced two break points and dropped serve when Shelton ripped a forehand down the line.
Shelton remarkably composed and focused, opened the fourth with this third ace and held at love for 3-1. Karatsev returned the favor with an opening ace and led 40-0 but with two volley errors and two extraordinary forehands from his opponent, dropped serve and received a code of conduct warning for racquet abuse.
Shelton made 3/4 first serves and for the fifth time, held at love. Karatsev serving to stay in the match down 1-5 was unable to regroup as four forehand errors cost him the game and match.
Shelton was victorious in his first tour level final. His father and coach Bryan Shelton reached a career high of #55 and with two career titles, they become the fourth father-son duo to win titles in the Open Era.
It was a clinical performance from the young American. He finished with three aces, one double fault and won 80% of first and 70% of second serve points. He was equally effective when returning, winning 39% of first and 52% of second serve return points. He saved the lone break point he faced and converted 4/6.
With a win/loss record of 26/22, he is positioned to reach the top 15 and with three weeks remaining, potentially could end the season in the top ten. What a difference a year makes!