Shelton Finishes Fognini In Indian Wells Masters 1000 Debut

Shelton finishes Fognini 6-4, 6-1 in Indian Wells Masters 1000 debut
Ben Shelton the twenty-year old American, turned pro last summer and it clearly was the right decision. Last August at the Masters 1000 event in Cincinnati, he defeated then world #5 Casper Ruud. Although he lost in the opening round at the US Open, he won three consecutive titles on the Challenger circuit to conclude the season.
In January at the Australian Open, he won two five setters and reached the quarterfinals on debut (l. Paul) and consequently, reached a career high rank of #41. Making his Indian Wells debut, the lefty battled the fiery and flashy Italian, Fabio Fognini.
Fognini reached a career high ranking of #9 in 2019 due in large part to his brilliant performance on the dirt to win the Masters 1000 event in Monte Carlo. The thirty-five-year-old underwent double ankle surgery during the Covid-19 lockdown. He has yet to find the form that took him to the top ten and as a result, his ranking has precipitously dropped to #88.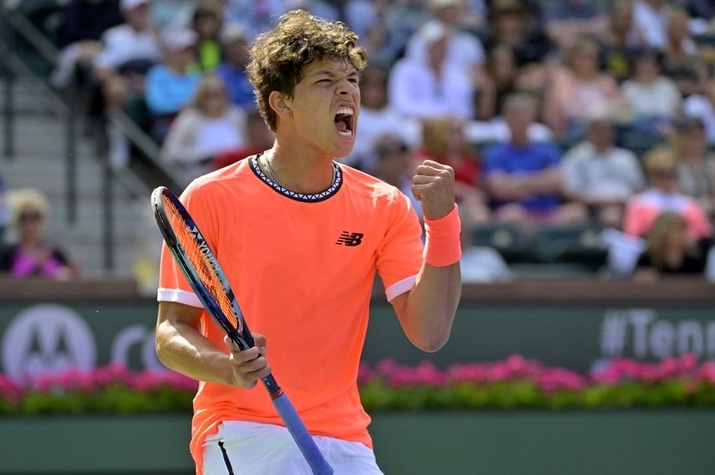 Jayne Kamin-Oncea-USA TODAY Sports
Although he lost in the opening round down under, last month in Rio he pushed world #2 Carlos Alcaraz to three sets in the round of 16 and in Buenos Aires, clinched the doubles with countryman Simone Bolelli.
This was their first tour level meeting. Shelton won the toss and elected to serve. The Italian veteran opened with an outstanding backhand return inside-in and with a fantastic crosscourt forehand pass, earned three break points and converted when Shelton missed wide with a forehand.
Fognini made 3/5 first serves and held easily to 15 to consolidate the break. Shelton still noticeably nervous, opened the third with a double fault and though he gifted another and faced deuce, held for 1-2 with an ace out wide.
Fognini faltered miserably with three consecutive double faults and gave back the break with a mishit forehand. While Shelton was gifted the break, it undoubtedly settled his nerves. He opened the fifth with his second ace and though he donated another double fault, held for 3-2 with a crosscourt forehand pass.
Fognini committed two unforced errors but with an incredible crosscourt forehand struck from the doubles alley and a monster serve out wide, held to 30 to level. Shelton faced double break point following a spectacular backhand down the line pass but managed to hold with an inside-in forehand winner and a netted return.
Fognini serving with new balls, struck two consecutive winners and held at love for 4-4 while Shelton hit two winners including an ace up the tee for the lead. The Italian serving to stay in the set, donated three consecutive errors and conceded the game and set when Shelton struck an overhead smash.
Shelton served first in the second and though he missed 4/8 first serves and faced deuce, held for 1-0 with a massive forehand down the line. It would not be the Fognini Show without a verbal obscenity and time violation warnings.
The former world #9 was annoyed with his opponent's booming exultations after every winner. Distracted and disgruntled, the Italian donated two unforced errors and dropped serve when Shelton executed a stunning lob.
The American opened the third game with an ace and though he gifted another double fault, consolidated the break for 3-0 with another ace and a crosscourt forehand volley winner while Fognini with his seemingly bottomless bag of tricks, struck an ace up the tee and for the second time, held at love.
Shelton committed three unforced errors and faced two deuce and break point but with a winning drop shot and overhead smash, held for 4-1. Fognini was running out of time and patience. The nine-time titlist seemed intent on hitting the locker room as quickly as possible. The Italian dumped serve following two unforced errors including his fourth double fault and two winners from Shelton.
The young American served for the match with new balls and with his overhead smash winner and three errors from Fognini, it was game, set match. While this had all the makings of a blockbuster opening round match, the combatants fell short of expectations.
While there were glimmers of brilliance from both, unforced errors littered the court; Fognini hit 9 winners to 23 unforced errors while Shelton struck 19 winners to 19 unforced errors.
Shelton hit five aces, five double faults and won 65% of first and 53% of second serve points. He saved 4/5 break points while converting 4/7. He was similarly effective when returning winning 38% of first and an impressive 65% of second serve return points.
A win is a win, but he'll need to significantly reduce the errors and serve well to have a chance against his next opponent world #5, countryman and defending champion, Taylor Fritz.