Serena Rolls To US Open Final

Serena Williams was a teenager when she won her first US Open title in 1999. Just a few weeks shy of her thirty-seven birthday, Williams, now a wife and mother, will attempt to win her seventh US Open title this Saturday night.
The last two years she competed at the US Open (2015-2016) she lost in the semis. On Thursday evening, Serena was determined to rewrite that narrative despite being broken in her opening service game.
Anastasija Sevastova, the #19 seed from Latvia, held to 15 with a cross-court backhand passing shot. Although this was their first career meeting, Williams was determined to keep the rallies short knowing that Sevastova likes to mix in severe slice with topspin and employ the drop shot.
The unforced errors quickly mounted as Williams repeatedly overcooked the forehand off the ground. Serena drastically altered her usual game plan by consistently charging the net and the strategy paid off.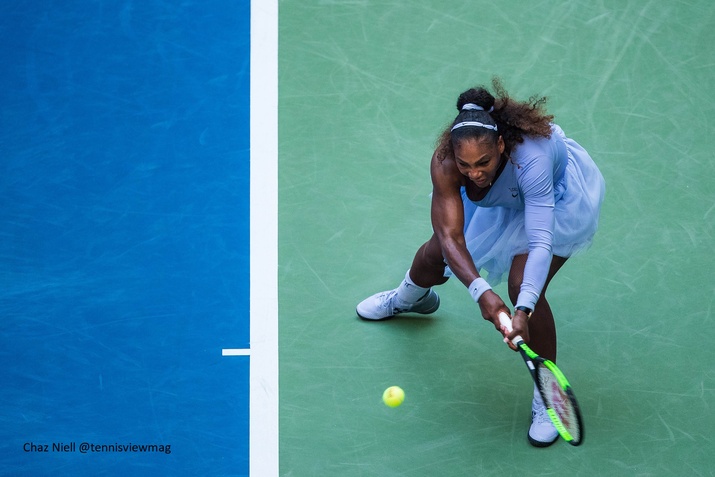 Williams serving at 0-2, opened with another unforced error off the forehand. On the next point, she moved forward taking the ball out of the air crushing the swinging forehand volley and held to 30 with an amazing cross-court forehand winner.
In her next service game, Sevastova immediately came under pressure as Williams ripped a backhand return winner down the line. After facing four deuces and three break points, Sevastova dropped serve when she badly butchered a slice backhand.
Back on serve at 2-2, Williams began to strike the ball off the ground with more conviction and precision, hitting numerous winners including a cross-court backhand passing shot on game point.
Sevastova faced a break point in her next service game after misfiring off the backhand and netting a drop shot. She dropped serve to go down 2-4 when Williams unloaded on a cross-court forehand.
In the following game, Williams hit her first ace of the match and held to 15 when she struck an overhead smash on game point. Sevastova served to stay in the set and held to 15 when Williams netted the return.
Williams, serving at 5-3, opened with an ace down the middle and clinched the set when her opponent's cross-court backhand landed wide.
Sevastova served first in the second and unlike Williams, opened with a double fault. The Latvian continued to commit errors off the backhand and following three magnificent forehand volley winners from Williams on successive points, dropped serve.
The former world #1 and twenty-three-time grand slam champion consolidated the break following a backhand volley winner and forehand volley winner on consecutive points. Williams' strategy to take the net and minimize baseline rallies clearly was paying dividends.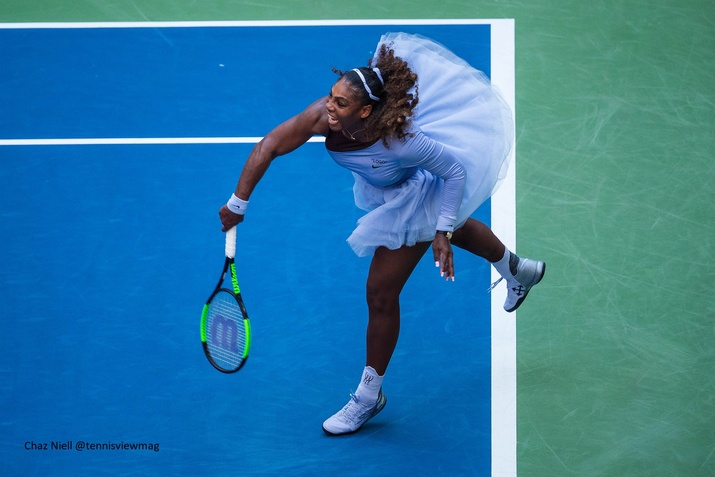 Sevastova once again faced pressure on serve as Williams continued to rip the returns and strike winners from the backcourt and was broken when she netted a backhand.
Williams serving at 3-0, committed two consecutive unforced errors, one a double fault, to go down 0-30. She regrouped and managed to hold when Sevastova's forehand sailed long on game point.
Sevastova serving down 0-4 was running out of options and time. Her slice backhand was not the weapon she had hoped it would be and she was unable to neutralize Williams' impressive net play. The Latvian, down 15-40, lost serve when Williams struck a brilliant forehand down the line winner and was now just four points from another US Open final.
The American opened with an ace and never looked back. Following another huge serve and forehand, she secured the set and match in sixty-six minutes. This was a remarkably composed and mature performance from Serena Williams and incredibly, she has now reached her second consecutive grand slam final of the season.
The most astonishing statistic of the match is net points won. Williams, not renowned for her volleys, won 24/28 points when she approached the net. This is not customarily within her comfort zone, so it was extraordinary that she successfully employed a new strategy playing her opponent for the first time.
She also hit more winners than errors (31/20) and more aces than double faults (4/1). Should Serena maintain this level of play in the final, she undoubtedly will once again cradle that Tiffany trophy.
Naomi Osaka, the twenty-year-old from Japan, awaits in the final. Osaka won her biggest title this past spring in Indian Wells. A week later, she drew Serena in the first round at the Miami Open and defeated her in straight sets.
This was their first tour-level meeting and Williams' fourth match back after giving birth in September 2017. Serena, no doubt, will be eager to avenge that loss and claim her twenty-fourth grand slam title. This will be the first grand slam final of Osaka's burgeoning career and it promises to be spectacular.