Serena Dismantles Svitolina To Reach US Open Final

Serena Williams, the #8 seed, stepped onto Ashe Stadium vying for a spot in the US Open final and the opportunity to tie Margaret Court – the all-time grand slam leader – with twenty-four titles. She had the chance to equal the record this past July at the All England Club but was thoroughly outplayed by world #4, Simona Halep.
This evening, before a capacity crowd, Williams dismantled her opponent, Elina Svitolina, the #5 seed, 6-3, 6-1 in 70 minutes. There was far more two-way traffic on the Grand Central Parkway leading to the BJK National Tennis Center than there was on court.
Svitolina, the 24-year-old Ukrainian and world #5, could not find her range or rhythm as she repeatedly played too passively and too far behind the baseline. Her refusal to adjust her court position was one of the factors that led to her defeat; the other being the exceptional play and movement of her opponent.
Serena led their head to head 4-1 and was playing in her 13th consecutive US Open semifinal. Svitolina reached her first grand slam semifinal earlier this summer at Wimbledon and reaching the penultimate round in two consecutive slams is quite a tremendous achievement.
Williams served first and immediately faced pressure as she committed multiple unforced errors off the ground to go down double break point. Despite facing 3 deuce and 3 break points, she held when her opponent missed wide on the backhand crosscourt.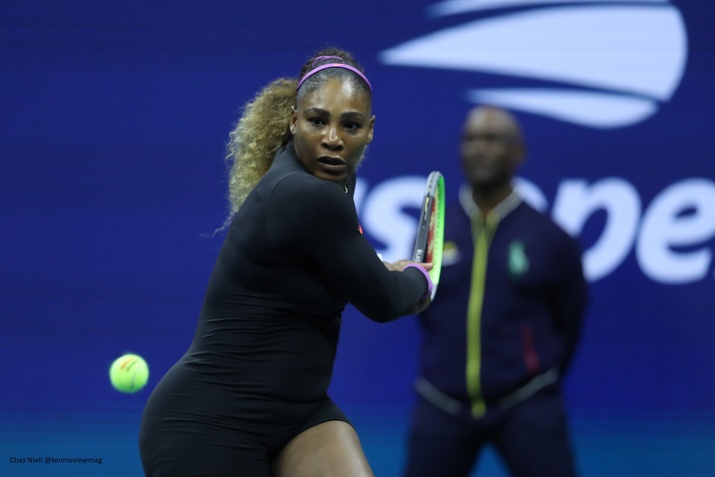 Svitolina, unable to convert the break opportunities, had a difficult time holding serve as Williams continued to rip the return. Williams was spectacular off the ground, finding the acute angles with the crosscourt forehand and backhand.
Svitolina donated two double faults and faced six deuce and three break points and dropped serve when Williams hit an incredible backhand down the line winner off the return. Williams, serving at 2-0, held to love with monster serves and an inside-in forehand winner.
Svitolina, down 0-3, had a much easier time in her second service game striking her first ace and held to 15.
Williams, however, struggled to hold serve as she quickly went down triple break point following three unforced errors on consecutive points. Svitolina once again was unable to convert as she refused to move forward allowing her opponent to create acute angles and dictate the rallies. Williams served an ace and held for 4-1 with an extraordinary backhand down the line.
Svitolina held to 15 hitting her second ace and a well-struck crosscourt backhand. Williams, once again held to love, serving two more aces and an outstanding forehand winner on game point for 5-2.
Svitolina, serving to stay in the set, managed to hold despite throwing in another double fault and forced her opponent to serve for the set.
William, up 5-3, lost the first point when Svitolina passed her with a backhand down the line. That would be the only point she conceded as she closed out the set with a forehand swing volley and an inside-out forehand winner. Williams, calm and extremely focused, completely dominated her opponent with her serving, court positioning and speed.
Svitolina remained passive while Williams stayed aggressive – certainly a recipe for disaster given Serena's ability to play on or inside the baseline, robbing her opponent of time.
It looked as though Svitolina finally had woken up as she held to love to open the second set, hitting two consecutive aces for 1-0. Williams opened her first service game with two aces and held to 30 with a powerful serve out wide.
Svitolina would not win another game as Williams was relentless, seemingly hitting the corners and painting the lines at will. Williams was dialed-in while her opponent was emotionally flat, unable to counter her opponent's power and precision.
It was a stellar performance from Serena Williams. She finished with 6 aces to just 1 double fault and won 86% of first serve and 60% of second serve points. Even more impressive was her ratio of 34 winners to 20 unforced errors. She won close to 70% of points at the net and was 4/8 on break points.
On Saturday she will play either Bianca Andreescu or Belinda Bencic for a 7th US Open title and history and no matter the opponent, the United States and the world will be watching.