See You on Saturday? Novak Djokovic, Andy Murray Near Semifinal Showdown

Will a US Open semifinal feature a rematch of the 2012 men's final? Nick Nemeroff discusses whether Mikhail Youzhny or Stanislas Wawrinka can score a quarterfinal upset.
Novak Djokovic (Serbia) vs. Mikhail Youzhny (Russia)
Novak Djokovic has been delivered quite a simple path into the quarterfinals. Not having faced a seeded opponent through the first four rounds, Djokovic has won eight of his 12 sets by a score of 6-0, 6-1, or 6-2. In his match against Marcel Granollers, Djokovic looked utterly dominant, owning the crafty Spaniard from all areas of the court, including the forecourt.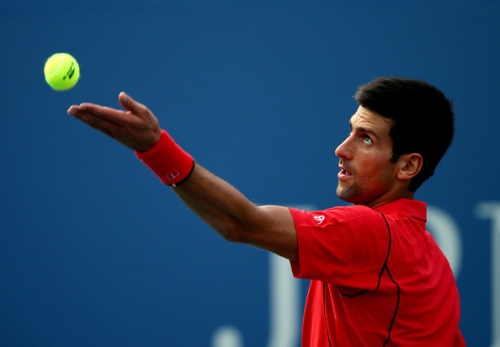 The fiery Russian's road to the final eight has been significantly more challenging. Youzhny dealt Tommy Haas a surprising four-set loss in the third round before coming back from a seemingly insurmountable 5-2 deficit in the fifth set against the mental stallion Lleyton Hewitt.
Djokovic and Youzhny have played on eight prior occasions with the Serb holding a 5-3 lead. Those meetings include a three-set victory in Monte Carlo this year, the last tournament that Djokovic won.
All three of Youzhny's victories over Djokovic have come on indoor hard courts, signaling that the Russian would prefer the conditions on Arthur Ashe to play quicker. The Russian has a mechanically clean game, takes the ball early, moves well, and can introduce a bit of variety with his slice backhand.
Djokovic must welcome this matchup considering that he could have been facing Hewitt, Tommy Haas, or Juan Martin Del Potro instead. Not to take any credit away from the Russian, but Youzhny's run at the US Open will end in a hurry if Djokovic reaches the level that he found against Granollers.
For the underdog to have any chance of winning three sets from Djokovic, he likely needs the perfect combination of unlikely events to occur. First, he must play nothing short of one of the matches of his life. Second, Djokovic must put forth an extremely substandard effort. Third, this intersection of the first two will have to be remain intact across the course of several hours.
Unfortunately for Youzhny fans, unless the Russian brings his magic wand, Djokovic will run right through him.
Prediction: Djokovic in three sets
Andy Murray (Great Britain) vs. Stanislas Wawrinka (Switzerland)
Stanislas Wawrinka's moment to shine may be now. The Swiss has navigated his way through an extremely arduous draw by defeating Radek Stepanek, Ivo Karlovic, Marcos Baghdatis, and Tomas Berdych along the way. While things will not get any easier against Andy Murray, Wawrinka will certainly have a fighting chance in this one especially considering Murray's indifferent form in dropping sets to Leonardo Mayer and Denis Istomin.
Wawrinka comes in having defeated Murray on five of 13 previous occasions. The last time that these two played produced the most lopsided match in their entire history when Wawrinka took out Murray 6-1 6-2 in Monte Carlo this year.
Murray's most recent memory of Wawrinka in Flushing Meadows, much like Monte Carlo, cannot be too fond. The Brit was upstaged by the Swiss in 2010 in a match that confirmed for good that Murray's passive, defensive tendencies were only going to get him so far.
Flashing back to now, we all have grown to know and love (abetted by Neil Harman) the increasingly aggressive and offensive-minded Murray. But what Murray must recognize is not only Wawrinka's shot making prowess but his ability to drain the pace from points and really slow down the action. Put simply, Wawrinka, a player who prefers clay courts, has the ability of turning this match into a defensive, clay-court-like grind.
I had anticipated a Murray-Berdych quarterfinal and would have predicted Berdych to take out Murray. Now Murray faces Wawrinka, and yet again, I favor the underdog in this one. Wawrinka is having an absolutely massive year and, with a less than stellar Murray on his plate, I expect Stan the Man to be joining fellow one-handed backhander Richard Gasquet in the semifinals.
Prediction: Wawrinka in five sets