Sabalenka Defeats Noskova 6-3, 7-6 In Title Match In Adelaide

Sabalenka defeats Noskova 6-3, 7-6 in title match in Adelaide
Aryna Sabalenka finished last season with a trio of outstanding victories at the WTA Finals in Fort Worth, Texas. She conquered Ons Jabeur, Jessica Pegula and world #1 Iga Swiatek before falling in two tight sets to Caroline Garcia.
With ten titles and a career high ranking of #2 in 2021, the 24-year old from Belarus is currently ranked 5th and seeded second. Charismatic, emotional, powerful but unpredictable – Sabalenka is determined to reassert her dominance at the top of the game and secure her first slam title.
She reached the final without the loss of a set but standing in her way was a teenager from the Czech Republic. Linda Noskova just eighteen, is the youngest WTA 500 finalist since 2008 and as a finalist, will crack the top 60.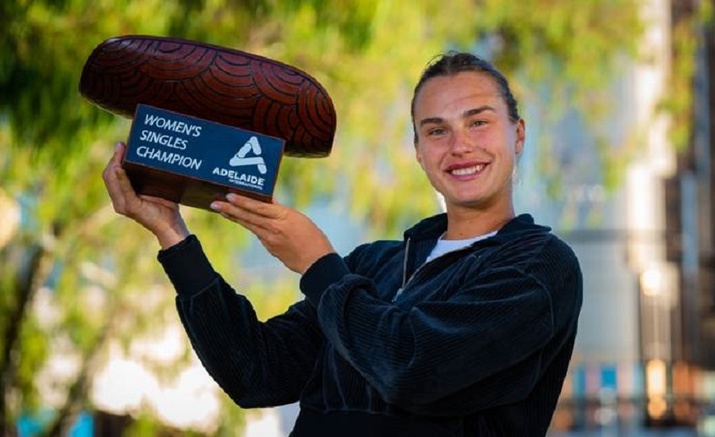 Photo: IMAGO / ZUMA Wire
Noskova came thru qualies and stormed through the draw dispatching world #8 Daria Kasatkina and former world #1 and two-time grand slam champion Vika Azarenka, saving match point. In the semis she conquered her nerves and world #2 Ons Jabeur to reach her first WTA tour final. The teen reached a career high ranking of #87 in August 2021 and is currently ranked #102.
Sabalenka won the toss and chose to serve. While a plethora of double faults plagued her this time last year, she has worked on the motion and emotions with a biomechanical coach and it clearly has paid dividends. The #2 seed opened with an ace and with a huge serve out wide, held easily to 15.
Noskova had an auspicious start making 5/6 first serves and with a scintillating forehand down the line, held to 30 to level. Sabalenka opened with a double fault but followed with her second ace and on game point, a second serve ace!
Noskova impressed with her court positioning, balance and composure. Despite missing 6/10 first serves and facing two deuce and break points, she held for 2-2 with a massive serve up the tee. Sabalenka missed three first serves and faced double break point but with three additional aces, held for 3-2.
Noskova continued to miss the first serve and it cost her as her opponent cracked an inside-in forehand and backhand down the line on the last two points to break. Sabalenka uninhibited and full of confidence, held at love to consolidate the break for 5-2.
Noskova serving with new balls to stay in the set, continued to struggle as she missed 5/10 first serves including two double faults yet held for 3-5 following two mishit returns. Sabalenka donated her second double fault but with a brilliant backhand down the line and a overcooked return, closed out the set 6-3 in thirty-seven minutes.
Noskova served first in the second and with her first ace, held at love for 1-0 while Sabalenka gifted another double fault but with two additional aces, held to 30 to level. The teen sensation made 3/4 first serves and held at love for 2-1 while Sabalenka held to 30 for 2-2 with a spectacular inside-out forehand.
As the match progressed, Noskova adjusted to her opponent's weight of shot. While she gifted another double fault and faced two deuce and break point, she managed to hold with two aces out wide.
Sabalenka held at love for 3-3 with a colossal serve up the tee and a forehand swing volley while Noskova with her fourth ace, held to 30 to level.
Sabalenka sensing the finish line, appeared to succumb to the pressure as she missed 8/12 first serves including her fourth double fault to face break point. Demonstrating an emotional maturity she lacked last season, the world #5 struck a blistering backhand down the line and three more aces, the last on game point to level at 4-4.
Noskova while an aggressive baseliner, is most adept at the net. She reached 40-0 with a crisp backhand volley winner but soon faced break point following two consecutive Sabalenka groundstroke winners. Although she donated another double fault, she battled to hold for 5-4 with an ace out wide and an extraordinary backhand down the line.
The pressure now firmly on the shoulders of Sabalenka, she opened the 10th with her fifth double fault. It appeared like déjà vu but she refused to submit as she uncorked her 12th ace and another monster serve out wide to level.
Noskova possesses poise and conviction far beyond her years. Although she missed 8/14 first serves, gifted two additional double faults and faced four deuce and break point, she persevered, holding for 6-5 when her opponent's forehand went wide.
Sabalenka serving to stay in the set and force the breaker, held at love with an incredible inside-out forehand. Noskova opened the breaker with a double fault which Sabalenka regifted. The #2 seed shrugged it off as she ripped a forehand swing volley and backhand down the line return to lead 3-1.
Noskova donated another double fault to trail 1-4 but with an ace up the tee, clawed back to 3-5. Sabalenka inching ever closer to the finish the line, pummeled a forehand crosscourt to earn three match points. While she faltered on the first with her 7th double fault, the tour veteran unleashed a massive serve up the tee to clinch the breaker, set and match.
Sabalenka with her first title in almost two years, will head to Melbourne for the first grand slam of the year with an abundance of confidence. She served spectacularly winning 91% of first and 68% of second serve points. While she donated 8 double faults, she struck 12 aces and saved the three break points she faced. What a difference a year makes.