Rublev Wins Dubai Duty Free Tennis Championship

Rublev defeats Vesely 6-3, 6-4 to win Dubai Duty Free Tennis Championships
This week in Dubai, both were living the dream. Andrey Rublev from Russia, reached his second consecutive final having triumphed in Marseille last Sunday while Jiri Vesely from the Czech Republic, made his first final since Pune in 2020.
Vesely came thru qualies to reach the main draw and given the depth of field, it was hard to imagine he would progress further. The twenty-eight-year-old, however, was clearly motivated as he dispatched former world #3 Marin Cilic, #13 Roberta Bautista Agut, #1 Novak Djokovic, and #14 and fellow lefty, Denis Shapovalov to reach the final.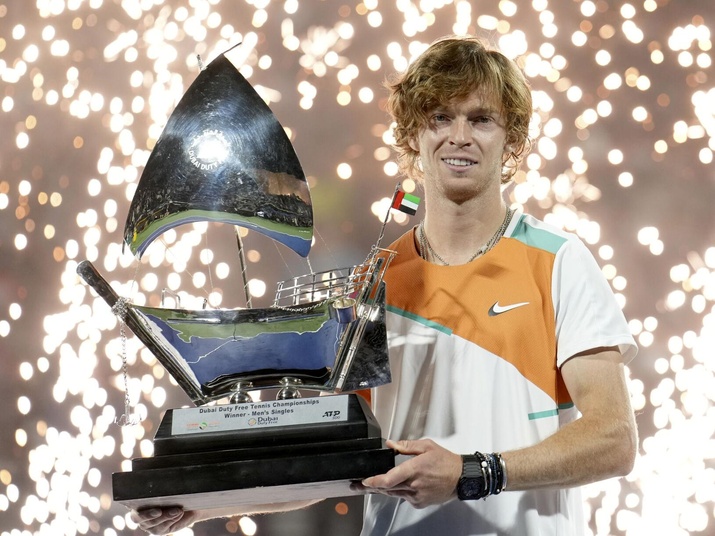 Vesely is currently ranked #123 having reached a career-high of #35 in 2015. His opponent is currently ranked #7 having achieved a career-high of #5 last September. Rublev was seeking his 10th career title, Vesely his third.
Rublev served first and with two aces up the tee, held to 15 for 1-0. Vesely returned the favor, holding to 15 for 1-1 with a 133mph ace up the tee.
Both struck the ball with authority and often from inside the baseline. The #2 seed hit his third ace and held at love for 2-1. The 6'6 Czech opened the fourth with a double fault and with another, dumped serve.
Rublev, pummeling the ball off both wings, opened with a spectacular crosscourt backhand pass and with his sixth ace, consolidated the break. Vesely made 5/6 first serves including an ace out wide and with well-struck groundstrokes, held to 30 for 2-4.
The twenty-four-year-old Russian opened the seventh with an ace up the tee and with another, held at love to lead 5-2. Vesely, serving to stay in the set and with new balls, struck his third ace and held to 15 for 3-5 when his opponent's return went wide.
Rublev, dictating with his formidable forehand, kept the points short and closed out the set at love with two additional aces and a blistering inside-out backhand.
Vesely opened the second set with a double fault and dropped serve following an incredible return that landed on the baseline while Rublev consolidated the break with another ace and a remarkable forehand down the line.
While Rublev undeniably was in the zone, Vesely struggled to find the form that took him to the final. He made 4/5 first serves including an ace up the tee to hold easily for 1-2 while Rublev made 4/6 and held for 3-1 with an overhead smash.
Despite making 5/8 first serves including an ace out wide, the twenty-eight-year-old faced double break point following his fourth double fault yet held when Rublev mishit the return.
The #2 seed, following a slew of forced and unforced errors, faced multiple deuce and break points, and dumped serve for the first time. Vesely, however, could not sustain the momentum and after three deuce points and three double faults, gave back the break. Rublev recognizing the moment with the trophy in sight opened and closed the 8th game with aces to hold at love for 5-3.
Vesely, serving to stay in the match, admirably regrouped, holding to 30 for 4-5 with an ace out wide. Andrey Rublev stepped to the line, struck his 13th ace, and converted his second match point with a monster serve out wide.
It was a stellar performance from the young Russian at this ATP 500 event as he claimed his second title of the month and tenth overall. He won 79% of first and 57% of second serve points and converted 3/8 break points.
Missing from his trophy case are Master 1000 and Grand Slam trophies. He will relish the opportunity to rectify the former next week in Indian Wells and the latter on the terre battue in late May.