Rublev Survives Djere In 5-set Rollercoaster

Rublev survives Djere in 5-set rollercoaster 7-6, 6-3, 3-6, 4-6, 6-4 to reach US Open 2nd Rd
Andrey Rublev, the fiery Russian and 9th seed, most probably took a deep breath upon learning whom he would play in the US Open first round. Laslo Djere from Serbia, had a spectacular week in Winston-Salem, reaching the final last Sunday before losing to the sublimely talented lefty from France, Adrian Mannarino. Throughout the current season, Djere has been competitive against in-form players including Marin Cilic, Nick Kyrgios, Stefanos Tsitsipas, and former world #1, Novak Djokovic.
While Rublev enjoyed a stellar start to the season winning three titles (Marseille, Dubai & Belgrade), he has struggled since to find his best form. He did not have the most successful summer hardcourt season having lost in the semis in Washington, the first round in Canada, and the 4th round in Cincinnati. Rublev reached a career-high ranking of #5 last September but has dropped out of the top ten to #11.
Djere, two years older than Rublev at twenty-seven and with two career titles, achieved a career-high ranking of #27 in June 2019 and is currently ranked #64. This will be their second tour-level meeting having met earlier this season on the dirt in Sweden. Rublev having battled to win that one in two tight sets, knew he was in for a highly competitive and physical match.
On Court 5 in breezy, hot conditions, Djere served first, opened with an ace out wide, and held easily to 15 for 1-0. Rublev reciprocated with an ace out wide to open but held at love with another huge serve for 1-1.
Djere struck two winners including another ace and held to 30 for 2-1 while Rublev held to 15 to level with well-placed serves and an incredible inside-in forehand. Djere upped the ante in the fifth game striking two consecutive aces to hold at love while Rublev committed three consecutive unforced errors and dumped serve when Djere hooked the forehand pass down the line.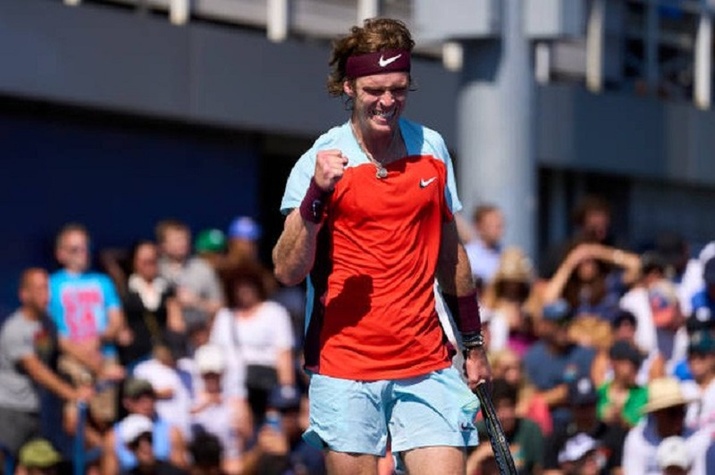 Getty Images
Djere donated four consecutive unforced errors including a double fault to give back the break. The #9 seed opened the 8th with a brilliant backhand down the line and though he gifted his first double fault, ripped two forehand winners to level at 4-4.
Djere missed 4/6 first serves and dumped serve following two mishit backhands. Rublev served for the set but was unable to consolidate as he committed four unforced errors off the ground. Level at 5-5, Djere battled for 14 ½ minutes, donated four double faults, and faced eight deuce points yet held for 6-5 with a spectacular inside-in forehand on game point.
Although Rublev failed to create any break points in the previous game, he kept his composure hitting an ace to open and a forehand winner to close and force the tiebreak. Though the Russian amassed a 5-2 lead, Djere leveled at 5-5 before losing 5-7 with his second double fault of the breaker.
Rublev could not sustain the momentum as he missed 4/6 first serves and dropped serve when he overcooked a forehand approach. Djere gifted three additional double faults and faced five deuce and two break points before dropping serve following an outstanding inside-in forehand from his opponent.
It was a rarity for either player to easily hold serve but Rublev did with this his third ace to lead 2-1 while Djere serving with new balls, struck two additional aces, the last on game point to level at 2-2.
Rublev held comfortably for 3-2 hitting a 121mph ace up the tee while Djere faced a break point but held for 3-3. Rublev missed 3/4 first serves yet held at love for 4-3 while Djere missed 4/6 first serves and dropped serve when his slice backhand went wide. Rublev opened the 9th with a stunning backhand down the line that clipped the tape, struck his fastest serve of the match (127mph), and secured the set 6-3 when Djere mishit the return.
It would appear that the former world #5 was on his way to a straight sets victory as his opponent appeared to wilt in the afternoon sun. Djere served first in the third and though he hit two more aces, faced three deuce and a break point before holding for 1-0.
Rublev cruised in his opening service game hitting his 6th ace as he held at love for 1-1 and Djere reciprocated with a love hold for 2-1. Rublev hit two additional aces, the last on game point for 2-2 while Djere hit his 9th ace on game point for 3-2.
Rublev missed 8/8 first serves, faced a break point yet miraculously held to level at 3-3. Djere hit two consecutive aces and held at love for the second time in the set. Rublev faced three break points following two winners from his opponent and dropped serve to go down 3-5 when he netted a backhand. Djere opened the 9th with his 12th ace and closed out the set 6-3 when Rublev netted the return.
Both are permitted to leave the court or sit for ten minutes following the conclusion of the third set when the heat rule is in effect. Djere chose to leave the court for approximately 6 minutes while Rublev remained in his chair.
Rublev served first in the fourth and it was disastrous; he missed 6/8 first serves, faced three break points and dropped serve, and smashed his racquet when he missed wide with the backhand. The always demonstrative Russian desperately needed to regroup, or the match would slip through his hands. Djere quickly went down 0-40 with his 10th double fault and dumped serve when he netted a makeable forehand.
Rublev consolidated the break for 2-1, hitting an ace out wide on game point. Djere serving with new balls held to 30 for 2-2 with an exquisite forehand half-volley winner on game point. Rublev missed 2/4 first serves but held at love for 3-2 while Djere gifted another double fault, faced two deuce and one break point yet held for 3-3.
Rublev continued to miss the first serve but once again held at love for 4-3 while Djere made 3/5 first serves and held easily to 15 to level at 4-4. Rublev made 4/6 first serves but it was to no avail as he faced double break point and dropped serve when he netted a forehand. The crowd was seemingly mute as the #64 player served to force a deciding set. Djere donated another double fault but with an ace out wide, clinched the set 6-4.
Rublev served first in the fifth and made an emphatic statement with a love hold while Djere made 6/8 first serves and held comfortably for 1-1. Rublev opened the third with a massive crosscourt forehand winner and with three more including an ace on game point, once again held at love.
Djere opened with a blistering backhand down the line and an ace up the tee on the first two points and held easily to 15 for 2-2. It was anyone's guess who would draw first blood in this deciding set. The 11-time tour titlist seemed to indicate it would be him as he struck three aces the last on game point for 3-2. Djere reached 30-0 with a fantastic forehand down the line and an ace out wide but faced break point and dumped serve with his 13th and a most unlucky double fault.
Rublev picked up where his opponent left off, opening with a double fault, and gave back the break following two consecutive backhand errors and a backhand winner from his opponent.
Djere held easily to 15 for 4-4 with an ace on game point while Rublev struggled to hold but did with a powerful serve out wide. Djere, serving to stay in the match down 4-5 faced break point following an amazing forehand down the line from Rublev and lost serve, the game and match when he netted a forehand volley.
After close to 3 ¾ hours, the 9th seed survived a scary rollercoaster ride to reach the second round at the season's final slam. The Russian finished with 13 aces to 3 double faults and won 77% of first and 48% of second serve points. He converted 7/13 break points and hit 45 winners to 42 unforced errors.
He most definitely should have won in straights but was undone by several costly lapses in concentration. Credit to him for maintaining his composure over the course of five sets and for conquering a worthy opponent.
Next up for the world #11, Soonwoo Kwon from South Korea who dispatched tour veteran, Fernando Verdasco in four sets. This will be their 4th tour-level meeting this season with Rublev leading the head-to-head 3-0.