Roland Garros WTA Rewind: The Best (and Worst) of the Rest

An exciting match between Maria Sharapova and Simona Halep broke a 12-year streak of straight-sets finals, and the 2014 French Open broke the mold in more ways than one. With the top two seeds out before the third round, upsets abounded and also-rans and underdogs alike made their mark on the terre battue. David Kane and Victoria Chiesa conclude their RG wrap-up with a look at some of the more surprising and heartwarming moments at this season's second Slam.
DK: This year, the women's event did what it does best, only to a cartoonish extreme. Walking a much thinner tightrope than in years past, it managed to balance a chaotic first week with a quality final. Although it took several rounds for the seeds to begin facing off against one another, the lower-ranked players provided more than their fair challenge to the fan and tournament favorites.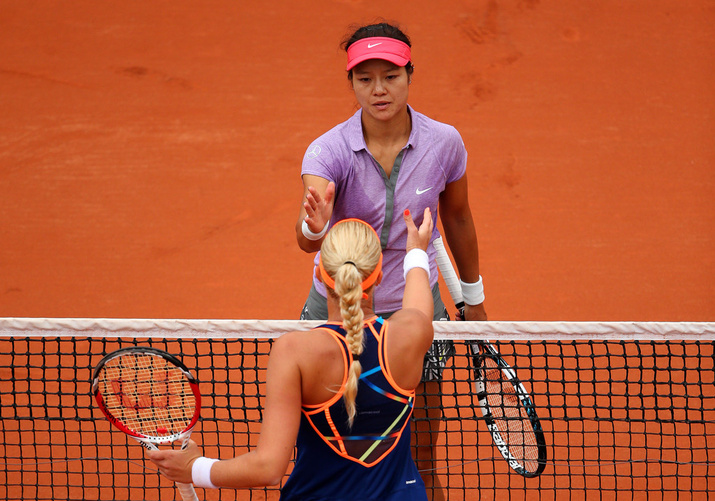 It's funny to think back how shocking we initially found Li Na's first-round upset, only to forget it in the face of the hundred-odd more surprising things that happened over the fortnight. Not even Li herself knew what to make of the upset at the time, but Kristina Mladenovic acquitted herself well at her home tournament, taking out America's Alison Riske and giving eventual semifinalist Andrea Petkovic all she could handle in round three. Are we "all in" for Kiki, and what do we make of the Chinese former champion? Can we expect a turnaround on what has traditionally been her least successful surface? Is it worrisome that we're already asking so many questions?
VC: Li's career has been categorized by up and down performances, but what worried me was her inability to explain exactly what happened against Mladenovic. A world No. 2 and a two-time Grand Slam champion has to be able to find some answers against someone playing inspired tennis, and Li Na certainly didn't do that. I'm not sure we're going to find any answers during the grass court season either. While Li became the first Chinese player to reach a Grand Slam quarterfinal at Wimbledon in 2006, she hasn't exactly enjoyed her time on the lawns since. She's lost in the first week four times since then, and last year's quarterfinal against Agnieszka Radwanska was a mess in more ways than one.
DK: This spring saw Li admit a desire to become a "true" clay-court player, despite having won the tournament playing a hard-court game in 2011. With only two weeks between the French Open and Wimbledon, she may benefit from the lack of preparation time and rely on the instincts that took her to a second major title earlier this year.
What may have been most distressing to Li was not how she played, but to whom she lost. She wasn't undone by a defensive retriever who made her hit an extra ball. Kristina Mladenovic arguably plays a similar game to the No. 2 seed, and inarguably with less success. What the Frenchwoman did have in her favor was a partisan crowd, whom she used to tremendous effect during her tenure at Roland Garros. She showed a willingness to engage spectators, a talent that will serve her well on a global scale, should she continue playing well enough to invoke their power.
This storyline was ultimately overshadowed, of course, by the shocking upset of Serena Williams. The American lost a limp second-round encounter to Garbiñe Muguruza, and the questions coming from that development were the opposite of Li's. Muguruza is a talented player, who had upset Caroline Wozniacki en route to the fourth round of the Australian Open. What was more shocking was Williams's inability to find answers to combat the Spaniard's streaking play. Where was the fight?
VC: Williams looked out of sorts from the first ball she struck in Paris, and Muguruza was just the player to take advantage of it. (Sorry, Alizé Lim.) It was a little unsettling, however, to see Williams unable to find another gear to handle the barrage that was coming at her. We've seen her rally from huge deficits on the biggest stages against the best players before, and Muguruza certainly doesn't have the pedigree of some that have suffered a loss to the American from a winning position.
To her credit, she didn't allow Williams much of an opportunity to stage that comeback. We touched on this in our last discussion, but Williams is always more likely to suffer a shock defeat on the Parisian clay than she is on the lawns of Wimbledon. Sabine Lisicki, the player who shocked her in the fourth round in London last year, and Muguruza have a lot on common. Both play with reckless abandon, managing to hit the World No. 1 off the court while simultaneously holding their nerve. Should we expect Williams to be on guard for a repeat performance by another punching player?
DK: Funnily enough, the match was more reminiscent to me of her loss to Ekaterina Makarova a couple of years ago in Australia. Muguruza was able to hold her own serve, but as in Melbourne, Serena was struggling mightily with her own. Throughout a career full of dramatic highs and lows, the Serena Williams service action is typically the calm in a sometimes tempestuous storm. The American blamed her delivery when she lost to Samantha Stosur at the French Open in 2010, went home to work on it, and won Wimbledon two weeks later without the loss of a set.
Only the foolhardy would declare the Williams career DOA ahead of one of her favorite tournaments, but this year has definitely been a step down from the dominance she displayed for most of the last two years. As for Muguruza, I was impressed by her ability to follow up her major upset with a run to the quarterfinals, playing her way to within a game of the semifinals against eventual champion Sharapova. Her big-stage results have all come on the higher-bouncing courts. Are we expecting a lull ahead of the summer hard courts? She's certainly capable of taking the ball early enough to succeed on the lawns of Wimbledon.
VC: Muguruza did make the semifinals of the grass tune-up event in the Netherlands last year, and she reached the second round of Wimbledon before ending her year for ankle surgery. However, last year was her main-draw debut at the All England Club. She and many of the others who had breakthrough results in Paris either have limited experience, or have had limited success, on the grass courts.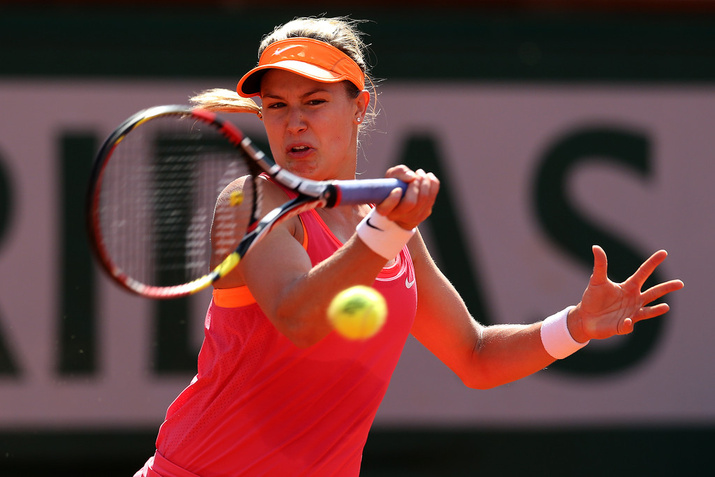 The one outlier in that group? Eugenie Bouchard. While the Canadian's true breakthrough this year came in Australia, and she did well to follow-up that showing with another Grand Slam semifinal appearance, Wimbledon is where it all began for her. The 2012 junior champion, she was a Victoria Azarenka away from taking on Ana Ivanovic on a side court last year. However, when Azarenka withdrew, the match was moved to Centre Court, and Bouchard recorded the first signature victory of her career. With these performances behind her, what can we expect from the new No. 12 on what she calls her favorite surface?
DK: For as few fans who anticipated Bouchard would make her debut major semifinal in Australia, even fewer saw a final four appearance at the French Open as a possibility. Locked in a three-set tussle with Carla Suarez Navarro, the Canadian looked overmatched for much of the encounter until the Spaniard's notorious nerves came into play, and Bouchard was able to step into the court and reclaim the initiative. Bouchard joins a long list of players who gave Maria Sharapova trouble at the French Open. Of those four, she was certainly one of the tougher tests the Russian had to face in order to take the title.
With all of this unlikely success coming on hard and clay courts, it's fascinating to think the best is yet to come from the Wimbledon junior champion. Bouchard has become a completely different player in the last 12 months, fimding a walk that matches her talk. A second-week finish isn't beyond the realm of possibility, but Bouchard has been so superhuman at the majors thus far that a letdown when she's at her most confident seems just as likely.
VC: While there were many breakthroughs in Paris, we can't ignore the resurgence of two of the tour's charismatic veteran personalities. Svetlana Kuznetsova and Andrea Petkovic took advantage of the chaos that reigned in the bottom half of the draw and returned to the business end of a Grand Slam. While both players saw their runs end at the hands of Simona Halep, what can we take away from their showings in Paris? Was it merely a case of experience winning out, or are they truly "back?"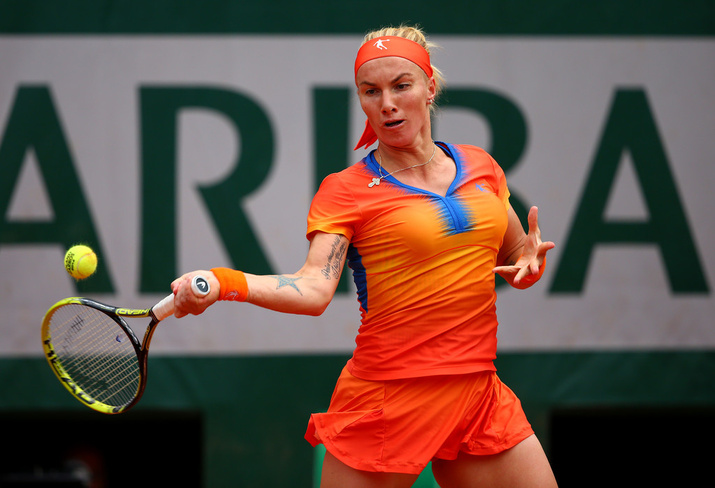 DK: It was the kind of tournament fit for a Svetlana splash. The Russian was so close to upsetting eventual champion Serena Williams last year that it was no surprise to see her bring that same intensity to upset the more combustible Petra Kvitova in the third round. While she exhibited no visible injury against Halep, she managed to remain competitive for much of the second set despite appearing close to calling it quits at times. It's hard to expect much from either her or Petkovic at Wimbledon, another player with disdain for the grass. The German made the most of a broken draw to make her first major quarterfinal since 2011, but she showed great character in taking out Sara Errani in two easy sets. Who do you see ranked higher at the end of the season: Kuznetsova or Petkovic?
VC: That's a tough question to answer. Petkovic made her return to the top 20 courtesy of her semifinal showing in Paris, while Kuznetsova is just hanging on to a top-30 spot. Since neither woman has shown a particular affinity for grass in her career, I think we're likely to see more of them over the summer hard court season leading into the US Open.
DK: Neither have too many points to defend for the rest of the year, but where Kuznetsova is capable of flashier results, Petkovic can be more consistent. This, of course, assumes both remain injury-free through 2014, a challenge neither has been particularly able to handle over the last few seasons. We're steadily approaching the anniversary of a major title won by Marion Bartoli, so it's clear that impossible remains nothing in the WTA, and we should all be prepared for anything.