Roland Garros: Women's Semifinals

Johanna Konta versus Marketa Vondrousova
It was said from the outset that the women's draw was wide open, but few, if any had this semifinal featuring Johanna Konta and Marketa Vondrousova penciled into their draws. Teenager Vondrousova is just really beginning to make her mark on the game while Konta had never even recorded a win in Paris, and yet both have defied expectations to put themselves within a match of Saturday's championship. As to who will keep her title hopes alive, it is anyone's guess.
Vondrousova certainly appears to be a budding star. Aged seventeen, she grabbed her first title in Biel in just her second WTA appearance and reached the finals of Budapest and Istanbul earlier this season. The lefty already owns a solid and aggressive baseline game, and though she feels it is better suited to the quicker hard courts, having grown up on clay, she is right at home on the dirt.
As it turns out, however, Konta has recently looked pretty sharp on the clay as well. The Brit plays with flat, penetrating ground strokes of her own and does not shy away from moving forward when the opportunity presents itself. Traditionally, she has found more success on the faster surfaces, but it was at the start of the clay season when she reached the final in Morocco that really turned her 2019 season around. She backed it up with a final appearance in Rome and has not looked back since. Suffice it to say, both are feeling confident right now, and it shows in their respective games.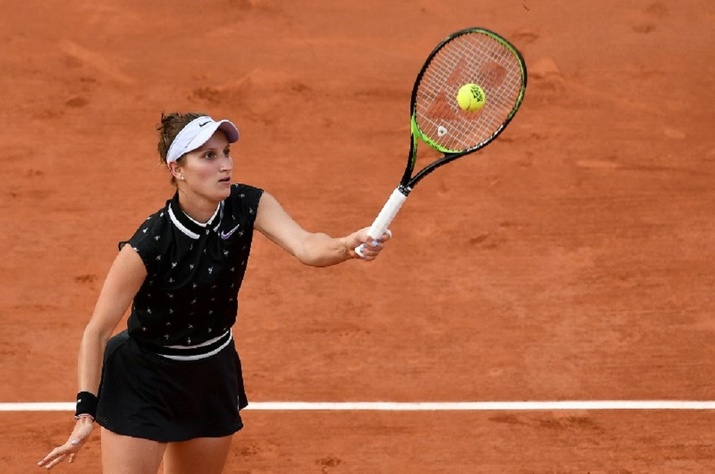 With that in mind, this one boils down to who can manage the emotions to bring out the best in her game, and this is where the unknowns are. This marks the first semifinal appearance for the Czech, and there is no telling how she will react to it. That being said, she has youth and therefore time on her side, plus as the unseeded player, the pressure is squarely on her opponent's shoulders. For her own part, Konta has been to this stage twice, but she has never made it beyond this hurdle. At age twenty-eight, she also knows her opportunities could very well be more limited than her teenage foe's, which brings its own pressure. She does look happier on court, however, and has recently talked about the positive change in mentality her coach as brought to the team, and its impact is evident.
If Konta can master her nerves and continue to maintain the clinical level of tennis she displayed in the quarterfinals, she will be the one to take the match into her own hands and advance. If not, Vondrousova has already knocked off three seeds and is more than capable of knocking off a fourth. The only thing known for certain is that by the time this one comes to a close, one woman will find herself in her first major singles final.
Ashleigh Barty versus Amanda Anisimova
The women's draw at this year's Roland Garros has seen its share of upsets and surprises, and a result, it has produced another shocking semifinal that pits Ashleigh Barty against Amanda Anisimova. They are two rising stars of the WTA, but only one of them will be able to make the most of this golden opportunity and advance to her maiden major singles final.
American teenager Anisimova is the one better equipped to be the master of her own fate. She is definitely the bigger ball-striker of the pair, and much like she did in her quarterfinal clash with defending champion Simona Halep, Anisimova is capable of taking many of the rallies out of the Australian's hands. She owns the more imposing serve, so if she can put in a high percentage, it is going to be very difficult for the eighth seed to get a glimpse at a break. She also loves to tee off on the return, which if she is seeing the ball well, is going to put Barty on her heels and that much more pressure on the Australian to come up with the goods.
Of course, while Barty will fully respect the power that Anisimova brings into this match, it is apt to take an exceptional display of that power to rattle Barty. Madison Keys is one of the hardest hitters in the women's game as well, and Barty took her down in straight sets in her quarterfinal. Barty also presents the American with a different challenge than Halep, in that the eighth seed's game features a lot more variety. Between the slicing and the topspin, she can give a lot of different looks and paces to throw Anisimova off her rhythm, and assuming Anisimova cannot keep her pinned behind the baseline, Barty is someone who can apply pressure on the American by employing her stellar net play. It is going to be imperative that she keep Anisimova off balance though, or the American's power could make it difficult for her to inject all of the tools in her bag of tricks.
While executing their respective game plans and styles will play a large role in the outcome of this match, however, the more influential factor is sure to be who can do a better job mastering her nerves. This is also the greatest unknown in this battle. There is no shared history between the two, so neither is familiar with the other woman's game or can draw any sort of psychological advantage from the past. Neither has ever been to this stage of a major. As the seeded player, there is naturally a little more pressure on Barty, but her having more overall experiencing playing key matches could also work in her favor, such as her breakthrough win in Miami this past spring. Temperamentally, Barty has also appeared to be the steadier and more mature of the two, but that could also turn out to be a facade that does not translate to her game in the pivotal moments. With all that in mind, the earliest stages of this match will be important for both players as they look to settle their nerves and hopefully find their top form to give them the best look at advancing.
All told, this is a difficult one to call. Anisimova's more imposing brand of tennis means she is more than capable of hitting her way to the final. She has the fearlessness of youth on her side and less weight on her shoulders to swing away freely. That being said, Barty's craftiness and guile have already taken her to new heights this year with no reason they cannot keep doing so here in Paris. Although this is her first major semifinal, she does have more overall experience playing huge matches, and she is emotionally the steadier combatant in this contest. Perhaps the slight nod goes to Barty, but in truth, it is anyone's guess which of these two prevails. As with the other women's semifinal, the only definitive thing that can be determined is that when all is said done, the victor will find herself in her first major singles final.