Roland Garros Rewind: Reflections on Sharapova, Halep

Tennis fans came into the French Open women's final with few expectations and one wish: a three-set final, the first since 2001. By the end of Maria Sharapova and Simona Halep's three-hour tussle, the wish was granted and expectations were blown out of the park as both women played one of the greatest Grand Slam finals in recent memory. The Ballad of Claypova added a verse and half from the fourth round on, and the Russian capped off her clay success with her best tennis of the fortnight against the plucky Romanian. For her part, Halep shrugged off nerves and doubts to keep the match close for three grueling sets, earning a spot in the top three after a career week. David Kane and Victoria Chiesa discuss how the final unfolded, and what lies ahead for the top two in the clay season power rankings.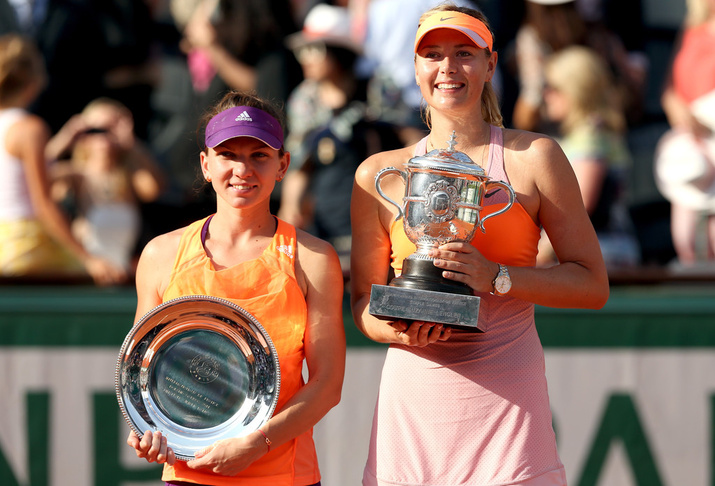 DK: It wasn't the final we expected, but for a tournament full of surprises, it wasn't the most shocking outcome. The top two seeds were barely a factor in Paris, but it didn't seem to matter as the Madrid finalists took over the tournament and made all of the headlines. A familiar name to all who have even a cursory knowledge of the sport, Sharapova punctuated a decade among the game's elite with a fifth major title. Having already won one of each, she takes her second Grand Slam on what was undoubtedly her weakest surface back when she won Wimbledon at 17. The Russian played most of the second week scraping by against inexperienced yet inspired competition. Heading into the final, it wasn't unfair to give Halep, the major final debutante who strolled through six matches without the loss of a set, a slight advantage. What made the difference in the end?
VC: When Halep broke back for 4-4 in the third set on a Sharapova double fault, the least likely conclusion that I could have envisioned was that the Russian would win eight points in a row to seal the match. While Sharapova's willingness to battle never wavered, the difference was Halep's willingness to match her. One of the hallmarks of the Romanian's improvement over the past 12 months has been her ability to find openings and step up her aggression when the situation calls for it. However, in the closing stages of the match, she reverted to a slightly more defensive game, and Sharapova took the last two games completely out of her hands.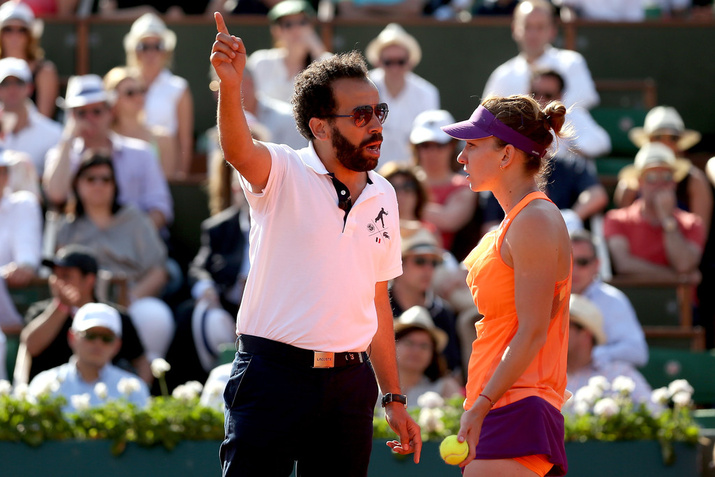 DK: It was a shocking shift of momentum. For the briefest of moments, it looked like the Romanian had her maiden major title within range. Earlier in the third set as well, when Halep gave Sharapova all she could handle at 2-1 on serve, the door suddenly seemed wide open as the Russian had gone wayward at a crucial stage of the match. Nobody had time to let that possibility sink in, however, since Halep temporarily folded after Kader Nouni (correctly) awarded a point to Sharapova after an overrule. In her first major final, Halep had retained a near-laser focus for nearly three hours. She stayed with Sharapova at nearly every ebb and flow of the match, waiting for moments when the 2012 champion began playing below her best to strike and peg the Russian back. Ultimately, it's hard to fault her for this temporary lapse, but one would hope Halep herself doesn't live to regret it.
VC: As the No. 4 seed in Paris, Halep seized control of her own quarter of the draw and took advantage of her ranking in a way that few others in her position have done. She'll rise to No. 3 in the world rankings on Monday, and few will say that it's a position that's undeserved. While nothing is a given in tennis, she'll certainly be in a position to create more opportunities for herself. In that vein, while Sharapova and Halep played a fitting final to close out a memorable women's fortnight at Roland Garros, time (and tennis) waits for no one. The two standout performers of the clay season, and the rest of the WTA Tour, now make the move to the grass. While solid clay campaigns have not been harbingers of things to come for many women in the past, how do Sharapova and Halep stack up against the field on the lawns of London?
DK: When it comes to grass court anecdotes, both Sharapova and Halep have Serena Williams in common, the Russian with her aforementioned 2004 victory over the American. But Halep had a more minor breakout there back in 2011. As Williams struggled to come back from a lengthy injury absence, Halep was just starting to find her bearings among the WTA ranks, and she took a strong lead against the American before fading in set three. It's clear, however, that Halep's historical statistics have quickly become outdated. Her Wimbledon record may be paltry, but her wins in Paris were equally minimal before 2014. The Romanian showed off her adaptability last year, going from a maiden WTA victory on the clay courts of Nurnberg to take a second title in a row on the well-worn grass courts in 's-Hertogenbosch. Halep's hard-court results alone show she doesn't *need* the higher bounce, but Sharapova would certainly prefer it. What does the Russian need to do to recapture the moment that made her a star?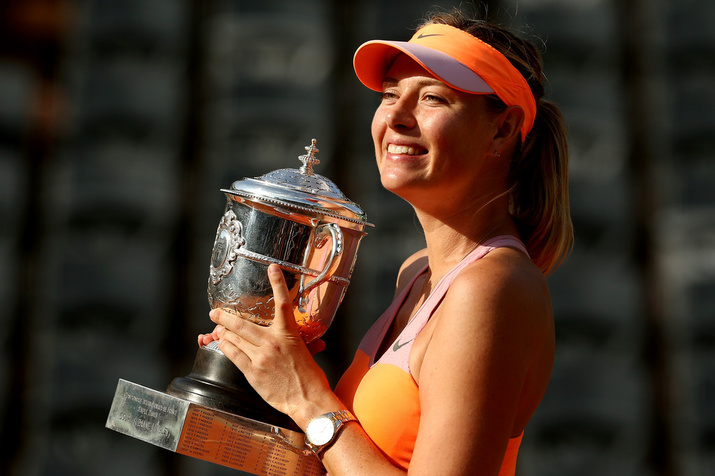 VC: Sharapova has certainly had her share of forgettable Wimbledons in recent years. She's only advanced beyond the fourth round once since 2006, and that year also ended in disappointment as she was out-dueled by first-time Grand Slam finalist Petra Kvitova. It's hard to say why the Russian has struggled on the lawns of the All England Club since announcing herself a decade ago, and she'll certainly have to be wary of a major letdown. Among women, only Serena Williams has been able to accomplish the Roland Garros-Wimbledon double this decade. She might also want to avoid Sabine Lisicki…and I say that only half-jokingly. The German has beaten the Roland Garros champion at Wimbledon in each of the past three years, including Sharapova herself in 2012.
DK: Aside from a close match with Halep in Madrid, Lisicki hasn't done much to inspire confidence that she could replicate her Wimbledon run, let alone keep such an unlikely streak alive. But then, when hasn't she come out of nowhere to take out the keeper of the Coupe Suzanne Lenglen? Even taking out her French Open run, however, Sharapova should start the grass court season high on confidence. The Russian is 23-2 since losing early at Indian Wells, including wins over four of the top six women in the game. But Serena Williams still casts a large shadow over her competition, despite suffering two shock losses at the Grand Slams. At her best, she remains the best. Given her relative dip in form, is it still a case of Serena against the field?
VC: Despite Williams' surprise second-round exit at Roland Garros, she's always been more likely to put on a subpar performance in Paris than anywhere else. That's rarely, if ever, the case at Wimbledon. While I do think that she's still the favorite to lift yet another Rosewater Dish, her losses this year to Alize Cornet, Jana Cepelova, and Garbine Muguruza certainly show that the old adage rings true. If she is going to lose early in London, it might be at the hands of a player no one expects. If she can find her way through the minefield of the early rounds, she's likely to bring her best against the best.
DK: The more mountains the veteran has climbed, it has become clear that Williams is finding it increasingly difficult to get up for the matches that (frankly) don't matter. She's gotten it done in decisive fashion against all of the big names this year, including Sharapova (twice), Victoria Azarenka, and Li Na. She won't draw any of those players in the opening round of Wimbledon, but for the first time since her loss to Virginie Razzano two years ago, Serena will be entering a major feeling she has something to prove.
VC: That probably isn't the greatest news for the field. Nonetheless, momentum is a weird thing in tennis. While we won't see Sharapova again until her first-round match on the lawns of SW19, Halep will look to defend her title in 's-Hertogenbosch next week.
DK: I can't decide how to feel about that development. Although it was the kind of tournament on which she began to make herself a factor on the Tour, 's-Hertogenbosch will be the first decidedly low-level event the Romanian has played all year. Given how she's conducted her season thus far, I wouldn't be surprised if she played a match or two and withdrew. While she probably shouldn't pop into Wimbledon without any grass court warm-up, I can't see how defending this title will do her any favors in the long term.
VC: With the extended grass season on hold for another year, it's a tough position for Halep and others like her to be in. With only two weeks to get grass court preparation in, a player has to choose between two options: resting after going deep in Paris and possibly playing the week before Wimbledon, or trying to adjust surfaces in a matter of days and risk an early flameout. The ideal scenario for Halep would be having enough matches for her to feel comfortable on the grass courts, but not over-exerting herself in the process.
DK: If it sounds like we're hanging on Halep, it's because for all she's done to prove herself in the last year, she still remains the unknown quantity compared to Sharapova. The Romanian played and won titles the week before Wimbledon and US Open in 2013, and she admitted to fatigue following the latter major. Still, it took a surprising defeat to Svetlana Kuznetsova in Stuttgart before Halep transitioned effectively from concrete to clay. Sharapova has played grass warm-ups in the past but hasn't made a pre-Wimbledon appearance since 2010. The move coincides with her improved play on the terre battue, causing her to opt for more rest between the two major tournaments. Ultimately, where do you see our finalists a month from now, when the Fourth of July fireworks have been put away and Wimbledon has crowned another champion?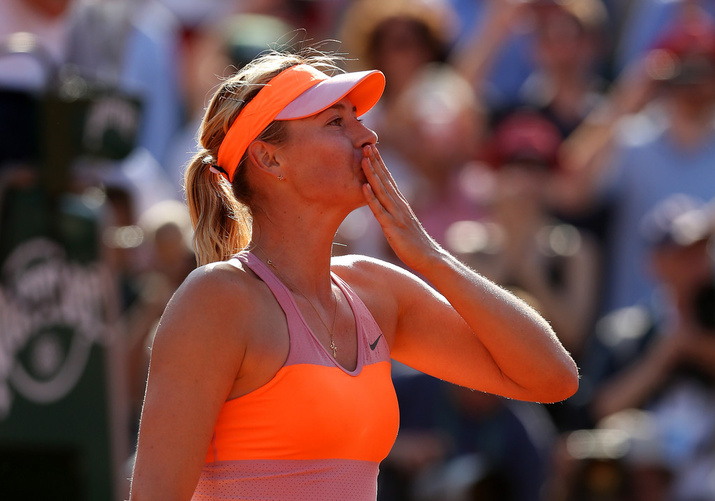 VC: I hesitate to predict anything involving Wimbledon this year, as some of last year's craziness might still be hanging in the London atmosphere. However, I'd expect to see both players at the business end of the year's third Grand Slam event. We know what to expect from Sharapova, but I'm eager to see what "Halep 2.0" can bring to the grass courts. It's the only surface where we have yet to see what she really has to offer, and in a second-round defeat last year, she won a 6-1 set against Li Na.
DK: It may be hard to believe, but three of the last four major tournaments haven't gone according to plan. Which is, to say, Serena Williams hasn't won them easily. But if the world is to right itself, I can't imagine a better place than staid, traditional Wimbledon, home to strawberries and cream, freshly cut lawns, and the Whackiest Wednesday in tennis history, let alone in 2013. So perhaps chaos may reign yet in London, but while I can't predict titles for either Roland Garros finalists, I do expect them to be in the mix. We'll have to wait and see.
While it might appear that we're focusing on the two players that were left standing in Paris, there are always eight spots in the '-finals' stages of a Grand Slam. On Wednesday, we'll discuss what the wacky women's tournament at Roland Garros means for the Wimbledon campaigns of some of the tour's other big names.