Roland Garros Men's Semifinals Preview

Rafael Nadal versus Juan Martin del Potro
For a man who was questionable about even participating in this year's Roland Garros, Juan Martin del Potro has done alright. He now finds himself in the final four and just a couple of matches away from claiming the second major of his career. Unfortunately for him, it is Rafael Nadal, a man who has won this title ten times, who stands in his way. The good news for the Argentine is that he comes equipped with enough weapons to make others, including Nadal, believe this has the potential to be an upset, particularly given that the conditions could be heavier, which further helps his case. As Simone Bolelli demonstrated in the opening round, if one can grip and rip with enough firepower and consistency, headway can be made against the Spaniard, and no question del Potro has that kind of firepower on his forehand wing. His serve should also help him open up the court and put him in a position to dictate his share of the rallies.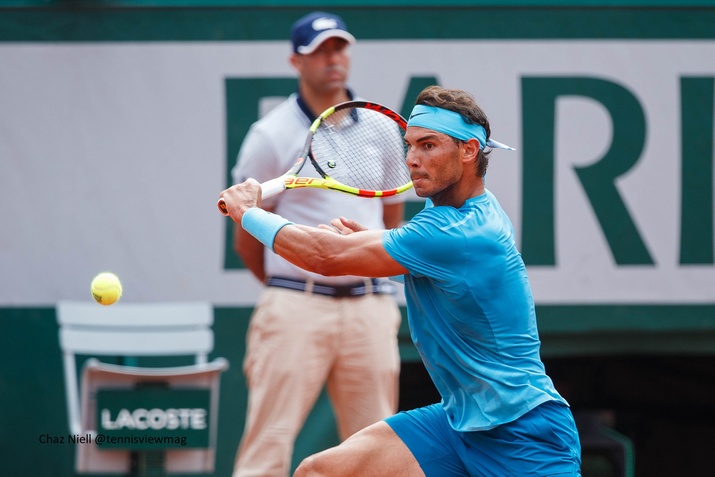 Furthermore, although he does trail by a few matches in this rivalry, del Potro does have five previous victories against Nadal, and as a former major champion himself, is unlikely to be overawed by the occasion. That is the good news. The bad news is that he is playing someone in Nadal who has only ever lost twice at this event. He is one of the greatest clay-court players ever, and as much as he is a beast to try and take out in a best-of-five format, it becomes even tougher the later he goes at this tournament. Additionally, Nadal's favorite patterns of play are going to go into the Argentine's backhand, which although improved, is not going to be able to consistently hurt Nadal. That puts the onus on del Potro to disrupt those patterns, which is easier said than done. Lastly, there is simply no ignoring Nadal's history at this tournament and on this surface. It makes him a daunting challenge to play no matter the opponent, and nothing is going to change that on Friday. So, while for sure this match easily represents the biggest hurdle Nadal has had to face in his quest to make it eleven titles in Paris, he remains the clear favorite to move through to the final.
Dominic Thiem versus Marco Cecchinato
There are only two men left standing in the bottom half of the men's draw. One of them, Dominic Thiem, should not be a surprise to anyone. He was one of the pre-tournament favorites behind Rafael Nadal for the title, and after reaching this stage the last two years, he always looked like a good bet to make it three. His opponent, Marco Cecchinato, is unquestionably a surprise. Before this event, the Italian had never even won a match at a major, and yet somehow, he has knocked off multiple seeds to put himself within two victories of a very improbable title run. Naturally, logic dictates that the Austrian will end Cecchinato's Cinderella campaign. The seventh seed has been clocking serves bigger than most players at this year's Roland Garros, he hits harder and heavier from the ground, possesses more versatility on his backhand, and he just has a better feel for constructing points on clay.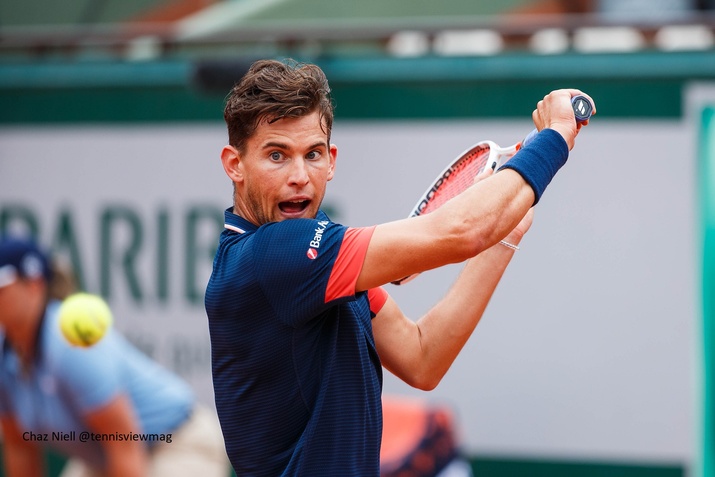 Cecchinato, himself, has been playing well from both wings and is most comfortable on the dirt as well, but for all that he has knocked off Pablo Carreno Busta, David Goffin, and Novak Djokovic, it is safe to say that at this juncture in time, Thiem is playing a sharper and more confident brand of tennis than any of those men. What could potentially be an equalizer in this match though is the psychological component. Cecchinato could continue to swing away like he has nothing to lose, or he could freeze up as it begins to dawn on him what he is close to doing. Like the Italian, Thiem is also a question mark. He has been here before, but he has been the underdog. He now not only has his best look yet at making his first major final, but he is an overwhelming favorite to do so. He could rise to the occasion to take advantage of this opportunity, or he could wilt under the pressure that comes with being such a heavy favorite. So yes, Thiem is the clear favorite and should be expected to advance, but if he allows nerves to wreak havoc on his game, Cecchinato could have another surprise in store for everyone.