Roland Garros: Men's Championship Match Preview

It may not be Number 1 versus Number 2, but Sunday's final is one of the more popular match-ups fans had been hoping for since the draw was released. Not surprisingly, one of the finalists is Rafael Nadal, who incredibly is making his eleventh appearance in the final of Roland Garros and looking to keep his record in the final unblemished. His challenger is seventh seed Dominic Thiem, a talented Austrian, who is looking to shock the tennis world by capturing his first slam singles title at Nadal's expense. So, the question to be answered on Sunday is whether or not Thiem can strike a blow for the next generation or if it will be business as usual for Nadal.
There is little doubt that almost all will be betting on business as usual because after more than a decade of dominance on clay, folks know what they are going to see from Nadal at this venue. His legendary topspin forehand can be a menace on other surfaces, but it can be particularly troublesome on the clay. There is also no one who moves better on this surface than the Spaniard, which not only makes it difficult to create space and generate enough pace to get the ball by him but to do that time and time again over a best-of-five set match. Additionally, Nadal has been striking his backhand well, and he has been quick to move forehand to finish at the net whenever he sniffs such an opportunity. Suffice it to say, his game presents a daunting challenge that tends to be even tougher on this surface, as he simply plays even more confidently on it.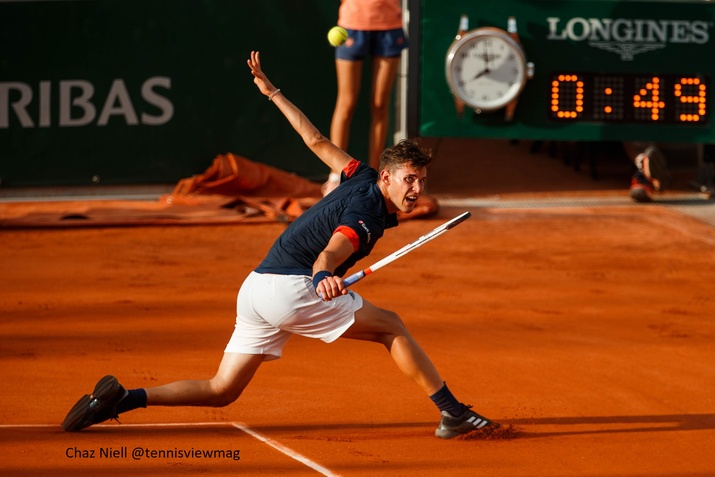 While there is no doubt that Nadal's multitude of strengths presents quite the puzzle to Thiem, the Austrian should take heart that he does have a game that can certainly challenge and potentially defeat the top seed. Thiem has been hitting his first serve with more juice than most this tournament, and if he can do that regularly throughout this clash, it would go a long way towards his cause by helping him more readily hold his own serve. His forehand is one of the biggest in the game, and that weapon can penetrate Nadal's defenses provided he creates the space and avoids pulling the trigger too early. His backhand can also be a useful tool, as it can be utilized to find the angles to pull Nadal off the court, but as Nadal's lefty forehand can be murder on those with a one-handed backhand, the seventh seed needs to guard against falling into a pattern where Nadal is finding Thiem's backhand with high frequency. If Thiem can employ his power and strengths – and do so on a consistently high enough basis – then his game is good enough to garner him the upset.
The bigger question is whether or not Thiem has the mental fortitude to take out Nadal. Thiem does have an advantage that many of Nadal's opponents on this surface do not have, and that is that he has defeated the Spaniard on clay. In fact, he is one of a few men who have not only defeated him on the dirt, but he has done so three times, including their last meeting which came in Madrid last month. He has also gotten him in Rome, where the playing conditions are very similar to that in Paris. The downside for Thiem is that Nadal has defeated him the other six time that they have met, including straight-set victories twice at this tournament. Then there is the issue that Nadal has far more experience, having won this title alone ten times, whereas Thiem is contesting his first-ever major final. So not only is Thiem facing the challenge of playing Nadal, but he is also having to cope with the nerves that come with being in a very unfamiliar situation.
Although not the ultimate deciding factor, one of the keys to this match will concern any potential early chances for Thiem and the outcome of the first set. If Thiem has a look at breaking the Nadal serve, it is imperative that he take it. At the very least, he needs to stay close early. Not only will that help Thiem settle down in order to play his own game, but may also create doubt in Nadal's mind, especially given that Thiem does have those three victories against him. If he fails to capitalize on opportunities or falls in a hole early, then this could be over in a hurry. Nadal is one of the best front-runners in tennis, and he is pretty much absolute money when he gets a lead here.
It should be interesting to see how this one unfolds. The quality of the match will be more dependent on Thiem and how he responds to the situation. If he comes out confident with his nerves tempered, this could be an entertaining affair that might just conceivably end in an upset. But do not bet on it. There is a reason why Nadal has won this title ten times, and he has taken down many opponents en route to those ten Roland Garros crowns. Nadal is a difficult man to defeat on the clay. Nadal is a difficult man to take out in a best-of-five format. And Nadal is a difficult man to face in one's first major final appearance. In short, he represents one very huge hurdle for Thiem, and if this ends in anything but an eleventh Roland Garros title for Nadal, it will be an absolute stunner.