Rogers Upsets Kvitova To Reach US Open Quarterfinals

American Shelby Rogers saved four match points defeating Petra Kvitova 7-6, 3-6, 7-6
Petra Kvitova, the #6 seed and two-time Wimbledon champion, was looking to reach the quarters for the first time since 2017. Standing in her way was the 27-year-old American Shelby Rogers, who last month defeated the 23-time grand slam champion Serena Williams, in three sets at the Top Seed Open.
They last met four years ago in the third round on the dirt at Roland Garros. It went the distance, but Rogers won both sets at love! Rogers, currently ranked #95 but achieved a career high ranking of #48 three years ago, was seeking her first fourth round appearance having reached the third round twice before.
Kvitova served first and though she faced break point, held for 1-0 striking two consecutive aces. Rogers threw in a double fault but with a remarkable lob winner and a huge serve out wide, held for 1-1.
Kvitova donated a double fault but with her third ace and two winners off the ground on consecutive points, held to 30 for 2-1, Rogers struck a fantastic forehand crosscourt volley winner and held to 30 when her opponent netted the return.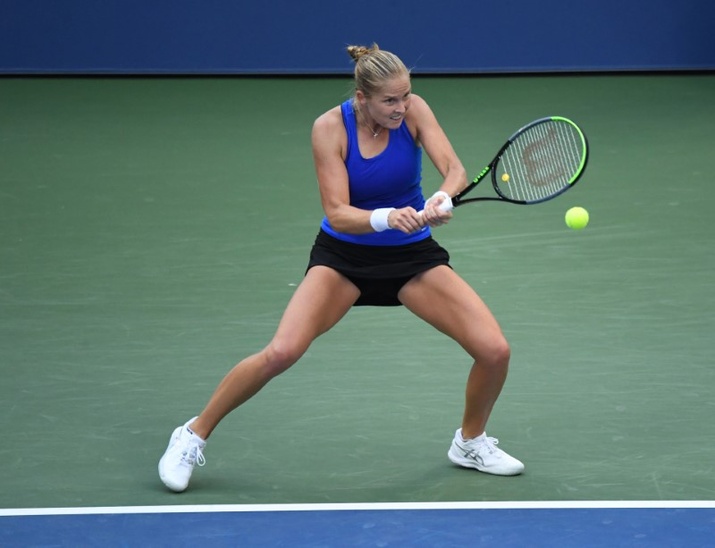 Kvitova opened the 5th game of the set with an outstanding inside-out forehand winner and held at love with her 4th ace. With an inside-out forehand winner and four unforced errors from her opponent, Rogers held to 15 for 3-3.
Serving with new balls was not an advantage as the 30-year-old from the Czech Republic faced double break point after missing wide with the forehand down the line and dropped serve when she overcooked the backhand.
Rogers, drawing first blood, was unable to consolidate the break as she quickly went down triple break point and though she saved two, dumped serve when her backhand sailed long.
Level at 4-4, Kvitova put the pressure back on her opponent by holding at love for 5-4. Rogers, with a crosscourt forehand winner and a huge serve up the tee, held to 30 for 5-5.
The world #12 donated another double fault but with a brilliant crosscourt backhand short in the box and a monstrous forehand down the line, held to 30 for 6-5. Rogers needed to hold to force the tiebreaker and she did behind well-struck forehands, volleys, and an ace up the tee.
Kvitova served first in the breaker and with a huge serve led 1-0. Rogers quickly amassed a significant lead as her opponent committed a handful of unforced errors. Rogers, seemingly in the driver seat with a 5-2 lead, lost the next three points as Kvitova executed a superb crosscourt backhand volley and an ace out wide.
Level at 5-5, Kvitova butchered a makeable backhand gifting her opponent set point. Kvitova, on the defensive having missed the first serve, lost the point, breaker and set as Rogers unloaded on an impressive inside-in forehand.
While both hit the ball with pace and look to dictate play, Kvitova's shots penetrate the court more, frequently putting Rogers on the defensive. The American also had difficulty with her opponent's wicked slice off the backhand but did an excellent job of managing her opponent and the moment to secure the opening set.
Rogers served first in the second and despite opening with a double fault, held to 30 with an ace out wide. Kvitova had a more arduous time holding in her opening service game as she donated a double fault and overcooked a backhand on consecutive points. Despite facing three deuce and two break points, the 6th seed held for 1-1 with a well-placed serve and crosscourt forehand winner.
Rogers soon faced triple break point as Kvitova continued to play aggressively and inside the baseline. Rogers dumped serve following an outstanding backhand down the line winner from her opponent. Kvitova significantly reduced the unforced errors and this immediately paid dividends as she consolidated the break hitting an inside-out forehand behind her opponent.
Rogers, serving at 1-3, struggled to hold serve, as she faced yet another break point but battled and held with an amazing backhand down the line that landed inches from the baseline.
The two-time Wimbledon champion once again held at love for 4-2 while Rogers held for 3-4 with two aces, one on game point. Kvitova hit replay as she held at love behind a forehand volley winner, inside-in forehand winner and two monster serves.
Rogers, serving at 3-5, opened with an ace out wide but quickly faced double break and set point and lost serve and the set when her opponent struck an overhead smash.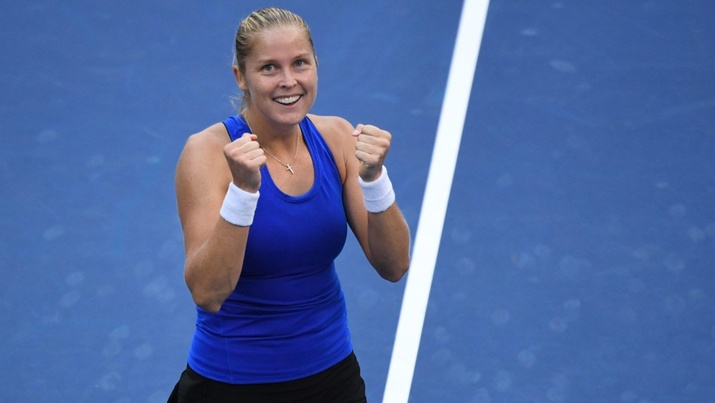 Kvitova, seemingly in control having snatched the momentum, faced double break point and dropped serve when she gifted another double fault. Rogers battled to hold serve as she too faced two break points following a barrage of heavy groundstrokes from her opponent. Rogers consolidated the break with a big serve up the tee and a netted forehand from Kvitova on game point.
Kvitova continued to go big off the ground, extracting errors from Rogers and held to 30 for 1-2. Rogers once again faced double break point and dropped serve when Kvitova ripped the return and a backhand down the line.
Back on serve at 2-2, Kvitova consolidated the break as she held easily to 15. Rogers held to love as her opponent donated four unforced errors.
Kvitova employed her lefty serve to great effect as she once again held at love with an ace down the middle for 4-3. Rogers struck her 5th ace of the match and though she faced a deuce point, leveled the deciding set at 4-4 when her opponent's return went wide.
Kvitova opened the 9th game with a netted forehand but held to 15 when Rogers was unable to handle her slice backhand. Rogers, just four points from the locker room, dug deep as she faced three deuce and three match points and miraculously held serve when Kvitova's forehand return sailed long. Rogers demonstrated composure and confidence as she stared defeat in the face and persevered.
Level at 5-5, the world #12 opened with a titanic serve up the tee and held at love with her 7th ace. Rogers was four points from defeat or a deciding tiebreaker. The American, not to be out down by her opponent, opened with an ace and held to 30 with a deft forehand drop shot, forcing the tiebreaker.
Like the first set breaker, this was fervently contested only this one, conferred victory and defeat. Kvitova, having failed to convert three match points, now had one on her serve at 6-5. An ace would clinch the deal but instead, a double fault sealed her fate as Shelby Rogers went on to win the breaker 8-6 and the match!
This was an extremely competitive and thoughtful match, as each remained steadfast with their tactics. Petra Kvitova finished with more than twice the winners of her opponent and won 12 more points and still lost!! This phenomenon happens more often than one would think especially when multiple tiebreakers are played.
Shelby Rogers served exceedingly well, hitting 6 aces to 2 double faults, and won 65 % of first serve and 44% of second serve points. A more telling stat, however, was break points converted: Kvitova was 4/14 while Rogers converted 2/5.
Shelby Rogers has reached her first quarterfinal at her home slam and awaits the winner of the Naomi Osaka, Annette Kontaveit round of 16 encounter.