Roger Federer: A Legacy Still in the Making
At 33 years old and a father of four, the Swiss is looking to defy the odds and claim his sixth US Open title

With one crack of a forehand, Roger Federer went from being a point away from reaching his seventh career US Open final to unraveling and exiting Flushing Meadows.
That was in 2011, when Novak Djokovic took down an increasingly mortal Federer after saving a match point with an expertly timed forehand return. One round later, Djokovic would claim his first US Open crown and cap off one of the best seasons ever by a male tennis player.
Since that defeat, Federer has continued to post inconsistent results and his ranking fell to No. 8 earlier this year. Despite his apparent drop in form over the last three seasons, the Swiss still collected another major title—Wimbledon in 2012—as he extended his record Grand Slam trophy haul to 17. And while many players of a similar age have retired, the 33-year-old Federer presses on, able to notch victories over younger and higher-ranked opponents in a sport that statistically does not favor those over 30.
Amid talk of a youth movement at Wimbledon this summer, Federer reached his ninth final at the All England Club before falling to Djokovic in a thrilling five-set battle. Earlier this year, he also made a semifinal appearance at the Australian Open, where he defeated No. 4 seed Andy Murray before losing to long-time rival Rafael Nadal. But each passing year has seen Federer drift a step further away from hoisting another trophy at Flushing Meadows. Federer fell to Tomas Berdych in the 2012 quarterfinals and was stunned by Tommy Robredo in the fourth round last year, the earliest US Open exit for the Swiss since 2003.
A win there this season would mark an Open era record of six titles in New York, but more significantly, it would build upon Federer's legacy and strengthen his case as the greatest male tennis player of all time.
Age is Just a Number
When tennis players reach their 30s, questions of retirement are inevitable. According to the sports data analysis blog FiveThirtyEight, only 10.3 percent of tennis majors have been won by a player who is 29 or older. The rate drops to 3.3 percent for players who are 31 or older.
After Federer's second-round loss at Wimbledon last year, which ended his streak of reaching 36 consecutive Grand Slam quarterfinals, murmurs of retirement grew louder. But the Swiss denied that he would be leaving the sport any time soon, like recently retired stars James Blake (34 years old), David Nalbandian (32), and Andy Roddick (31).
"I still have plans to play for many more years to come," Federer said after the match. Only seven players – Jimmy Connors, Pete Sampras, Rod Laver, Arthur Ashe, Andre Agassi, Ken Rosewall, and Andres Gimeno – have won a Grand Slam at an age older than Federer was at Wimbledon in 2012. And just two – Roswell and Gimeno – were older than what Federer will be when the US Open begins this month.
"Any major now would add an enormous amount to his legacy," said Darren Cahill, a former US Open semifinalist who now serves as an ESPN analyst. "To be able to win again at his age, in this era of champions…would put a very large cap on his already wonderful legacy."
The longevity and consistency at majors among the "Big Four" of Federer, Nadal, Djokovic, and Murray has been unparalleled. Federer himself has taken notice of the trend, having arrived on the Grand Slam scene in the early 2000s during an era where early-round exits were more common among high seeds.
"I think I've been surprised by how consistent I've been personally. But even more so by everybody else [for whom it] is just like normal to get to quarters, get to semis," Federer said earlier this summer. "For everybody to follow suit and do it, some even almost better than me, has been the most impressive thing about these group of guys."
Guidance From a Former No. 1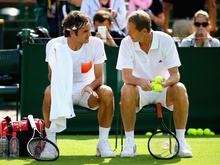 Heading into the last major of the season, Federer has already amassed more titles on the year than he collected in all of 2013. His sole trophy last season came on the grass courts at Halle against Mikhail Youhzny, a player who has never solved the Swiss star's game in 15 attempts. To guide him out of the slump, Federer enlisted the services of his childhood idol, former world No. 1 Stefan Edberg.
"I think Stefan's [role] comes in most with little hints, little advice here and there, and just observing what is going on," Federer said in May. "If I have any questions, I can always ask him. It's really nice for me to have him as such an inspirational person in my team."
Edberg, whose serve-and-volley style earned him six major titles, including two US Opens, has encouraged Federer to attack the net. Under his tutelage, Federer has appeared more at ease with the larger racquet head he began exploring a year ago.
"Putting the work in has never been a problem for Roger," Cahill said. "And now he looks to have come to terms with his new racquet; it's now swinging like an extension of his arm. Stefan is now a regular face and voice in his camp and there's some peace that comes with knowing that you've turned over every stone possible to get the most out of yourself."
During the past off-season, a number of former major champions agreed to coach current stars. Djokovic teamed up with Boris Becker in December, while Michael Chang joined Kei Nishikori, and Marin Cilic continued his work with Goran Ivanisevic. Murray recently replaced eight-time major champion Ivan Lendl, who coached him to the 2013 Wimbledon crown, with Amelie Mauresmo, a former WTA No. 1.
Edberg agreed to work with Federer, confident that the Swiss was still a contender at majors. "There are different things you need to do with training, but I would say you can still improve even in your 30s, as long as you have the determination [and] will to be out there on court," the 44-year-old Swede told The Wall Street Journal during Wimbledon. "You still have a shot."
Family Matters
Edberg wasn't the only addition to Federer's camp this past year. In May, Federer withdrew from the Madrid Masters to be with his wife Mirka and their newborn twin boys, Leo and Lenny. It was the second set of twins for the couple, after daughters Myla Rose and Charlene Riva were born in 2009.
While Federer insisted that his routine had not changed significantly, he struggled upon returning from a brief paternity leave, losing to world No. 47 Jeremy Chardy at the Rome Masters. Since then, the father of four has settled into a comfortable arrangement and returned to form.
"I have a very busy life as it is, so I need to be well‑organized," Federer said recently. "Actually by now we have found a good rhythm. …The handling [of the kids] during the tournaments and all that, I feel like we've gotten used to it."
Having a smoothly organized family situation will be essential for the Swiss when he plunges into the media circus of New York.
Shining Under the New York Spotlight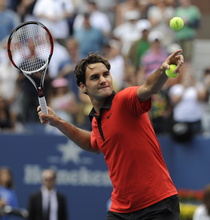 The US Open has always been a welcoming place for Federer. The All England Club may seem the most appropriate venue for his graceful style on court, but Federer has excelled in the noisy, cavernous Arthur Ashe Stadium.
His first title at the US Open was a straight-sets dismissal of Lleyton Hewitt. That win in 2004 started a streak of five consecutive titles in New York.
"This is a huge tournament, which I like a lot," Federer said, speaking of Flushing Meadows. "And I've had such amazing success that obviously every year [when] I come back here to New York, I feel that it's a place that's very special to me and where I usually play my very best tennis."
The Swiss receives a hero's welcome each time he steps onto Arthur Ashe Stadium and feeds off the electric energy. He has appreciated the support of the New York fans even during his losses, such as the 2011 semifinal against Djokovic. "That the crowd got into it was fantastic," Federer said after that match. "Every time you get reminded how great the crowd is here in New York."
In addition to his rivals in the "Big Four," the emergence of younger stars like teenager Nick Kyrgios or 23-year-old Wimbledon semifinalists Milos Raonic and Grigor Dimitrov make the chances for another US Open title more difficult. Even with the increasing challenges, though, Federer's results at the Grand Slams this year have proven that he remains a threat to win another US Open title, a notion that might have been easily dismissed a year ago.
After battling Djokovic for nearly four hours before succumbing in the fifth set at this year's Wimbledon final, Federer left the tournament confident and full of hope.
"There is no guarantee that you're going to ever be there again or not," he said of reaching another Grand Slam final. "Or maybe there's much more to come."
This article is from the Sept/Oct 2014 - US Open issue

SOLD OUT

Subscribe now and you'll never miss an issue!