Recap: The Second World Tennis Conference

The second World Tennis Conference presented by the Segal Institute and GPTCA
Fernando Segal, president of the Segal Institute, in conjunction with GPTCA, certified by the ATP and powered by CoachTube, organized the second consecutive, virtual World Tennis Conference, March 24-27, 2022.
Its primary objective is to connect elite coaches, tennis legends, scientists, and data experts with coaches around the world. Their mission, in facilitating this connection, is the dissemination of knowledge and experience to assist coaches, especially young ones, in their development and elevate coaching thru enhanced capabilities.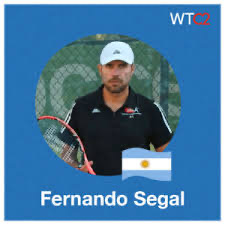 Bogdan Obradovic: A holistic approach to practice and relationship with tennis. Serbian Davis Cup head coach (2007-17), victorious in 2010. GPTCA A+ coach, and former coach of #1 Novak Djokovic. Holistic approach is requisite for an extended career. Every sport you play as a child impacts your journey. Diet and behavior, such as sleeping in a cold environment, also will be impactful. Dream with your player and strive to achieve it. Coaches must continuously evolve and advance their skills; steal from the best! Do not chase money – continue to coach only if you love tennis and have passion.
Gilles Cervara: Tennis Coach: relation transmission – connection between player and coach. Coach of #2 Daniil Medvedev. 2022 GPTCA world coach of the year. While primarily focused on Medvedev, he now assists other coaches. Coach must be empathetic and engage in active listening to earn trust. Calibration and cohesion are crucial; possess the same energy and psyche as the player. Flexibility in real time is paramount. Coaches must bring stability whenever the player experiences pressure. Discipline and rigor are vital in daily practice and players need courage to face their weaknesses.
Liam Smith: Awareness of situational-based, optimal court positioning presented by LCS Tennis. Coaches learn the most from other coaches. No single court position from which to play each ball. Tactics dictate court position and court position dictates shot selection. Coaches must cultivate a players' instincts, so movements are organic. No two balls are exactly the same and players must make mid-match adjustments. Educate juniors to problem solve, empower them to choose wisely, and make their opponents uncomfortable. Situational awareness is essential. See-position-execute!
Janko Tipsarevic: Footwork for pro players. Former #8, now an ATP coach and an academy owner. Obsessed with footwork and biomechanics because as a player, his necessitated drastic improvements. Technique rarely varies during a match but players, based on the opponent, must adjust their movement. The best players typically are the best movers. Keys to success: how fast one cuts angles, covers the court and takes time/space away from opponents. Superior footwork brings enduring results. Coaches must be persistent with footwork and biomechanics for this is the now and future of modern tennis.
Brad Gilbert: The winning ugly tactical concepts. Analyst, tv commentator, and author of "Winning Ugly." Former #4 and coach of 3 grand slam champions. Coach is 100% committed, flexible, and able to adjust on the spot. Players have bad days so a coach's attitude must be positive and consistent. To maximize potential, analyze opponents. Minimize your player's weaknesses while maximizing strengths. Attitude and competitiveness are nonnegotiable. Mental fortitude is paramount; when losing, adjust strategy. Learn from losing but do not obsess about losing, like winning, is contagious. Bring love and passion daily. Do not phone it in!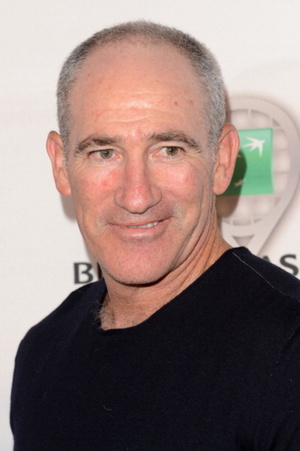 Frederic Fontang: Odyssey to the high level. Ranked #59, coach of #9 Felix Auger-Aliassime, and Canadian team. Determined to advance coaching and expand the sport. Coaches are the guardians of the process. A three-year plan must be aligned with the dream/goal/vision. Worked with Jeremy Chardy when he was twelve and between 1999-2008, took him to a high level. Discipline, repetition, and focus are mandatory to build good habits. Tennis players are agents of change, and this begets confidence. Success at the elite level necessitates a game aligned with one's emotional, physical, and mental aptitudes. Maintain an aggressive mindset on and humility off the court.
Nicole Pratt: A blueprint that assisted a forward momentum in Australian women's tennis based on 6 key priorities. Former player, top-level coach, and coach of the BJK Fed Cup team. In 2016, appointed head of Australian women's tennis. Coached Daria Gavrilova (Saville) from 100+ to #20 with a top-ten win over Maria Sharapova and 4th round appearance at the Aussie Open. Patience, planning, progress. Goal: 14 players in the top 250 by improving serve + one, return, transition to net, physicality/movement, well-being/emotional control, and forehand dominance. In 2019, that goal was achieved. Collaborate, engage key stakeholders and utilize data – not opinions.
Niki Pilic: My life in tennis; my journey developing tennis players from different countries. Germany, Serbia, and Croatia: with them, 5 times Davis Cup champion. As a renowned coach, he seeks talented players with good instincts and work ethic. Coaches must be honest and rigorous. Over forty-four years, had 30 players in the top 100, including #2, Michael Stich. A great deal of time and effort is required to produce a top player. Tennis is a complex sport that demands a player with a high tennis IQ and a multi-disciplinary team to succeed. Those he coached may have more titles and money, but he has priceless experience.
Thierry Ascione: Mental training principles to be a tennis pro. Top 100 player, 2004 French Davis Cup team member, and former coach of Elina Svitolina, Richard Gasquet, and Jo Wilfried Tsonga. Used his experience on tour to develop his coaching skills in addition to learning from others. "I am a thief; I steal from the best!" Promotes daily discipline and rigor and contends that if the physique and technique are strong, the mind will follow and manifest confidence while reducing stress. Great competitors have positive attitudes and accept defeats. Coaches must assume responsibility for they are the guardian of the player's dream.
Ben Leloup: How to use analytics optimally as a team to support your player. VP of player analytics at Golden Set. Data analytics is another team member! Since 2012, collected 40,000  matches worth of data from both pro tours and developed software to analyze it. Three years later, clients included 14 grand slam champions because it adds great value to player development and confers a competitive advantage when scouting opponents. It validates and bestows confidence since its wholly objective. Geospatial software teases out from video direction, speed, and spin elucidating remarkably accurate information.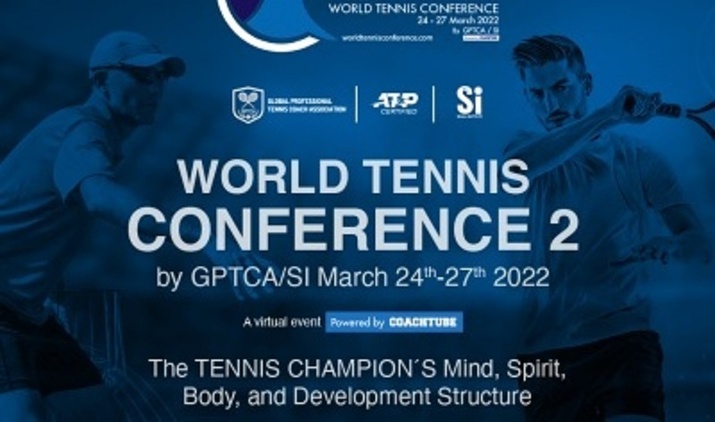 Richard Schonborn: The brain activity in technical development in tennis. A former coach of the German Tennis Federation, he worked with Boris Becker and Steffi Graff. Coaches must be insatiable and curious. Technique is not learned, developed, or perfected in the skeletomuscular system; it originates in the brain which is continuously adapting to the environment. Cannot store a single stroke; only a network of variants. A stroke is a ballistic movement employing 300 muscles in less than half a second. Neuroplasticity is expanded through daily training, and this is the ultimate goal.
Horacio Anselmi: specific endurance training or how to reduce neural fatigue. A great physical coach who worked with Juan Martin del Potro. Foot drills without tennis balls and repetition improve technical efficiency and endurance. Dynamic exercises like weightlifting and challenging coordination exercises maximize endurance while plyometric exercises develop enhanced coordination, speed, and core strength. Utilizing body fat instead of glycogen for energy, players can sustain a high level during long matches. Neural fatigue can be reduced thru strength exercises like squats which are for players, especially juniors, indispensable for developing leg strength.
Cyril Genevois PhD: Tennis serve biomechanics: functional approach for technical analysis. Key points for performance/injury prevention. Coach and physical conditioning expert with 30+ years of experience in junior development and sports science. Kinetic chain of the serve has 3 phases and 8 stages. Ball toss confusion and lack of serve variation must be addressed. Medicine ball shot-put helps serve production while angular momentum and forward motion promote leg drive. Correct angle between racquet and forearm is vital since 40% of racquet speed derives from internal rotation of the shoulder. Online courses are available at the Genevois Academy.
Dragos Luscan: Coordination development drills for top players. Former physical coach of former world #1 Simona Halep. Must maintain good nutrition, mindset, and technique. Coaches must be curious and devise/implement a plan incorporating short and long-term goals. Age 16-23: to be successful, strength training must begin before age 18. Tennis is a kinesthetic sport; therefore, this type of training must begin early to build body/mind connections. Strengthen small muscles for joint stabilization/injury prevention, maintain hydration for muscle/tendon health and start flexibility training early to reap the benefits.
Ian Barstow PT: The Missing link – spineability. Worked on tour for 15 years and observed a lack of core training in player development. Trainer/coach are as strong as their weakest link. The spine is the missing link in high performance training. The spine while complex, is designed for movement therefore, full range of motion exercises are essential. Strength and mobility exercises will create a balance of opposites, yet most trainers strengthen for limited range of motion which is counterproductive. The core is the center of power from which the serve, forehand, and backhand arise. Enable and empower players thru spineability!
Toni Nadal: Good habits build character. GPTCA board member, currently assisting #9 Felix Auger-Aliassime, head of the Rafa Nadal Tennis Academy and uncle and former coach of Rafa Nadal. Character is paramount hence his philosophy and core principles revolve around its development. Technique is easy to teach/learn but character takes time to mature. Proper attitude and mental fortitude are requisite to sustain hard work and discipline. Design a program that integrates physical/technical/mental strategies. When a player trains hard, they are more relaxed during matches. Do not focus on winning; prepare, look towards the future, and make small adjustments so they facilitate learning.
Nico Pereira: Living on the circuit, what it takes! One of the best coaches and promoters. He was a #1 junior, #74 on the ATP Tour, and Davis Cup captain for Venezuela. Tennis with a grueling 11-month season is physically and mentally challenging with different time zones, weather, and court surfaces. Most players will lose more than win so put this in perspective and develop the game. The transition from juniors to pros can take 5-8 years and success on the pro tour is not guaranteed. A great player must be attentive to details, curious, and improving. Coaches should continue to evolve and share best practices for they are the conductor of the team.
Tomas Behrned: From junior to pro, setting your mental priorities. President GPTCA A+ for Germany, former #74 in singles, and a successful coach with two academies. Every practice is also a mental practice; players must sustain focus and make adjustments to find solutions. Strong mental health is essential for elite players. Body language, patience, and willingness to practice are exceedingly important. On tour there are many stressors. Accept the conditions, make adaptations, and focus only on what is before you. To minimize stress before matches, visualize your performance and remember – the only thing you cannot control is whom you play.
Jan Stoces: creating a strong relationship with your player on the tour. Head coach of Czech tennis federation and for eleven years, worked with Lukasz Kubot, #1 in doubles and #41 in singles. Must develop key mental abilities to succeed on tour. The player is always the priority and when they suffer, the coach must be empathetic. Coaches must engender trust, formulate long-term goals, and provide mental support, especially during difficult times. Deliver honest, weekly evaluations for continual improvement. Coaches must choose wisely on behalf of the long-term health and growth of the player. As a coach, have your own dream and suffer for it daily.
Nico Massu: Key principles to be competitive on tour. 2004 Olympic gold medalist for Chile in singles and doubles and coach of former world #3 Dominic Thiem. When player, coach, and team are aligned, success is more probable. Strategy, tactics, and mid-match adjustments are always in flux, so remain calm and consistent thru wins and losses. Mental fortitude and competitiveness will take a player further than physical strength. They must problem solve, embrace pressure and modify the game based on opponent. While doubt is integral to sport, players should not obsess about points or ranking. They must learn from fear and remember they can always improve.
Jim Loehr, renowned sports psychologist, and World Tennis Conference main speaker asserts, "WTC2 represents an unparalleled opportunity to learn from the best on a worldwide scale. When coaches improve their competencies, everyone wins!"
Please visit http://wtc. coachtube.com/ to register then enjoy more than 70 presentations which may be watched on your cellphone, tablet, or computer repeatedly over the next 30 days and spread the love of tennis.