Rafael Nadal: Ripe For A Usurper?

The spring clay court swing is well underway, and if there is one sight that fans have gotten used at this juncture of the season, it is Rafael Nadal hoisting a trophy after securing yet another clay court title. For little more than a decade, it has seemed that no matter what his results or health status coming into his most lucrative portion of the season, the Spaniard has always been able to tap into his best and leave everyone else vying for second place. Having set such a high bar with his clay-court prowess, it is no wonder that his last couple of results have his fans a little worried as Paris inches closer.
Having reigned victorious on eleven occasions in Monte Carlo and Barcelona, Nadal was a clear favorite at both events. Unfortunately for him, he was unable to find his way to the finish line, being dispatched in straight sets by Fabio Fognini in the first tournament, and Dominic Thiem in the latter. Given that he had sat on the sidelines since an injury forced his withdrawal from the semifinals of Indian Wells, there was some rust in the Spaniard's game coming into Monte Carlo. Even taking that into account, however, it had to be a bit unsettling for Nadal in how he made those exits. The Italian was ultra-aggressive and defeated Nadal with some spectacular shot-making, while the Austrian both outgunned and outmaneuvered the Spaniard in Barcelona. Neither had to really go out of his comfort zone to garner the upset, particularly Thiem, who is most at home on the clay and reached the Roland Garros final last year.
While these setbacks do not spell automatic doom for Nadal and his chances in Paris, they are worrisome. As noted, neither Fognini nor Thiem had to take outlandish chances to earn their victories, and they are not the only two in the field capable of bringing that high level of tennis against Nadal. Furthermore, confidence is important for every player, including the sport's legends. Nadal relies on building that momentum and rhythm, and the fact that he has not been able to obtain it as early as usual in this clay court period could have mental ramifications down the road. It will not be easy for him to try and turn the tide next week in Madrid, either. Madrid has historically been among the least successful of his clay court events, as the higher altitude negates some of the advantages his game readily affords him. And of course, Nadal will be keenly aware of how crucial ranking points are for him during this stint of the season, where he always has plenty to defend. He knows better than most that it is imperative he raise his level in the coming weeks to avoid his ranking taking a hit.
As unusual as it may be to see Nadal struggle on the dirt, however, no one should be writing off his chances in Madrid, Rome, and certainly not Paris. Given all that he has accomplished, if ever there were a surface where he could turn things on a dime despite some surprising upsets, it is on the clay. Additionally, at least as far as Roland Garros is concerned, taking Nadal out in a best-of-five format is a whole different animal than getting the better of him in a best-of-three, especially on the red dirt of Paris. Lastly, more often than not, Nadal's most dangerous foes at the majors have been those who have also found exceptional success at the slams, which presently primarily consists of Novak Djokovic, Roger Federer and Stan Wawrinka. Fans have yet to see how Federer looks after being absent from the clay courts the last few seasons, Djokovic has struggled with his own form since winning in Melbourne, and Wawrinka continues to search for consistency since returning from his injury woes. All told, he may be the one more under the microscope at the moment, but he is not the only top dog searching for traction.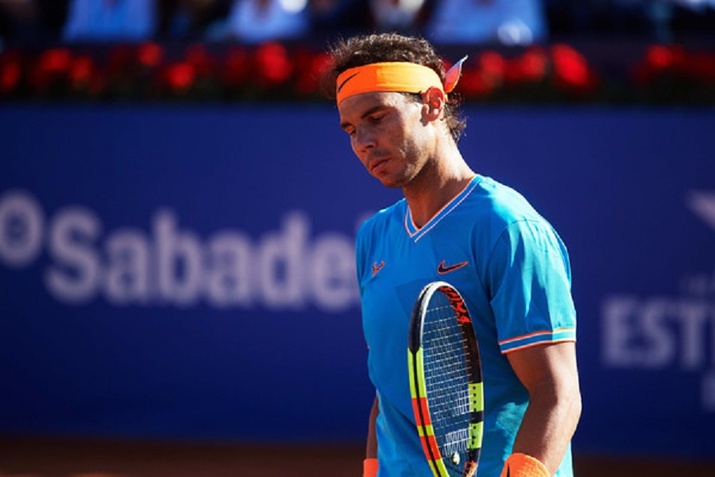 With some of his most notable adversaries still looking to hit their stride and plenty of tennis on offer in the weeks to come, some caution is needed before absolutely panicking about the state of Nadal's game. For sure, he is surrounded by far more question marks now than he has been in years past, and those questions will only multiply if he fails to leave Madrid or Rome without a title. Then again, given his historic exploits on this surface, it is apt to only take winning one of those two titles to wipe away those questions, the doubts, and repair that invincible aura so many of his opponents see in him on the clay. It is what transpires in the coming couple of weeks that will determine if Nadal is once again the clear-cut favorite heading into Roland Garros or if folks believe someone else is more likely to usurp his Parisian crown.
(Photo Source: ALEX CAPARROS/Getty Images Europe)