Rafael Nadal Halts Roger Federer in Cincinnati

In the 31st match of their epic rivalry, Rafael Nadal continued his perfect run on hard courts in 2013 with a 5-7 6-4 6-3 victory over Roger Federer.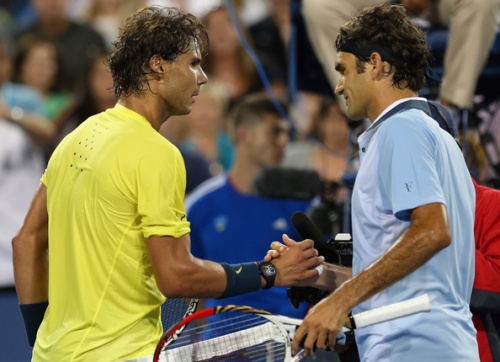 The outcome of this match does not come as a shock, but the trajectory of the match deviated from what many believed would be a Nadal-dominated affair. Considering their recent form, it was difficult to envision Federer winning a set, let alone the match
Surprisingly, the Swiss chose to receive. With Nadal usually preferring to receive and Federer to serve, we saw quite a change of scenery at the outset of the match with Rafa starting the proceedings.
Federer made his intentions known early in the match. Throughout most of his career, he has chosen to chip back serves hit to his backhand, and it has proven to be a major liability at times. In Nadal's first service game, Federer began to move forward and flatten out his backhand on the return of serve, an extremely positive sign.
On a break point at 1-1, though, Federer decided to stray from his aggressive backhand returns and chipped a weak backhand return. Federer lost the point as his inability to execute in the biggest moments against Nadal revealed itself.
Nadal's return stance was particularly puzzling as he chose to camp well behind the baseline to return Federer's serve. On a fast hard court, this makes it much harder to defend and facilitates Federer's offensive artillery. Federer targeted Nadal's backhand on serve and this tactic, in combination with Nadal's return stance, gave Federer time and space to run around his backhand and finish points with his forehands. Federer won 75 percent of his first-serve points and a striking 71 percent of his second serves in the opening set.
Nadal hung tough throughout the majority of the first set and was able to escape deficits in his service games with several intelligent body serves. Eventually, Federer found a break at 5-5 after an extended rally during which he ripped a chain of topspin-infused forehands into Nadal's backhand, giving Nadal a taste of his own medicine. Federer consolidated the break and captured the opening set 7-5 with a stunning cross-court backhand, one of the many backhands that Federer took flat and early throughout the set.
As the second set got underway, there was an immediate omen that the direction of the match was changing as Federer badly shanked two backhands. In Federer's second service game, with his first-serve percentage slipping, Nadal hit a successful lob and a monstrous down-the-line forehand winner to set up two break points. But Federer saved these break points by attacking Nadal's backhand with a stream of inside-in topspin forehands.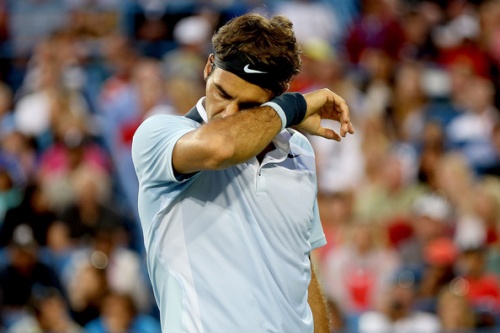 Federer's frustrations continued to mount, however. Two of the major turning points in the match came at 3-3 and 4-4 in the second set. Federer raced out to 0-30 leads in Nadal's service games but both times failed to make anything out of it. Following the 4-4 game, Federer's streak of holds ended when Nadal unloaded on another forehand down the line to grab the second set 6-4.
The first two sets can be summed up like this: Roger Federer played the best tennis that he has played in quite some time, Rafael Nadal played his worst tennis of the last two weeks, and yet Nadal still held the momentum.
Winning the second set seemed to catalyze Nadal, and he began to find the Federer backhand with more pace and spin. Making things even harder for Federer, his lightness of movement decreased, which in turn increased Nadal's capacity to find Federer's backhand. After not dropping serve in the entire match, Federer was broken twice in succession, once at the end of the second set and once at the beginning of the third set. Those breaks left him quickly down 3-0 in the final frame of the match.
The third set also saw a reversal in serving trends. In the first and second sets, Federer jumped ahead in his service games, whereas Nadal's resolve was constantly being put to the test. In the third set, prior to Nadal's final service game, the Spaniard only conceded three points on serve. In contrast, Federer was broken early and also was forced to erase break points down 1-4.
Nadal went up 5-3 40-0, but Federer was able to save all three match points while unleashing two inside-in forehand winners. Nadal reached match point two more times before finally sealing the deal with another forehand down the line that later was shown to have landed out. Federer did not challenge, however, and Nadal soon celebrated a 21st victory over his rival.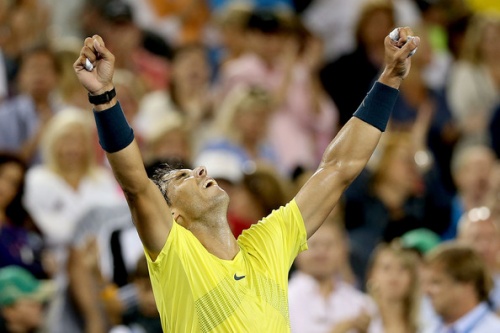 Federer ended the match with 36 winners and 44 unforced errors and Nadal finished with 27 winners and 24 unforced errors. With the loss, Federer will drop out of the top five for the first time since February 2003. Nadal will look to extend his hard-court winning streak when he faces Tomas Berdych in the semifinals on Saturday afternoon.