Quiz Whiz // Andy Roddick

(Answers at bottom of page)
1. Upon his retirement at the US Open in 2012, Andy Roddick had the third most singles titles among active players. How many did he retire with?
A. 26
B. 28
C. 30
D. 32
2. Roddick won his lone Grand Slam title at the US Open in 2003. Roddick showed great mental strength to come back and win from two sets and a match point down in his semi-final match. Who was he playing?

A. Juan Carlos Ferrero
B. Lleyton Hewitt
C. David Nalbandian
D. Roger Federer

3. Known for possessing one of the best serves on tour, Roddick hit a whooping 9,074  aces during his career. How many career double faults did he hit?
A. 825
B. 1,585 
C. 1,952 
D. 2,800 
4. Andy Roddick began the Andy Roddick Foundation in 2001, just one year after turning professional. What is the slogan of Andy's foundation?
A. "Celebrate. Remember. Fight Back."
B. "Building A Better World For Children."
C. "Serving Children Today for Tomorrow."
D. "For All Creatures Great And Small."
5. During his entire career, Roddick was the No. 1 seed only once in a Slam. Which Slam and year was it?
A. US Open 2003
B. Australian Open 2004
C. French Open 2004
D. US Open 2004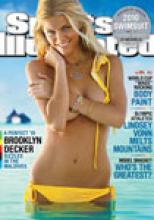 6. Andy Roddick met Brooklyn Decker after browsing her modeling photos in the 2006 Sports Illustrated Swimsuit issue. Since marrying Andy, Brooklyn has focused on acting. Which of the following films has Brooklyn not featured in?
A. Just Go With It
B. The Hangover Part II
C. What To Expect When You're Expecting
D. Battleship
7. Roddick hasn't been a stranger to TV himself. On which famous quiz show did he appear in 2004?
A. The Weakest Link
B. Who Wants To Be A Millionaire?
C. Jeopardy!
D. Eggheads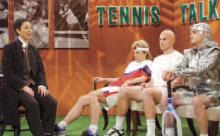 8. Roddick hosted Saturday Night Live on Nov. 8, 2003. Who is the only other tennis player to have had this honor?
A. Maria Sharapova
B. Serena Williams
C. Chris Evert
D. Mary Joe Fernández
9. With his bullet-like serve, Roddick managed to fend off 68% of break points throughout his career. What percentage of his own service games did he win?
A. 60%
B. 70%
C. 80%
D. 90%
10. Andy Roddick led the tour in aces for which three straight years?
A. 2001-2003
B. 2002-2004
C. 2003-2005
D. 2004-2006
11. Roddick was well known for his coaching choices and worked with some of the biggest names in tennis. Who was not one of Andy's coaches?
A. Jimmy Connors
B. Paul Annacone
C. Larry Stefanki
D. Brad Gilbert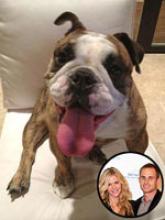 12. Roddick lives in Austin with his wife and bulldog. What is his furry friend's name?
A. Angie
B. Rhiannon
C. Billie Jean
D. Layla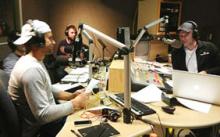 13. Post-tennis, Andy Roddick is excited to continue his regular radio show with close friend Bobby Bones. Which topic does the pair not cover in their weekly show?
A. Sports
B. Entertainment
C. Politics
D. Pop-culture
14. At his final press conference, what was Roddick's response when asked how he would like to be remembered?
A. "As an all-round good guy."
B. "I want to be remembered for my charity work more than my tennis."
C. "As the guy who made everyone laugh."
D. "I want everyone to look back and think that I was awesome."
Click to Show/Hide the Quiz Answers.
1D; 2C; 3B; 4C; 5B; 6B; 7A; 8C; 9D; 10C; 11B; 12C; 13C; 14D
This article is from the Nov / Dec 2012 issue

SOLD OUT

Subscribe now and you'll never miss an issue!